Amnesty Urges Riyadh to Free Rights Activists
8 March, 2-14 – Amnesty International
TEHRAN (FNA)- Amnesty International called on Saudi Arabia to release two founders of a local human rights organization who have spent nearly a year behind bars.
Mohammad al-Qahtani and Abdullah al-Hamid were sentenced to 10 and 11 years in jail respectively on 9 March 2013. Both are co-founders of the Saudi Civil and Political Rights Association (ACPRA), one of the few organizations in the country recording human rights violations and assisting families of detainees held without charge, Al-Alam reported.
"Mohammad al-Qahtani and Abdullah al-Hamid are guilty of nothing more than daring to speak out on Saudi Arabia's dire human rights record. The reality is that the human rights situation in Saudi Arabia is abysmal and anyone who risks highlighting flaws in the system is branded a criminal and tossed in a jail cell," said Said Boumedouha, Amnesty International's Deputy Director for the Middle East and North Africa.
"By locking up two prominent human rights activists Saudi Arabia is brazenly flouting its international obligations and has displayed a flagrant disregard for people's rights to freedom of expression and association".
Mohammad al-Qahtani and Abdullah al-Hamid were found guilty of several "offences", including disobeying the ruler, inciting disorder and setting up an unlicensed organization. Their sentences were upheld by the Court of Appeal in January 2014. In the same trial session the court also ordered the disbanding of ACPRA and confiscation of its property. Even after their release from prison both men will be subject to lengthy travel bans.
Earlier this week the two men began a hunger strike in protest at the deterioration of their prison conditions. Both men have suffered as a result of arbitrary decisions by the prison authorities including confiscation of their books and personal belongings and moving them to prison cells that pose serious dangers to their health. Mohammad al-Qahtani was reportedly placed in solitary confinement since he started his hunger strike.
It is feared that a new anti-terrorism law introduced last month, featuring an overly vague-definition of terrorism and granting the Ministry of Interior sweeping powers, will speed up the crackdown on peaceful dissent. …more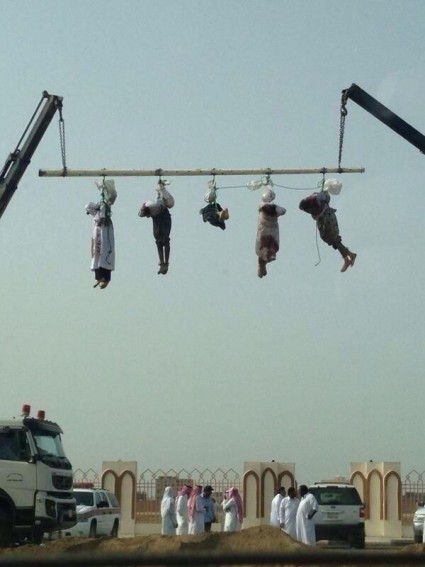 Saudi Arabia Be-headings for Crimes Ranging from Apostasy to Sorcery
Saudi Arabia is said to be the world's largest source of funds for Salafi jihadist terrorist militant groups, such as al-Qaeda, the Afghan Taliban, and Lashkar-e-Taiba in South Asia, and donors in Saudi Arabia constitute the most significant source of funding to Sunni terrorist groups worldwide, according to US Secretary Clinton. According to a secret December 2009 paper signed by the US Secretary of State, "Saudi Arabia remains a critical financial support base for al-Qaida, the Taliban, LeT and other terrorist groups."
Kingdom of Saudi Arabia wins seat on UN rights body
By GHAZANFAR ALI KHAN – 12 Novemebr, 2013 – Arab News
Saudi Arabia was elected Tuesday to the Human Rights Council, the UN's highest rights watchdog body, for a three-year term following a secret ballot voting at the UN General Assembly in New York.
"The Kingdom, which garnered 140 votes, will begin its term in January," said Rolando Jomez, a spokesman of the UN Human Rights Council, while speaking to Arab News, from New York.
Senior Saudi officials, especially those associated with human rights organizations, expressed joy over the news. Saleh Al-Kathlan, deputy chief of the Riyadh-based National Society of Human Rights, said: "The vote was expected in the light of the progress made by Riyadh in the field of human rights since it was first elected to that UN body in 2009."
Dr. Ibrahim Al-Quaiyid, a member of the NSHR, said: "We are happy over the Kingdom's election to the 47-member body whose role is to promote universal respect for human rights and fundamental freedoms."
Al-Quaiyid added: "Saudi Arabia … has taken several initiatives to promote and protect human rights … this will give a chance to the Kingdom to play a global role in the domain of human rights promotion. Definitely, the country has had some grey areas as evident from our own reports, but Riyadh has addressed and will further redress all concerns."
He said the commitment of the Saudi leadership and a set of stringent legislations to ensure protection to the life and property of its citizens and residents are major steps in this field, while referring to the creation of high-powered human rights organizations besides political and civil rights associations in Saudi Arabia during the past few years. …source
EDITORIAL: US Government must not continue to overlook human rights abuses in Saudi Arabia, other allies
by Editorial Board – 21 January, 2013 – The Oklahoma Daily
Policemen encircled a group of burka-clad women and their children peacefully protesting the unjust detention of relatives in Buraidah, Saudi Arabia two weeks ago. The women then were carted off to jail simply for asking for the release of their loved ones jailed without trials or hearings.
The U.S. is a strategic and economic ally of Saudi Arabia and has failed to speak out against human rights abuses in the country
In a country that has outlawed protests, citizens' reaction to the arrests was shocking. In the incredibly conservative city of Buraidah, where the women were arrested, men took to the streets to protest their arrest and detention.
The protest by a small group of women sparked a rare expression of political dissent.
After the strong reaction, the government released the women and children but did not comment on the condition of their loved ones.
These protests are especially important given the Saudi Arabia's guardianship laws that legally define women as children under the care of their husbands or fathers.
Women, who are not allowed to travel without a male companion, risked torture and imprisonment to ask for simple information regarding detained relatives.
In October 2010, local journalist Fahd al-Jukhaidib, was arrested and lashed merely for reporting on a protest. Many others have been detained for years for participating in peaceful protests.
The U.S. has not taken direct diplomatic action to support the protests, despite being active in recent human rights efforts in Egypt and Syria. Ignoring violations in Saudi Arabia undermines our efforts in other Arab countries because we are seen as playing favorites with our allies.
The relationship between the U.S. and Saudi Arabia has been strained by oil concerns and human rights violations. President Barack Obama took significant steps in advocating for greater human rights in the region during the Arab Spring.
In early 2011, Obama publicly called for the resignation of Egypt's leader Hosni Mubarak and recently recognized Syria's revolutionary government.
But Obama is in a dilemma over Saudi Arabia. As the kingdom is one of our trading partners, the U.S. has been wary of criticizing the Saudi regime and calling for increases in human rights.
We cannot afford to be passive any longer. When the people of a repressed nation call out for the most basic access to political and judicial liberties, it is our duty to join the call. …source
Human Rights Activist "the West is covering for Saudi Arabia human rights violations"
21 January, 2013 – Islam Times
Islam Times – Amjad Salfiti a long time human rights activist accused Western nations — The United Kingdom and the United States of America among others – of hypocritically supporting Saudi Arabia gross human rights violations on the ground as it fit their political agenda while using human rights abuses in other countries to justify meddling and military interventions.
Human Rights Activist "the West is covering for Saudi Arabia human rights violations"
Salfiti when addressing the press earlier this week strongly denounce such double-standard and political bias.
He noted that the West had every interest in keeping oppressive regimes in place in the middle east as it guaranteed them a free hand in the region. And indeed, several political analysts have long argued that the birth of democracy in the Middle East would put an end to western imperialism and therefore put western economies at threat as oil nations might not appear as keen to indulge them as despots did over the decades.
Salfiti stressed how very worrying events in Saudi Arabia – gain in momentum of the civil rights movement – were becoming for western nations as they were not quite sure how to handle the situation, with or against the people.
He explained that success of previous "peaceful popular uprisings" in Tunisia, Bahrain and Egypt had literally rattled many cages with the fear that the so called Arab Spring movement will lay waste all monarchies and dictatorship in the Arab World.
Not having the tools to deal with popular anger, regimes such Saudi Arabia and Bahrain so far responded to calls for reforms with oppression.
However, Salfiti says, Saudi Arabia is slowly coming to grip with the fact that repression is actually fueling protests rather than killing it; which is why the government decided to show some degree of mercy by freeing some political prisoners, upon a pledge all former detainees will refrain from engaging in political or popular movement against the monarchy. …source
US State Department – Bureau of Democracy, Human Rights and Labor
Country Reports on Human Rights Practices for 2011
Saudi Arabia
22 January, 2013

EXECUTIVE SUMMARY
The Kingdom of Saudi Arabia is a monarchy ruled by King Abdullah bin Abdulaziz Al Saud, who is both head of state and head of government. The government bases its legitimacy on its interpretation of Sharia (Islamic law) and the 1992 Basic Law, which specifies that the rulers of the country shall be male descendants of the founder King Abdulaziz bin Abdulrahman Al Saud. The Basic Law sets out the system of governance, rights of citizens, and powers and duties of the government, and it provides that the Qur'an and the Traditions (Sunna) of the Prophet Muhammad serve as the country's constitution. On September 29, the country held elections on a nonparty basis for half of the 1,632 seats on the 285 municipal councils around the country. Women were not permitted to be candidates or to vote. Security forces reported to civilian authorities.
The most important human rights problems reported included citizens' lack of the right and legal means to change their government; pervasive restrictions on universal rights such as freedom of expression, including on the Internet, and freedom of assembly, association, movement, and religion; and a lack of equal rights for women and children, as well as for workers.
Other human rights problems reported included torture and other abuses, poor prison and detention center conditions, holding political prisoners and detainees, denial of due process and arbitrary arrest and detention, and arbitrary interference with privacy, home, and correspondence. Violence against women, trafficking in persons, and discrimination on the basis of gender, religion, sect, race, and ethnicity were common. Lack of governmental transparency and access made it difficult to assess the magnitude of many reported human rights problems.
The government prosecuted and punished a limited number of officials who committed abuses, particularly those engaged in or complicit with corruption. There were reports that some members of the security forces and other senior officials, including those linked to the royal family, committed abuses with impunity. …more
Pro-democracy protesters at Saudi embassy
20 July, 2012 – Sarah Homewood – The Cannbera Times
A group of about 50 people from as far as Sydney and Melbourne converged on the Saudi Arabian embassy in Yarralumla yesterday, protesting against an alleged government crackdown on pro-democracy movements in Bahrain.
Led by the Bahrain Australian Youth Movement, the group said the protest was sparked by the alleged arrest and imprisonment of children by Bahraini government forces.
The rally, which began outside the Saudi embassy at about 10am, was closely watched by a small contingent of police.
A protest organiser, Husain Alqatari, said: "This protest today is about the crackdown happening in the eastern region of Saudi Arabia; we are here to support the people seeking freedom of speech, seeking human rights, freedom for women".
No Saudi Arabian students were present at the protest, a fact that Mr Alqatari attributes to threats from the Saudi embassy.
"The embassy sent out a letter saying that if Saudi students were to come to the protest then the embassy would cancel their visas," Mr Alqatari said.
A spokesman for the embassy said he was unable to comment on the accusations or the protest.
The protesters weren't hopeful that the embassy would come out and address their demands.
"We have been trying to contact the embassy for a week and a half to talk to us but they haven't been answering," he said.
The protesters had originally planned to move to the US embassy later in the morning, but cancelled the second half of the protest, instead opting to begin the journeys back to Melbourne and Sydney.
Saudi Arabia: the Middle East's most under-reported conflict
by Toby Matthiesen – Guardian – 23 January, 2012
As the British prime minister, David Cameron, visited Riyadh in mid-January, wooing Saudi business and strengthening bilateral relations, a young Shia man in the eastern province was shot dead.
Following the kingdom's huge arms deal with the United States, Cameron apparently wanted to persuade the Saudis to buy Typhoon Eurofighters. His visit was a slap in the face for protesters, who are demanding human rights and more of a say in their country's affairs.
In the week beginning 16 January thousands of people – activists say tens of thousands – took to the streets of Awwamiya in the eastern province to commemorate the death of Issam Muhammad Abu Abdallah, aged 22. He had been shot by Saudi security forces on the night of 12 January.
According to the interior ministry, the security forces were defending themselves after a police car had been attacked. Activists and local Shia news websites acknowledge that the police were attacked, but argue that the police used force indiscriminately. Issam's funeral turned into a large rally at which emotions ran high and anti-government slogans were chanted.
These events are just the latest episodes in one of the Middle East's most under-reported conflicts. Last year, Shia citizens in the eastern province took to the streets just days after the uprising started in neighbouring Bahrain on 14 February. Their protests were largely peaceful and they were hoping that Saudis in other areas would join them on a planned "day of rage" in March.
This day passed without major demonstrations, even in Shia areas, as the Shia protesters had allegedly been told their grievances would be addressed if they stayed at home. Those promises were never fulfilled, however, and the state chose to arrest the leaders of the demonstrations over the summer, further inflaming the situation.
Instead of using such repression, the regime should have addressed the grievances of the protesters, including the release of political prisoners. The Saudi Shia minority, mainly located in the eastern province, has long complained of discrimination in government employment and business, as well as restriction of religious practices. Initially, the protesters were not calling for the downfall of the monarchy but as repression intensified (demonstrations are illegal in Saudi Arabia) some did and also started attacking the security forces. …more
Saudi security forces kill protester in oil province
By Martina Fuchs – by Rasid – 13 January, 2012
Saudi security forces killed a young protester and wounded three in the kingdom's oil-producing Eastern Province, home to a large Shi'ite Muslim minority, websites and activists said on Friday.
Saudi Arabia, the world's No. 1 oil exporter, is sensitive to any Shi'ite unrest in Eastern Province because of what it says are concerns it could be fomented by non-Arab Shi'ite power Iran to destabilise the Gulf region. Tehran denies involvement.
The Shi'ite website www.rasid.com said Saudi security forces opened heavy fire late on Thursday after protesters threw stones at a police vehicle in Awamiya, a village in Eastern Province.
It showed a file picture of 22-year-old Essam Mohamed Abu Abdallah and said he was killed by gunfire from security forces.
A Saudi Interior Ministry statement quoted by state news agency SPA said security forces patrolling Awamiya in their vehicle were attacked with petrol bombs and it caught fire.
"While the security forces were trying to control the fire, they were exposed to shooting and were dealing with the situation as necessary," it said. "The exchange of fire led to two people being injured among those involved in the shooting, and they were taken to hospital where one of them died later."
"The security forces will deal firmly with all cases and situations that endanger the security and safety of citizens and security forces," the statement added.
The Rasid website also said security forces closed down the entrances to the village after clashes between villagers and security forces.
Saudi Arabia's Shi'ite population is mostly based in two oasis districts of the Eastern Province – Qatif on the Gulf coast where Awamiya is located, and al-Ahsa southwest of the provincial capital al-Khobar.
The Sunni Muslim-ruled kingdom says it has 1.3 million Shi'ites in a total population of 19 million. Human rights groups say there are around 2 million Shi'ites in Saudi Arabia.
Earlier this month, Riyadh ordered the arrest of 23 Shi'ite Muslims in Eastern Province held responsible for unrest. Saudi Arabia accused the 23 of serving the agenda of a foreign power, usually a reference to Iran. …source
Saudi Arabia: Sentencing of human rights defender Sheikh Suliman Ibrahim Al-Reshoudi
30 November, 2011 – Front Line Defenders
On 22 November 2011, the Saudi Special Criminal Court sentenced human rights defender Sheikh Suliman Ibrahim Al-Reshoudi and eight civil and political rights advocates to prison terms ranging from ten to 30 years.
Suliman Ibrahim Al-Reshoudi, a former lawyer and judge and a well-known human rights defender, was sentenced to 15 years' imprisonment as well as 15 years' travel ban to start following the completion of his sentence. After a grossly unfair trial, he was convicted on charges including mobilizing the public against the monarchy, forming a secret organization, financing terrorism, and money laundering. Suliman Ibrahim Al-Reshoudi, aged 74 and in poor health, was released on bail while the trial was ongoing.
In June 2011, Suliman Ibrahim Al-Reshoudi was granted bail after more than four years in pre-trial detention, in contravention of the Saudi Penal Procedures Code which provides for a maximum of six months of pre-trial detention. Following his release he was ordered to remain within the confines of the city of Jeddah. He remains confined to Jeddah on bail pending the outcome of his appeal. …more
Raytheon Receives Approval for $1.7 Billion Patriot Sale to Saudi Arabia
Missie Defense Advocacy Alliance
TEWKSBURY, Mass., Nov. 30, 2011 /PRNewswire via COMTEX/ — Raytheon Company has received U.S. Congressional and State Department approvals on a $1.7 billion Direct Commercial Sales contract to upgrade the Kingdom of Saudi Arabia's Patriot Air and Missile Defense System to the latest Configuration-3. The award, announced earlier this year, includes ground-system hardware, a full training package, support equipment upgrades and an interoperability capability to support potential coalition operations.
Patriot is the world's most capable air and missile defense system, protecting against a full range of advanced threats, including aircraft, tactical ballistic missiles, cruise missiles and unmanned aerial vehicles. It is the system of choice for 12 nations around the globe.
Raytheon is the prime contractor for both domestic and international Patriot Air and Missile Defense Systems and system integrator for Patriot Advanced Capability-3 missiles. …source
Eight Bangladeshis publicly beheaded in Riyadh, five more at risk
10/10/2011 – AsiaNews.it
The men were migrant workers. Pleas by human rights activists against the "barbaric", "appalling" and "medieval" practice fell on deaf ears. The government and embassy of Bangladesh are criticised for the way they dealt with the matter.
Dhaka (AsiaNews) – Five Bangladeshi workers in Saudi Arabia may meet a fate similar to that of eight compatriots, who were beheaded in public in Riyadh on Friday for murdering an Egyptian security guard in 2007. Four of them are in prison and one is on the run. So far, appeals by human rights activists against the "barbaric", "appalling" and "medieval" public execution have fallen on deaf ears. The Bangladeshi Embassy in Riyadh said that it is doing all it can to prevent another spate of executions. However, many people are critical of the Bangladeshi government for not doing enough to stop them.
A Saudi court sentenced the eight migrant workers to death by beheading. They were convicted of robbing a warehouse and killing the Egyptian security guard, Hussein Saeed Mohammed Abdulkhaleq, in 2007.
The Saudi authorities, as per the practice, did not inform their embassy in advance. In such cases, the bodies are not repatriated for burial.
In Bangladesh, National Human Rights Commission Chairman Mizanur Rahman said the public beheadings has traumatised the population. For him, the executions go against the spirit of international human rights laws, which say that no penalty should violate human dignity.
According to Adilur Rahaman Khan, secretary of the human rights group Odhikar (Rights), both the Bangladeshi government and the embassy in Riyadh "have failed to protect the Bangladeshis", underscoring the weakness of the country's foreign policy. …more
Proposed Saudi Arabia "Anti-Terror" Law Would Crush Peaceful Dissent and Protest, Says Amnesty International
Human Rights Organization Obtained Copies of Top Secret Draft Law
This link takes you to the draft law (in Arabic): draft law
Contact: Suzanne Trimel, 212-633-4150, strimel@aiusa.org
Human Rights Watch English Summation HERE
(New York) – Amnesty International has obtained copies of a secret draft Saudi Arabian anti-terrorism law that would allow the authorities to prosecute peaceful dissent with harsh penalties as "terrorist crime." Under the draft law, the definition of terrorist crimes is so broad that legitimate dissent would, in effect, be criminalized.
The organization obtained copies of the "Draft Penal Law for Terrorism Crimes and Financing of Terrorism," which would also allow extended detention without charge or trial. Questioning the integrity of the King or the Crown Prince would carry a minimum prison sentence of 10 years.
The leak of the draft comes as ongoing peaceful protests across the Middle East and North Africa are being met with government repression.
"This draft law poses a serious threat to freedom of expression in the Kingdom in the name of preventing terrorism," said Philip Luther, Amnesty International's deputy director, Middle East and North Africa program. "If passed it would pave the way for even the smallest acts of peaceful dissent to be branded terrorism and risk massive human rights violations."
"At a time when people throughout the Middle East and North Africa have been exercising their legitimate right to express dissent and call for change, Saudi Arabian authorities have been seeking to squash this right for its citizens," said Luther.
A Saudi Arabian government security committee reviewed the draft law in June but it is not known when or if it might be adopted.
The definition of "terrorist crimes" in the draft is so broad that it lends itself to wide interpretation and abuse, and would in effect criminalize legitimate dissent.
Under the draft law, terrorist crimes would include such actions as "endangering…national unity", "halting the basic law or some of its articles", or "harming the reputation of the state or its position".
Violations of the law would carry harsh punishments. The death penalty would be applied to cases of taking up arms against the state or for any "terrorist crimes" that result in death.
A number of other key provisions in the draft law run counter to Saudi Arabia's international legal obligations, including those under the United Nation Convention against Torture.
The draft law allows for suspects to be held in incommunicado detention for up to 120 days, or for longer periods – potentially indefinitely – if authorized by a specialized court.
Incommunicado detention facilitates torture or other ill-treatment and prolonged detention of that nature can itself amount to torture.
Detainees in incommunicado detention are also, by definition, denied access to a lawyer during their investigation.
The draft law allows for arbitrary detention: it denies detainees the right to be promptly brought before a judge, and to be released or tried within a reasonable time. It gives the specialized court the power to detain without charge or trial for up to a year, and to extend such detention indefinitely. Detainees are not given a means to challenge the lawfulness of their detention in front of a court.
It also fails to include a clear prohibition of torture and other ill-treatment.
The draft law gives wide-ranging powers to the Minister of the Interior "to take the necessary actions to protect internal security from any terrorist threat." It does not allow for judicial authorization or oversight of these actions.
Amnesty International is a Nobel Peace Prize-winning grassroots activist organization with 3 million supporters, activists and volunteers in more than 150 countries campaigning for human rights worldwide. The organization investigates and exposes abuses, educates and mobilizes the public, and works to protect people wherever justice, freedom, truth and dignity are denied. …more
Saudi Arabia: Withdraw Draft Counterterrorism Law
Proposal Would Create Legal Veneer for Unlawful Practices
August 2, 2011
"The draft counterterrorism law is trying to enshrine as legal the Saudi Interior Ministry's unlawful practices. It lumps peaceful political opposition together with violent acts and ensures that the accused won't get a fair trial. " Christoph Wilcke, senior Middle East researcher at Human Rights Watch
(Beirut) – Saudi Arabia's King Abdullah should withdraw a draft counterterrorism law from consideration by the cabinet because it would facilitate serious human rights violations, Human Rights Watch said today in a letter to the king. Human Rights Watch urged the government to consult with international human rights experts to draft a new counterterrorism law that would protect rather than infringe on basic rights.
"The draft counterterrorism law is trying to enshrine as legal the Saudi Interior Ministry's unlawful practices," said Christoph Wilcke, senior Middle East researcher at Human Rights Watch. "It lumps peaceful political opposition together with violent acts and ensures that the accused won't get a fair trial."
Human Rights Watch received a copy of the draft law, the Penal Law for Crimes of Terrorism and Its Financing, on July 22, 2011, from a source who indicated that it was "in the last stages of discussion." The Security Committee of Shura Council, Saudi Arabia's appointed parliament, which exercises limited legislative functions, passed a slightly amended version of the draft law on June 26. Shura Council changes are non-binding recommendations for the Council of Ministers, which drafts, enacts, and enforces the law.
The draft law seriously undermines human rights protections in four key areas, Human Rights Watch said. It contains an extremely vague and overbroad definition of terrorism, places unwarranted restrictions on the rights to free expression and assembly, grants excessive police powers without judicial oversight, and infringes on the rights to due process and a fair trial. …more