Official violence causes severe injuries among mourners in Bahrain
13 October, 2013 – ABNA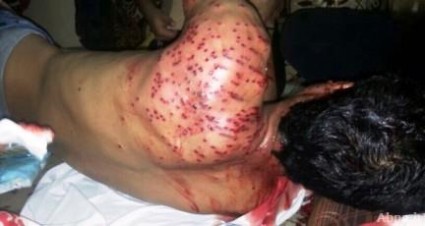 (Ahlul Bayt News Agency) – Bahrain security forces used excessive violence yesterday (Saturday 12th Oct) in a brutal crackdown on the mourners of Yousif Al Nashmi who died in custody on 11th Oct. The crackdown resulted in bloody injuries among the mourners.
The injuries indicate the security forces' use of excessive force and fire arms (shotgun pellets) from close range and the direct targeting of persons in the upper body parts in attempted killings.
A youth sustained severe injuries to the face and jaw with internationally banned weapon shotgun pellets. This, however, leaves no doubt whatsoever that the Government is heading in the direction of further escalation and repression to ban citizens from fundamental rights, such as to freedom of expression and mourning victims of the regime.
The crackdown comes amid a wide campaign in which tens of citizens have been arrested.
The security apparatus is continuing to ban rights and killings and repression in contrary to the official claims of reforming the security apparatus. Citizens inside and outsides prisons are being denied basic rights. This is what led to the death of 31 year old prisoner Al Nashmi. …more
Human Rights activists demand immediate end to Al Khalifa crackdown on Bahrainis
13 December, 2012 – ABNA
(Ahlul Bayt News Agency) – During a meeting in the Lebanese capital, Beirut, on Thursday, the participants sought to raise awareness about the flagrant human rights violations in the Persian Gulf kingdom, amid the brutal crackdown by the ruling Al Khalifa regime.
"The regime has been using an excessive amount of tear gas even throwing it into homes, to collectively punish groups for protests. They have been maiming protesters with bird shots, and they have also been torturing doctors, journalists, and even school children. So, these human rights abuses have been very rampant, and also have been worrisome. When it comes to the West, it is worrisome that the US continues to support this regime," Amber Lyon, former CNN correspondent and a guest to the conference, said.
She added, "The main issue here to be discussed is a way to get everyone together, the human rights groups, the journalists, doctors from all over the world, and politicians to coalesce into a group that can come up with solutions."
"The biggest issue, I think, facing Bahrain is the inability for people to communicate in person because we are not allowed to go to Bahrain. As a journalist, I have been blacklisted. I have been denied a visa. So, it is very difficult for all of us to come together as a group and discuss solutions. This conference offers us that opportunity and hope," Lyon said.
The Bahraini revolution began in mid-February 2011, when the people, inspired by the popular revolutions that toppled the dictators of Tunisia and Egypt, began holding mass demonstrations.
The Bahraini government promptly launched a brutal crackdown on the peaceful protests and called in Saudi-led Arab forces to help quell the unrest.
Dozens of people have been killed in the crackdown, and Bahraini security forces have arrested hundreds, including doctors and nurses accused of treating injured protesters.
A report published by the Bahrain Independent Commission of Inquiry in November 2011 found that the Al Khalifa regime had used excessive force in the crackdown and accused Manama of torturing political activists, politicians, and protesters.
The protesters say they will continue holding anti-regime demonstrations until their demand for the establishment of a democratically elected government is met. …source
Dramatic footage of deadly attack
By Sandeep Singh Grewal- 21 October, 2012
SEVEN suspects have been arrested in connection with a bomb explosion in Eker that killed a policeman and left another critically injured. The Interior Ministry Crime Detection and Forensic Science directorate yesterday confirmed "legal procedures" were being taken against the suspects.
The arrests came as police released video footage of Friday's explosion, which killed 19-year-old Imran Ahmed Mohammed, an officer of the Interior Ministry's Special Security Force Command.
One of his colleagues, a Yemeni, suffered serious injuries in the attack and remains in a critical condition in hospital.
It happened at around 1am as they were on routine patrol.
The video shows a group of youths gathering to attack police and shining laser guns at a police helicopter. A Molotov cocktail is thrown at Mr Mohammed but misses and seconds later what appears to be a homemade explosive thrown in his direction blows up on a set of football goalposts.
Mr Mohammed then bends down as if he is trying to pick something up and the explosion erupts. Several of his colleagues then run towards him to try and help him.
Mr Mohammed is survived by his parents and four sisters, Afshan, 22, Batool, 17, Zainab, 15, and Fatima, 14.
It is the second tragedy for his family in four months as the policeman's elder brother Mohammed Azhar, 26, also a policeman, was killed in an accident near Safra as he drove to work in June. The teenager's cousin Kashif Ahmed Mandhour, another policeman, was also killed by anti-government protesters after being run over by a car near the former Pearl (GCC) Roundabout.
Minister of State for Human Rights Affairs Dr Salah Ali yesterday condemned the terrorist attack on policemen while they were performing their duties.
He said violence and terrorism have nothing to do with democratic practices used by some sides as a pretext to achieve demands, stressing that vandalism, blocking of roads and intimidation of citizens lead nowhere and achieve no agenda, and those who stage them will be brought to justice and held accountable, since "we live in a state of law and institutions".
The US State Department condemned the attack during a daily Press briefing in Washington.
"We obviously strongly condemn the attack with an explosive device that killed one police officer and critically injured another in Bahrain," said spokeswoman Victoria Nuland. …more
Senior HR activist urges intl. action to stop violent crackdown in Bahrain
Shia Post – 5 July, 2012
Prominent Bahraini human rights activist Nabeel Rajab has called on the international community to take necessary measures to stop the Bahraini regime's brutal crackdown on peaceful protesters, Press TV reports.
The silence of the European community and the United States is a go-ahead signal and a green light for the Al Khalifa forces to continue their violation of human rights in Bahrain, Rajab told Press TV on the telephone on Thursday.
He said more people are being arrested on a daily basis, prisoners are being systematically tortured, houses are being raided and mosques are being destroyed, but vowed that the violent crackdowns will not silence Bahraini protesters.
The call comes amid continued protests in the Persian Gulf kingdom where protesters are demanding the United States and Britain to end their support for the ruling monarchy.
Bahrain hosts the US Fifth Fleet, and is among the Persian Gulf countries such as Kuwait, Oman, Qatar, Saudi Arabia and the United Arab Emirates that receive military equipment from the United States.
In mid-May 11, the US State Department said Washington will resume arms sales to Bahrain, drawing strong criticism from Bahraini rights groups and activists who said the decision could encourage further human rights violations in the country.
Meanwhile, reports indicate that a group of Scotland Yard police officers has recently been dispatched to Bahrain to conduct espionage operations and assist Manama to silence anti-regime protests.
Bahrainis continue peaceful demonstrations against the ruling monarchy despite the regime's violent crackdown, demanding an end to the decades-long rule of the Al Khalifa family in Bahrain. …source
"Those who said that the Egyptian revolution was peaceful did not see the horrors that police visited upon us, nor did they see the resistance and even force that revolutionaries used against the police to defend their tentative occupations and spaces: by the government's own admission, 99 police stations were put to the torch, thousands of police cars were destroyed, and all of the ruling party's offices around Egypt were burned down. Barricades were erected, officers were beaten back and pelted with rocks even as they fired tear gas and live ammunition on us . . . if the state had given up immediately we would have been overjoyed, but as they sought to abuse us, beat us, kill us, we knew that there was no other option than to fight back." – Solidarity statement from Cairo to Occupy Wall Street, October 24, 2011
The Illegitimacy of Violence, the Violence of Legitimacy
CrimethInc. Ex-workers Collective
What is violence? Who gets to define it? Does it have a place in the pursuit of liberation? These age-old questions have returned to the fore during the Occupy movement. But this discussion never takes place on a level playing field; while some delegitimize violence, the language of legitimacy itself paves the way for the authorities to employ it.
"Though lines of police on horses, and with dogs, charged the main street outside the police station to push rioters back, there were significant pockets of violence which they could not reach." – The New York Times, on the UK riots of August 2011
During the 2001 FTAA summit in Quebec City, one newspaper famously reported that violence erupted when protesters began throwing tear gas canisters back at the lines of riot police. When the authorities are perceived to have a monopoly on the legitimate use of force, "violence" is often used to denote illegitimate use of force—anything that interrupts or escapes their control. This makes the term something of a floating signifier, since it is also understood to mean "harm or threat that violates consent."
This is further complicated by the ways our society is based on and permeated by harm or threat that violates consent. In this sense, isn't it violent to live on colonized territory, destroying ecosystems through our daily consumption and benefitting from economic relations that are forced on others at gunpoint? Isn't it violent for armed guards to keep food and land, once a commons shared by all, from those who need them? Is it more violent to resist the police who evict people from their homes, or to stand aside while people are made homeless? Is it more violent to throw tear gas canisters back at police, or to denounce those who throw them back as "violent," giving police a free hand to do worse?
In this state of affairs, there is no such thing as nonviolence—the closest we can hope to come is to negate the harm or threat posed by the proponents of top-down violence. And when so many people are invested in the privileges this violence affords them, it's naïve to think that we could defend ourselves and others among the dispossessed without violating the wishes of at least a few bankers and landlords. So instead of asking whether an action is violent, we might do better to ask simply: does it counteract power disparities, or reinforce them?
This is the fundamental anarchist question. We can ask it in every situation; every further question about values, tactics, and strategy proceeds from it. When the question can be framed thus, why would anyone want to drag the debate back to the dichotomy of violence and nonviolence?
The discourse of violence and nonviolence is attractive above all because it offers an easy way to claim the higher moral ground. This makes it seductive both for criticizing the state and for competing against other activists for influence. But in a hierarchical society, gaining the higher ground often reinforces hierarchy itself. …more
Bahrain Analysis: Navigating a Rising Tide of Violence
24 January, 2012 – EA World News – by Marc Owen Jones
In his Friday sermon three days ago, Bahrain's most senior Shi'a cleric Isa Qassim sent a strong message out to the state security services, saying, "Whoever you see abusing women, you must crush them." Unsurprisingly, such words caused considerable anxiety in Bahrain, where tensions and violence seem to have escalated sharply since the beginning of the year. On Sunday, in what is one of the more powerful videos to emerge from Bahrain in the past year, residents of al-Eker videoed themselves chasing away riot police with Molotov cocktails, sticks and stones. Protesters have claimed that this was in retaliation to this incident, in which women appear to be struck and manhandled by riot officers after becoming involved over a man's arrest.
With Qassim's endorsement of violence in the defense of women comes the anxiety that Bahrain's largest political opposition society al-Wefaq are taking on an increasingly hardline stance. It would, however, be inaccurate to suggest Qassim's words reflect the will of the party itself. On the contrary, several months ago the opposition coalition (which includes al-Wefaq) used the post-BICI [Bahrain Independent Commission of Inquiry] period of relative goodwill to affect some sort of rapprochement, and denounced the use of roadblocks and pouring oil on the road.
To clarify al-Wefaq's stance, Ali Salman outlined when it was acceptable to use violence, and stipulates clearly that it should only be used as a form of self defence in situations where the attack has clearly been established or when violations of property have occurred. He also added that protests should be peaceful, and that if this peacefulness was met with violence, then it is only fair to defend oneself. Despite Ali Salman's clarification, Qassim's words may have swayed those still deliberating whether or not violence is a legitimate defensive strategy to counter continued state repression. Such rhetoric concerning the defence of women will not only resonate strongly within an Islamic context, but also amongst many men themselves, who see violence against women as an affront to masculinity and pride.
Regardless of Qassim's words, this escalation in violence seems to have been particularly notable over the last months, and a number of videos have surfaced that show residents of Bahrain's villages resorting to increasingly extreme tactics to combat the presence of the riot police.
While violence towards the state security apparatus is not new, the uprising that began on 14 February 2011 was a largely peaceful movement, and generally rejected the violence that was more commonplace in the 1990s. However, continued government reluctance to affect meaningful change and provide space for legitimate political opposition is inevitably leading to increased radicalisation amongst Bahrain's youth. Recent events would suggest that the violence is becoming less sporadic, more organised, and more widespread, as these videos show.
– Al-Daih. 22nd December. Unknown persons throw some sort of incendiary device off a roof, setting a policeman's foot on fire. (This one particularly looks like it could have been a lot worse).
– Sitra. 23rd December. Protesters throw Molotovs and stones at passing police jeeps.
– Nabi Saleh. 24th December. Protesters throw Molotovs and iron rods at police, managing to set fire to a policeman's leg
– Nuwaidrat. 30th December. Protesters wearing white smocks launch a co-ordinated attack on riot police
– Al Dair. 20th January. Protesters throw Molotovs and stones and riot police.
– A'ali. around 20th January. Protesters throw molotovs at the police.
-Uniformed protesters in Diraz march in a well-drilled and regimented fashion. They appear to be holding flags with Feb 14th Youth imagery….Similar to the previous video, this one shows youth in North Sehla marching in a regimented fashion, also holding flags that bearing Feb14th Youth imagery. A markedly similar procession is held in Sitra. These three videos all concern this idea of "holy defence" which will be discussed later. ِ
This is not an exhaustive list, but simply an indicator of increased militancy amongst Bahrain's youth. Although the videos depicting violence speak for themselves, the latter 3 videos documenting the regimented processions are a bit more ambiguous to interpret. If, like their banners suggest, they represent the Feb 14th Youth, does this then challenge the existing conception that they are a "loosely organised" group. Possibly.
In addition to the above videos, a number of alarming discussions have been taking place on one of Bahrain's popular opposition forums. This short thread focuses on the best way to run over policemen, whilst this one requests the addresses of thugs, "mercenaries" and officers. This use of violence is often justified in the context of "holy defence".
Indeed, today sees the launch of "BahrainFist", an operation of "holy defence" whose aim is to send a clear message to the security forces. The operation will not rely on peaceful means, and it seeks to "crush" the "mercenaries" should they decide to park at the entrance to the villages (which they inevitably will). Despite all the aforementioned talk of running over policemen, BahrainFist seems mainly to promote the use of Molotov cocktails, though there is a post on their website linking to this bizarre, marble-firing-gun made by some people in Barbar (though I imagine such weapons are more frightening than they are effective). [Note, the video of the marble-firing gun has since become private — odd. Another two (1,2) clips resemble martyrdom videos, and show men talking about their commitment to the BahrainFist operation.
Although it is not clear who is behind BahrainFist, it would be safe to assume it is a youth-based endeavour. Interestingly, those behind BahrainFist made a point of noting that the Feb 14th Youth endorsed their operation, suggesting that the two are not necessarily linked. BahrainFist also took Isa Qassim's recent speech as an endorsement of their operation, though this may be a somewhat liberal interpretation of his speech.
While BahrainFist claims it is an operation of holy defence, the line between defence and pre-meditated offence can be somewhat nebulous. Do the riot police simply being parked at the entrances to a village constitute a transgression worthy of violent self defence? I imagine most would tend to disagree, though if the ability to protest peacefully is not provided, then is violent self-defence an inevitability? All valid questions, yet there does seem to be something pre-meditated about today's operation.
Predictably, Qassim's words and the advent of BahrainFist are not doing much to pacify loyalists, who have posted videos such as this, which shows them denouncing the likes of Isa Qassim and friends. They state that they will force them back to their original country (Iran) if they don't stop what they're doing. Although such threats are decidedly vague, the belief amongst many loyalists that the Government are refusing to enforce laws increases the possibility of vigilantiism. Indeed, thugs seemed to be out in force at the funeral of Yousif Muwali two days ago, and a number of people complained about being attacked. A new video has emerged of thugs and riot police officers beating up a man in Nuwaidrat. This comes a few weeks after thugs were reported to be loading up unmarked cars with molotov cocktails. The previous video also shows a thug throwing a Molotov cocktail with a riot officer doing little more than shooing him away. Let's not also forget that the police themselves indulge in throwing molotov cocktails.
…more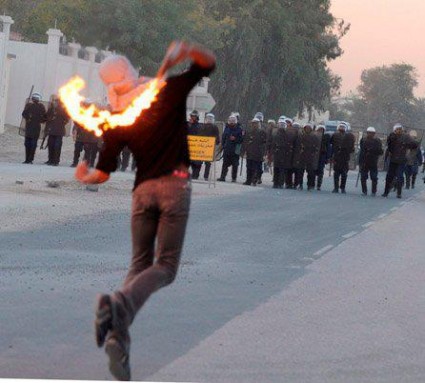 Protester responds in extreme, frustrated by murders of Protesters at peaceful protests and people in their homes with gas attacks
Bahrain protesters Martyred by toxic gas assaults
25 January, 2012 – Shia Post
Two more anti-government Bahraini protesters have martyred from inhaling toxic tear gas and the other by sound grenade fired by al-Khalifa regime forces.
According to informed sources, Bahraini forces attacked houses in A'ali and al Diyah village by fiering tear gas and severely suppressed innocent civilians.
Today victims namely 'Haj ali al Sakri' martyred from inhaling toxic tear gas in A'ali village and the other one 'Abbas Ja'afar Sheikh', 22, by sound grenade from al-Khalifa regime forces, in al-Diyah village.
The number of Bahrain martyrs reached to 63.
Local sources said the demonstrations were held mainly in the village of Ma'ameer, about 15 kilometers (9.5 miles) south of the capital Manama, and the village of Dair, located on the northern coast of the Muharraq Island.
Many were also injured during the attacks, the sources said.
Regime forces also used toxic gas against a protest in the town of Sitra, A'alia and al-Dirah.
Saudi-backed Bahraini forces continue their violent crackdown on peaceful demonstrations in the country. …source
…for those not clear on what the video is showing, the mall was an exit for the Protesters that were attacked in the streets by Security Forces.
Bahrain refers deaths implicating police to prosecutor
08 Dec 2011 – Reuters
DUBAI, Dec 8 (Reuters) – Bahrain has ordered the public prosecutor to investigate all deaths and torture cases implicating the police as part of efforts at political reconciliation following a crackdown on pro-democracy protests earlier this year.
The state news agency said on Thursday the measures followed the recommendations of an inquiry commission set up by the government that investigated the unrest in the Gulf state. Inspired by revolts in Tunisia and Egypt, thousands of Bahrainis took to the streets in February and March to demand an end to control of the government by the al Khalifa family.
Interior Minister Sheikh Rashed bin Abdullah al-Khalifa "issued an order to refer all cases related to deaths, torture and inhumane treatment implicating police to the Public Prosecution," BNA news agency said. The minister also ordered that cameras be installed to "ensure visual and audio recording for all official interviews of detainees", BNA reported.
The inquiry panel acknowledged that five people had been tortured to death but said there was no official policy to abuse protesters. …more
Bahrain forces attack, arrest protesters
Oct 14th, 2011 – Bahrain – By shiapost
A female protester has been injured and several others have been arrested as regime forces in Bahrain continue to attack peaceful demonstrators. The protesters were chanting anti-regime slogans on Friday when they were targeted with tear gas and sound grenades.
The violence left one woman seriously wounded in the town of Nuwaidrat where regime forces engaged in heavy clashes with anti-government protesters. Regime forces have also attacked female protesters in the village of Karzakan.
Several demonstrators were arrested after the Saudi-backed forces attempted to disperse protests in towns and villages around the capital, Manama. Tens of thousands of demonstrators staged a rally in the eastern village of Buri, demanding an independent judiciary system.
The mass rally, called by Bahrain's main political bloc al-Wefaq, came despite stepped up security measures in the Persian Gulf Kingdom. Al-Wefaq has been organizing weekly rallies every week demanding political and social reforms in the tiny Persian Gulf sheikhdom.
Scores of people have been killed and hundreds more have been arrested in the brutal crackdown of Saudi-backed Bahraini regime forces on peaceful protesters since anti-government protests began in the Persian Gulf kingdom in mid-February. …source
Anthony Shadid on Bahrain suffering
16 September, 2011
"In the revolts that have roiled the Middle East this year, toppling or endangering a half-dozen leaders, Bahrain, an island kingdom once best known for its pearls and banks, has emerged as the cornerstone of a counterrevolution to stanch demands for democracy. While the turmoil elsewhere has proved unpredictable — the ascent of Islamists in Egypt, the threat of civil war in Syria and the prospect of anarchy in Yemen — Bahrain suggests that the alternative, a failed uprising cauterized by searing repression, may prove no less dangerous.
"The situation is a tinderbox, and anything could ignite it at any moment," said Ali Salman, the general secretary of Al Wefaq, Bahrain's largest legal opposition group. "If we can't succeed in bringing democracy to this country, then our country is headed toward violence. Is it in a year or two years? I don't know. But that's the reality."The toll of the ensuing repression was grim: in a country of about 525,000 citizens, human rights groups say 34 people were killed, more than 1,400 people were arrested, as many as 3,600 people were fired from their jobs and four people died in custody after torture in what Human Rights Watch called "a systematic and comprehensive crackdown to punish and intimidate government critics and to end dissent root and branch."For decades, Bahrain's relative openness and entrenched inequality have made it one of the Arab world's most restive countries, as a Shiite majority numbering as much as 70 percent of the population seeks more rights from a Sunni monarchy that conquered the island in the 18th century.
But February was a new chapter in the struggle, when the reverberations of Egypt and Tunisia reached Bahrain and, after bloody clashes, protesters seized a landmark known as Pearl Square, where they stayed for weeks. Activists trade stories of colleagues forced to eat feces in prison and high-ranking Shiite bureaucrats compelled to crawl in their offices like infants. Human rights groups say 43 Shiite mosques and religious structures were destroyed or damaged by a government that contended that it faced an Iranian-inspired plot, without offering any evidence that Tehran played a role.
Backed by the armed intervention of Saudi Arabia, King Hamad bin Isa al-Khalifa declared martial law in March, and though it was repealed June 1, the reverberations of the repression still echo across the island."They told me, 'There are two ways we can deal with you — as a human or as an animal,' " Matar Matar, 45, recalled being told after he was arrested by men in civilian clothes in May and jailed for three months."
The crackdown here has won a tactical and perhaps ephemeral victory through torture, arrests, job dismissals and the blunt tool of already institutionalized discrimination against the island's Shiite Muslim majority. In its wake, sectarian tension has exploded, economic woes have deepened, American willingness to look the other way has cast Washington as hypocritical and a society that prides itself on its cosmopolitanism is colliding with its most primordial instincts. Taken together, the repression and warnings of radicalization may underline an emerging dictum of the Arab uprisings: violence begets violence." ...source
"There are those who were arrested, and investigations proved that they were the victims of individual behavior and were ill-treated in custody," the king said. "This is not tolerated by God and we do not condone it" – King Hamad bin Isa Al Khalifa.
by PressTV – April 18, 2011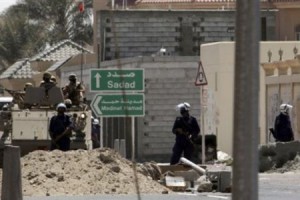 Bahraini security forces have reportedly arrested several teachers and students in the town of Hamad in a new wave of crackdown on anti-regime protesters.
Reports say at least eight teachers and several pupils from an all-girl secondary school were arrested in the Bahraini city.
The new arrests came as Bahraini anti-government protesters are preparing to start the world's largest joint hunger strike to show their anger with the regime's crackdown on peaceful demonstrators.
The organizers have called on all Bahrainis around the world to begin a hunger strike from Monday in protest against the regime's brutalities against the opposition.
The move was inspired by rights activist Zainab al-Khawaja who was hospitalized on Sunday after seven days of hunger strike.
She is protesting the detention of several of her relatives, including her father and husband. The human rights activists were detained earlier this month by Bahraini security forces, backed by troops from Saudi Arabia and the UAE. …more