Bahraini Activists Detained, Deported on One-Year Anniversary of Protests
14 February, 2012 – Bahrain Center for Human Rights
Freedom House is appalled by the Bahraini government's relentless repression of activists before and on the one-year anniversary of the "Pearl Roundabout." Three human rights activists were detained on February 14 – Nabeel Rajab, President of the Bahrain Center for Human Rights, Naji Fateel and Hassan Jaber. On February 12, human rights activist Zainab Alkhawaja, who has documented the protest movement on Twitter using screen name "Angry Arabiya," was arrested. Zainab's father, prominent activist and founder of the Bahrain Center for Human Rights, Abdulhadi Alkhawaja, was sentenced to life in prison and recently began a hunger strike. In addition, two activists working with Witness Bahrain – Radhika Sainath and Huwaida Arraf – were deported this past weekend after entering the country in anticipation of the February 14 protests. The Bahraini government continues to crack down on ordinary Bahraini citizens and has failed to implement comprehensive political reform. In recent weeks, Bahrain has prevented journalists and human rights organizations, including Freedom House, from entering the country.
Bahraini citizens have been broadly engaged in protests since February 2011, to call for a more representative government and to denounce ethnic-based inequities in a country run by the Sunni Al-Khalifa royal family, where the majority of citizens are Shiite. Despite promises of reform, Bahraini authorities have continued to use torture against detainees, block access to medical services, and raid the homes of suspected protesters. Bahraini rights groups have reported ongoing arrests, intimidation, and in some cases torture of those speaking out against despotic rule. …source
February 15, 2012 No Comments
Bahraini activist goes on hunger strike before anniversary of uprising
9 February 2012 – The Guardian
Abdulhadi al-Khawaja, convicted of leading last year's protests, restarts hunger strike calling for his release
A jailed rights activist in Bahrain has gone back on hunger strike before the anniversary of the country's pro-democracy uprising on 14 February, the Bahrain Youth Society for Human Rights has said.
Abdulhadi al-Khawaja was one of 14 prominent figures convicted of leading the protests who took part in an eight-day hunger strike to demand their release. Bahraini authorities said that hunger strike ended last week.
"Al-Khawaja said in a telephone call to his family: 'Freedom or death,' which means he started an open hunger strike until his release," said the Bahrain Youth Society for Human Rights on its website.
The opposition is trying to put pressure on the government, dominated by the Sunni Muslim al-Khalifa family, before the anniversary of the uprising. The reforms they want include an elected government – the first in the Gulf – and reduced powers for the al-Khalifas.
Bahrain imposed martial law in March last year and asked troops from Saudi Arabia and the United Arab Emirates to help crush the month-old uprising.
The government said the island's majority Shia Muslims had co-ordinated the protests with Iran for sectarian reasons, an accusation the opposition has denied.
…more
February 9, 2012 No Comments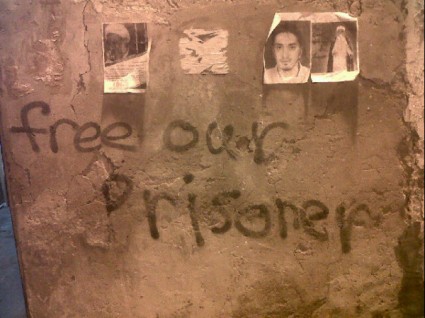 January 30, 2012 Comments Off on Free Bahrain's Political Prisoners Now!
Report on the Treatment of Political Detainees in Bahrain's Prisons
21 January, 2012 – BCHR
Prepared by the Bahrain Rehabilitation & Anti-Violence Organisation (BRAVO) and the Bahrain Centre for Human Rights (BCHR) for the International Committee of the Red Cross.

Introduction
Since the popular uprising calling for greater political and civil rights started in Bahrain on 14th February 2011, well over 3000 people have been arrested by the authorities and continue to be arrested, according to the Bahrain Independent Commission of Inquiry (BICI). Many of those who were detained or imprisoned by the government in relation to the events have described substandard conditions at various detention centres around Bahrain, particularly at central prisons whilst systematic torture seems to be continuing in local detention centres where unconvicted prisoners are held. This report attempts to highlight areas where treatment of political detainees at these detention centres falls short of the Standard Minimum Rules for the Treatment of Prisoners (SMRTP) adopted by the First United Nations Congress on the Prevention of Crime and the Treatment of Offenders (Geneva 1955). The research methodology adopted is based on extensive interviews conducted with prisoners recently released and incorporates consistent reports that the Bahrain Center for Human Rights (BCHR) receives from families of prisoners.
Report content:
1. Discrimination against political detainees
2. Separation of prisoner categories
3. Accommodation
4. Clothing and bedding
5. Food
6. Exercise and sport
7. Medical care
8. Discipline and punishment
9. Instruments of restraint
10. Information to and complaints by prisoners
11. Contact with the outside world
12. Books and formal education
13. Religion
14. Notification of death, illness, transfer, etc.
15. Conditions in local detention centres.
January 21, 2012 No Comments
"Power in defense of freedom is greater than power in behalf of tyranny and oppression." Malcolm X
January 20, 2012 No Comments
Saudi-backed Al-Khalifa Regime Continues Torturing Inmates
07 January 2012 – Islamic Invitation Turkey
Fresh reports of the torture of an 18-year old student in detention are yet another blow to Bahrain's promises of reform, Amnesty International said.
Independent observers reported that the Bahraini police have subjected Hassan 'Oun to torture, including beatings and threats of rape after his arrest in Manama on 3 January.
"As such horrendous cases of human rights abuse keep piling up, the Bahraini authorities' promises of change ring ever more hollow," said Hassiba Hadj Sahraoui, Amnesty International's Deputy Director for the Middle East and North Africa.
Hassan's family has told Amnesty International that he was interrogated about his contact with the Bahrain Center for Human Rights.
The student had told the Center about being tortured by police during a previous 2011 arrest, following his involvement in anti-government protests.
"We are concerned that Hassan 'Oun may have been targeted again for arrest because he dared to report police abuses," said Hassiba Hadj Sahraoui.
According to family members, Hassan told his lawyer that the police had forced him to stand for about 11 hours, and that he had been beaten on his feet with a hose and threatened with rape.
Hassan's lawyer and other witnesses have reportedly seen signs of torture on his body, and that one of his legs is swollen from injury.
Hassiba Hadj Sahroui called for immediate investigations in to the case, and also called for Hassan's immediate release.
After being held in a police station for a day, Hassan was questioned at the Public Prosecutor's Office (PPO) on 4 January.
The PPO extended his detention for 45 days pending investigation, under illegal public gathering charges. Hassan was then transferred to the Dry Dock Prison in Manama.
His family have not been allowed to see him.
Nearly a year on since the start of the crackdown on anti-government demonstrations at Manama's Pearl Roundabout in 2011, scores of health workers, opposition and human rights activists, teachers and others are still facing trials or serving prison sentences. …more
January 13, 2012 No Comments
Letter on Bahrain to Secretary Clinton
Posted on 11/30/2011 by Juan
The Project on Middle East Democracy has written a letter to Secretary of State Clinton on the Bahrain crisis, which I co-signed. It asks the US take seriously the findings of severe human rights violations on the part of the regime, and to pressure it to take concrete steps to end them. The letter anticipated the Bassiouni report commissioned by the king, which confirmed the seriousness of the violations.
Nov. 21, 2011
Secretary of State
U.S. Department of State
Washington, D.C. 20520
Dear Secretary Clinton:
We are writing to you out of concern with ongoing developments in Bahrain.
"meaningful reform and equal treatment for all Bahrainis are in Bahrain's interest, in the region's interest, and in ours."
As we await the report of the Bahrain Independent Commission of Inquiry (BICI) on November 23, we are also pleased to hear that the administration will "review the Commission's findings carefully and assess the Government of Bahrain's efforts to implement the recommendations and make needed reforms."
We are hopeful the BICI report will thoroughly document human rights violations committed in Bahrain that have been independently verified by international human rights organizations such as Human Rights Watch, Human Rights First, Amnesty International, Physicians for Human Rights, and many others since protests began in February. Furthermore, we hope the implementation of reform and accountability mechanisms for human rights violations will lead to a process of substantive political reform that is responsive to the legitimate democratic aspirations of the Bahraini people.
As you noted recently, "mass arrests and brute force are at odds with the universal rights of Bahrain's citizens and will not make legitimate calls for reform go away." In order to restore public confidence and deliver on its promises to uphold human rights and accountability, the U.S. Government should urge the Government of Bahrain to:
Unconditionally release political prisoners and end torture, arbitrary detention, and incommunicado detention;
Protect Shi'a places of worship and religious buildings, rebuild destroyed mosques, and end systematic discrimination in political representation, government recruitment, employment, and naturalization policies;
Take measures to ensure the reinstatement of all workers and employees who were dismissed from their workplace for peacefully exercising their right to freedom of expression, political opinion, and assembly;
Allow and fully cooperate with independent human rights organizations and observers, including U.N. bodies such as the Office of the High Commissioner for Human Rights, to investigate claims of human rights abuses; Investigate and hold accountable all individuals who authorized, condoned, or committed human rights abuses, including the use of violence or torture against peaceful protesters and detainees
Release medical professionals and political prisoners who have been detained without charge or convicted and sentenced for political offenses; and
Allow access by local and international journalists to activists, protest sites, hospitals and other public institutions.
While we hope the BICI report will comprehensively address the range of past and ongoing human rights abuses, the Government of Bahrain's commitment to reform should be demonstrated by concrete efforts to quickly implement serious reforms. The democratic demands of the Bahraini people are based on a universal desire for dignity and self-determination. Such demands include, but are not limited to:
The empowerment of elected rather than appointed government institutions.
Universal and equal suffrage, including in the designation of electoral districts;
A judicial system that operates independently, both financially and administratively, and is impartial and transparent in its proceedings;
[Read more →]
November 30, 2011 No Comments
November 28, 2011 No Comments
Bahrain King Says Abuses To Be Punished
November 23, 2011 – Radio Free Europe – Radio Liberty
Bahrain's king says officials involved in abuses during a crackdown on antigovernment protests earlier this year will be held accountable and replaced.
King Hamad bin Isa al-Khalifa made the pledge on November 23 at the release of a report by an independent commission into the February-March events.
The report concluded that "there have been instances of excessive force and mistreatment of detainees, as well as five deaths as a result of torture" during the crackdown on the protests.
It also said it found no proof of an Iranian link with the incidents. Bahrain has accused Tehran of inciting the protests.
King Hamad vowed to do everything possible so "those painful events won't be repeated," adding: "We must reform our laws to bring them in line with international standards."
On November 21, authorities said 20 members of the security forces had been charged for alleged abuse of protesters during the month of unrest, in which several dozen people were killed and hundreds of others were injured.
The Shi'ite-led protests were calling for greater rights in the Sunni-ruled island nation. …source
November 26, 2011 No Comments
Upcoming Event – Bahrain Lobby of Parliament
Posted on November 9, 2011 by admin
Bahrain Lobby of Parliament
6-8pm, Monday, November 14th
Committee Room 1 ,
Houses of Lords
Help campaign for Bahrain by lobbying your MP as part of the Justice for Three campaign.
Write to your elected representative and ask them to attend the public Meeting at House of Lords, chaired by Lord Nazir Ahmed.
To discuss the case of the Three Bahraini protesters sentenced to death and other human rights issues in Bahrain.
The meeting will also host speakers from Human rights organizations, the defendant lawyer, member of the defendant family and member of the Bahrain Center for Human rights
About Justice for Bahrain
Founded in March 2011 following the Bahraini Revolution of 14 Feb 2011. It was set up by a group of individuals of different cultural and professional backgrounds, who with the help of many volunteers eventually prospered into a leading and very active campaign. We are a cross-party organisation campaigning for justice, fundamental human rights and freedom in Bahrain and in other parts of the Middle East. We are an independent organisation based in the. …more
November 13, 2011 No Comments
An interview with Matar Ibrahim Matar: A Political Activist and ex-Member of the Bahraini Parliament
أصوات بارزة – 11/02/2011 – ASWAT
Matar Ibrahim Matar is an ex-member of the Bahraini Parliament. He is a leading figure in the Wefaq Society, the largest political party representing the Shia majority in Bahrain. The Wefaq Society plays a big role in the current opposition movement, and in the 2010 elections they increased their representation by one seat, winning all the constituencies they contested, to take 18 out of 40 parliamentary seats. Matar was imprisoned for over a month and is currently facing charges for his support of the uprising. We reached him at his home in Bahrain by phone to ask him a few questions about his experiences in the past years.
1) Explain who you are, your involvement with the Bahraini government and your current role in political affairs.
My name is Matar Ibrahim Matar; I have an M.A in computer science from Kuwait University where I specialized in artificial intelligence. After university, I came back to Bahrain and developed the youth arm of the Wefaq Society: the largest Shi'a party in Bahrain. Some may refer to our society as a political party, but because Bahrain does not have a true democracy it acts more like a society. As I moved up professionally within the system, members elected me to the Shura al Wefaq, a legislative council which monitors al-Wefaq's executive council. Later, I was chosen to represent the largest constituency in the Bahraini parliament and was elected with 85% of the vote. In parliament, I was placed on the Committee of Economic and Financial Affairs, which reviews budgets of various ministries and state organizations. On many occasions, some of the ministries, such as the Ministry of Defense or the National Guard, refused to submit their budgets. Also, other individuals from the government refused to attend their committee hearings. Unfortunately, their refusal to cooperate with our committee was not met with any penalties. This is one example of the undemocratic nature of the Bahraini government; Bahrain has had declining transparency, competence, and a worsening human rights record in the last ten years.
2) What happened to you? Why and how did they arrest you? What happened during and after your detention?
The political authorities were always preparing cases against me in an attempt to provide a legitimate reason to arrest me. The first attempt came from the television confession of Ali Sager who was tortured and was forced to give a false confession. On TV, he confessed that I had ordered him to run over security personnel and kill them with a car. This accusation meant that I could face the death penalty, if tried and convicted in court. Ali's recent death in prison as a result of torture, however, reveals that the authorities must have coerced him into providing false confessions and accusations.
The second case fabricated by the government involved eleven detainees who were tortured until they confessed, falsely, that I had funded a program to create a media center that, according to the government, disseminated false information about the state. When I confronted the police and asked the security forces to show me one recording of a conversation I had with these detainees, they were unable to provide me with any proof.
The third and final case involved a woman calling me asking to meet her somewhere. When I told my wife she felt very uncomfortable with it and she accompanied me. When I arrived at the location, my wife came out of the car and met the woman. At the same time masked and armed civilians came and arrested me. They tried to accuse me of committing adultery but because my wife was with me, they could not justify such a claim. They arrested me anyway.
* What about your time in prison?
Only masked men interacted with me in prison so I never knew the identity of the guards (with the exception of two guards, who showed me their faces after a while). They first questioned me for two days and then sent me to the Bahraini national intelligence agency's jail. I was placed in solitary confinement for 45 days in a very small room with no windows; the lighting never changed. I could not recognize the time or day, only the calls to prayer gave me some idea. Whenever I left the room, they covered my eyes. I was tortured, physically and psychologically. I was completely isolated for three weeks. They tortured me physically when they questioned me. They would even torture me after the questioning just to demonstrate their dominance. They saw it as a punishment for my actions. They made me stand up until I felt like fainting and they refused to help me when I was weak. They told me if I were to stop standing, they would move me outside and have me stand in the sun. The psychological torture was worse. I would hear the screams of others being tortured around me all the time. I began to imagine the horrible things that were happening to them. I could never sleep because whenever I heard noises outside my door, I would think that they were coming for me. …more
November 8, 2011 No Comments
Bahrain: Reports of Military Personnel Tortured, Imprisoned, and Killed by Regime
6 November 2011 – by Mona Kareem – Global Voices
This post is part of our special coverage Bahrain Protests 2011.
Release our activists, release our students, release our medics, release our women, release our teachers, and now release our military personnel. All of these are Twitter campaigns that Bahraini netizens have been pushing for to create awareness about the different segments targeted by the Bahraini regime since protests started on February 14.
Activists say there are scores of military and police personnel who have been arrested and trialed in military courts during the unrest for refusing to shoot protesters, sending text messages, attending funerals, protesting, or just for being members of the Shia'a sect. The sentences they have received vary between 1-12 years.
Activists insist they have not had fair trials, just like the rest of those prosecuted in Bahrain since pro-democracy protests shook the nation. They add that the military personnel, who work for the defense and interior ministries, were also not able to appeal their sentences and that the media has unfortunately neglected their cause, especially with the lack of information about their cases.
Free Ali Al-Ghanmi (who refused to shoot protesters) by Twitter user @HoPeGlObE
Free Ali Al-Ghanmi (who refused to shoot protesters) by Twitter user @HoPeGlObE
On Twitter, activist Hadeel Kamalaldin (@hadeeloosh) asked people to use the hashtag #FreeMilitary to demand the release of soldiers and to tweet their names and details of their cases [ar]:
November 7, 2011 No Comments
October 5, 2011 No Comments
Bahrain sentences more activists to jail
Twenty-six more sentenced to jail, raising number to 60 in two days, as officials ban opposition "human chain" protest.
Last Modified: 04 Oct 2011 18:38
After months of protests in the island kingdom, more than 400 people were arrested for their participation [EPA]
A Bahraini security court has sentenced 26 activists to prison for their part in anti-government protests, raising to 60 the total number convicted over the past two days in stepped-up prosecutions.
Bahraini authorities on Tuesday also banned the largely Shia opposition from organising a "human chain" demonstration against the jailing of medics and activists.
The official Bahrain News Agency said Tuesday's verdicts included members of a Shia political group, Al Amal, which was banned by the Sunni monarchy after pro-reform protests began in February.
The three cases involved the alleged kidnapping of policemen and calls to overthrow the Gulf kingdom's regime during a month of demonstrations, the chief military prosecutor said.
Among those listed was cleric Mohammed Habib al-Muqdad, who was also convicted of inciting attacks on policemen in sermons delivered at Pearl Roundabout, the focal point of the protests against the Al Khalifa dynasty.
In another case, four defendants, including Muqdad, were jailed for 10 years after being found guilty of kidnapping policeman Saifullah Ibrahim and taking him to Pearl Roundabout, "parading him in front of people gathering there and then to Salmaniya Medical Complex to incarcerate him", BNA said.
They were also guilty of "spreading false news" through different means including "falsifying images and providing them to satellite channels," it said.

'Human Chain'
A top security official on Tuesday rejected a request by Wefaq, Bahrain's main Shia opposition group, to stage a "human chain" protest because the protest "could cause traffic bottlenecks".
Major General Tareq Mubarak bin Daina, the head of Public Security, said the planned location of the protest was "not suitable security-wise", and that the safety of those participating and using the road could be affected.
Wefaq slammed the ban as "illegal" and called it a constraint on freedom of expression, in a statement posted on its Facebook page.
It said the protest was planned to take place in a secondary road and not on the main road cited in the ban.
Second day in a row
Tuesday's verdicts were issued a day after 36 other Shia were jailed up to 25 years in cases related to the month-long protest which was quashed in mid-March and followed by a wave of arrests.
The same National Safety Court outraged international human rights organisations by condemning 20 medics to up to 15 years in prison for charges including attempting to overthrow the regime.
It had also sentenced 21 opposition leaders and activists to between two and 25 years over plotting to overthrow the regime in the Gulf monarchy.
Scores of Shia were also been tried in the quasi-military court, including at least five sentenced to death for killing policemen.
Authorities said in May that 405 detainees had been referred to courts, while 312 were released.
October 4, 2011 No Comments
Democratic Opening in Bahrain Needs Release of All Prisoners of Conscience
9/6/11 06:13 PM ET – by Jean-François Julliard – Secretary general, Reporters Without Borders
That Bahrain released 137 people on August 9th is good news, but it also shows the scale of arrests, done in full view with little criticism. Five weeks ago, President Barack Obama hailed the launch of a national dialogue by the Bahraini government as an "important moment of promise for the people of Bahrain." The government lifted the state of emergency on June 1st and started the national dialogue a month later, but continued to arbitrarily hound bloggers, the media and journalists. Clearly the regime is saying one thing, but doing another.
Earlier in the year, President Obama pointed out that "mass arrests and brute force are at odds with the universal rights of Bahrain's citizens" and recalled the necessary constitutional separation of powers — particularly between the executive and judicial. Reporters Without Borders urges the United States to renew its pressure on Bahrain, a leading U.S. ally in the Gulf, and to secure the support of Saudi Arabia, whose has strong influence over Bahrain. The U.S. and Saudi Arabia must work together to pressure the Bahraini authorities to cease violating their citizens' rights to free expression and assembly by arbitrary arrest and prosecution, to release prisoners of conscience, and to continue the national dialogue in good faith.
On June 22nd, a military court imposed long jail sentences on 21 activists and civilians supposedly on charges of belonging to terrorist organizations and trying to overthrow the government. These actions violate international human rights standards. But this is not the sole irregularity observed in the trial. According to some of the defendants and their families, the suspects were tortured or mistreated while in detention.
Eight of them, including the human rights activist and blogger Abduljalil Al-Singace, were given life sentences. The head of the pro-democracy and civil liberties movement Al Haq, Singace has been in jail since March 16th, for allegedly trying to destabilize the government because he used his blog to denounce the deplorable state of civil liberties and discrimination against Bahrain's Shiite population. He had been arrested several times since 2009 for the same reasons.
The other 13 suspects got sentences ranging from two to 15 years in prison. The blogger Ali Abdulemam, tried in absentia, got 15 years. Abdulemam is regarded by fellow Bahrainis as one of his country's Internet pioneers and is an active member of Bahrain Online, a pro-democracy forum that gets more than 100,000 visitors a day despite being blocked within Bahrain. A contributor to the international bloggers network Global Voices, he has taken part in many international conferences at which he has denounced human rights violations in Bahrain. He was arrested in 2005 for criticizing the regime in his blog and was detained again from September to February 2011, but he avoided re-arrest and has been in hiding for several months.
And of course, none of them were amongst these 137 released prisoners.
There are limits to the regime's leniency. Two royal decrees signed on June 29th were an attempt to silence international criticism. The first makes it possible for civilians to be tried in civilian court instead of the martial ones when they are accused of destabilizing the government. It also makes it possible for them to appeal to the highest civilian appeal court to fight against the rulings of the national security appeal court. The other, Decree No. 28, created a commission of enquiry into the incidents that took place in the kingdom during February and March. …source
September 6, 2011 No Comments
Global campaign for release of former Kent student
By Steve Knight, chief county reporter Saturday, September 3, 2011
8:00 AM
Scholars from around the world are campaigning for the safe release of a former University of Kent student imprisoned in Bahrain.
Professor Masaud Jahromi, who graduated in 2001 with a PhD in telecommunication networking, was arrested on April 14 this year but has yet to be charged with any offence despite spending almost five months behind bars.
The married father-of-one, who is currently chairman of the Department of Computer Science and Engineering at Ahlia University's College of Mathematical Sciences and Information Engineering in Bahrain, also suffers from Hepatitis C and has allegedly been refused treatment by his captors.
Eager to raise awareness of Prof Jahromi's plight is the international Scholars at Risk (SAR) organisation, which exists to promote academic freedom and to defend the human rights of scholars worldwide.
A large number of British universities are members of the network, including the University of Kent.
SAR executive director Robert Quinn said: "Since his arrest, Prof Jahromi was reportedly held in an undisclosed location and initially had no communication with his family.
"According to reports, the police broke into his house in the middle of the night, threatened and harassed members of his family, confiscated the family's laptops and beat Prof Jahromi. We understand now he was initially brought to AlGalaa prison and later transferred to Dry Dock Prison.
"He has yet to be informed of the charges against him. A date for his hearing has not yet been set in spite of the fact he has been detained for more than four months – in apparent disregard for international standards of due process, fair trial and detention."
Based at New York University, Scholars at Risk was launched as part of the University of Chicago's human rights programme in 1999. …more
September 3, 2011 No Comments
"3rd day of hunger strike of 130 detainees including doctors at "Dry dock detention center"
Jailed Bahrain doctors on hunger strike
by Hugh Tomlinson, Dubai – The Times – September 02, 2011 12:00AM
A GROUP of Bahraini doctors on trial for alleged terrorism have begun a hunger strike in protest at their treatment, amid claims they have been tortured in custody.
The 14 men began their protest on Tuesday after being denied bail last week by a military court. Relatives say the health of several of the doctors has deteriorated rapidly and they are not receiving adequate medical treatment.
"One doctor has a cerebral aneurism, another has severe injuries from torture. Another man is suffering badly from diabetes. Now they are all on hunger strike their condition will only get worse," said a relative.
The doctors are charged with turning a hospital into a terrorist base as thousands of protesters took to the streets across the island kingdom in February, demanding democratic reforms from the ruling al-Khalifa family.
The government alleges that the men took hostages at Salmaniya hospital in the capital, Manama, hoarding guns in the building and using ambulances to run weapons to the protesters. Opponents say, however, that the authorities have been staging show trials to justify a violent crackdown.
More than 30 people have been killed since troops moved in to quash the protests in March.
With martial law in place, a military court was set up to try the detainees.
At the doctors' first hearing, in June, the most damning evidence came from confessions signed by the defendants themselves and the testimony of "confidential witnesses". The detainees have said their confessions were extracted under torture. Prisoners were beaten with sticks and hoses, deprived of sleep and forced to sign papers while blindfolded, they say.
One of the doctors described being hooded and made to stand for several hours in a cold room during repeated interrogations.
"Then they gave me some papers. I never saw them, I just signed everything they told me to. What choice did I have?" he said.
Tensions remain high across the kingdom, with protests continuing on an almost daily basis. …more
September 1, 2011 No Comments
Scholars at Risk calls for letters on behalf of Prof. Masaud Jahromi of Bahrain
August 16, 2011
Scholars at Risk (SAR) is gravely concerned about Professor Masaud Jahromi, Chairman of the Department of Computer Science and Engineering at Ahlia University, Manama, Bahrain, who has been arrested and detained for four months. SAR asks for letters, faxes and emails urging the appropriate authorities to intervene to ensure his well-being pending his earliest release, including ensuring regular access to the legal counsel of his choosing, to family and to medical treatment.
Scholars at Risk is an international network of over 250 universities and colleges in 31 countries dedicated to protecting the human rights of scholars around the world and to raising awareness, understanding of, and respect for the principles of academic freedom and its constituent freedoms of expression, opinion, thought, association and travel. In cases like Professor Jahromi's involving alleged infringement of these freedoms, SAR investigates hoping to clarify and resolve matters favorably.
Dr. Masaud Jahromi holds a PhD in Telecommunication Networking from University of Kent at Canterbury in the United Kingdom, and he is Chairman of the Department of Computer Science and Engineering at Ahlia University's College of Mathematical Sciences and Information Technology. Scholars at Risk has learned that Professor Jahromi was arrested and taken from his home at 2:30 am on April 14, 2011. Scholars at Risk understands that Professor Jahromi was held first in Al Galaa Prison and then transferred to the Dry Dock Prison, where he has been since the end of April. According to reports, the police broke into his house in the middle of the night, threatened and harassed members of his family, confiscated the family's laptops, and beat Professor Jahromi before taking him away to an undisclosed location. He was denied access to his family for over one month. Reports also indicate that Professor Jahromi is not receiving medical treatment for serious and diagnosed conditions, including Hepatitis C.
[Read more →]
August 23, 2011 No Comments
Female Teacher on Hunger Strike in Bahrain Hospitalized
8-17-2011 – By Human Rights Defenders Program – Human Rights First
In July, Human Rights First profiled Jalila al-Salman, a Bahraini teacher who has been detained since March for her alleged role in coordinating a teachers' strike. We are very concerned to hear from local human rights defenders that Jalila was hospitalized today for chest pains following 10 days on hunger strike. Among the handful of women still in detention in Bahrain, Jalila and fellow prisoner, Roula Al Saffar, the Head of the Bahrain Nursing Society, have undergone a joint hunger strike to protest their continued detention and ill treatment. There are reports that Jalila has been severely tortured.
While there were hopes that the women detainees would be released pending a transfer to civilian courts at the start of Ramadan, so far there have been no improvements to their situation.
Another female detainee told HRF staff in Bahrain what happened to her, Her account is consistent with what has happened to other female detainees:
I was taken from the hospital where I was working during the middle of the day. Four masked men came and took me for an interrogation. They blindfolded me and took me to the investigations office. They were verbally abusing me, saying the doctors at the hospital were sectarian, only treating Shiite patients.
Then they moved me to another room – I was blindfolded the whole time and a policewoman pushed me along the corridor for more questioning.
They wanted me to say that doctors took injured people for operations unnecessarily, they had very minor injuries but doctors made these injuries worse and caused death on purpose in two cases.
They said we wanted to make Bahrain look bad, to hurt its international reputation. I said no, patients were really bleeding badly, some from live ammunition wounds, and we didn't make their wounds worse. …more
August 17, 2011 No Comments
Shia bloc questions talks
Last Modified: 28 Jun 2011 21:31
However, the main Shia opposition group, Al Wefaq, has questioned the Kings's offer of dialogue while political activists are being tortured and prosecuted on allegedly false charges.
The group has questioned how reconciliation efforts can proceed when many activists, particularly Bahraini medics have been sentenced by military trial courts.
"It's not a good atmosphere," said Ali Salman, the leader of Wefaq, who suggested Bahrain's rulers are seeking dialogue to improve the country's image as safe again for tourism and foreign investors.
The absence of Wefaq would be a blow to the credibility of the talks, which start on Saturday.
Washington has publicly backed the talks as the only option to calm tensions in one of its main Gulf military allies.
At the same time, the US is under growing pressure to take a harder line against Bahrain's ruling dynasty, which claims that Shia power Iran has a role in the protests.
The US had urged Bahraini King to meet some opposition demands. It also expressed concern about the severity of the sentences and the use of military-linked security courts against protesters. …more
June 28, 2011 No Comments