Pro-democracy campaigner who witnessed torture of young political prisoners disappears on eve of Red Cross visit
Bahrain: Human Rights Activist Nabeel Rajab Missing from Prison
By Gianluca Mezzofiore – 15 May, 2013 – IB-Times
Prominent Bahraini human rights activist Nabeel Rajab has gone missing from his prison cell and moved to an unknown location, according to the Bahrain Centre for Human Rights (BCHR).
Rajab, who has served 11 months of a two-year sentence for "encouraging illegal gatherings" during the 2011 uprising in the tiny Gulf island, called his wife on 14 May and told her that "he had witnessed the torture of young political prisoners at the hands of prison guards at Jaw prison".
"He raised his voice telling them to stop, and when they realised that he had witnessed what was happening, they quickly left," BCHR said in a statement.
"Nabeel Rajab asked his wife to request that the International Committee of the Red Cross (ICRC) visit him in prison so he can give them his testimony of what he had witnessed. Rajab's wife received a phone call that evening informing her that Nabeel was reportedly removed from his cell that night by prison guards and was not returned."
The 48-year-old has been at the forefront of the pro-democracy protests in the Gulf Kingdom and has more than 200,000 followers on Twitter.
Prison officials repeatedly refused him medical treatment for a back injury, according to his wife Sumaya Rajab. …more
Bahrain blocks marches for jailed rights activist
23 March, 2013 – Associated Press – Reuters
MANAMA, Bahrain: Security forces in Bahrain have fired tear gas to prevent protesters from reaching the house of a jailed human rights activist who is the focus of an international campaign seeking his release.
Riot police clashed with hundreds of marchers trying to gather at the home of Nabeel Rajab, who has been sentenced to two years in prison on charges of backing "illegal" protests.
Authorities also set up roadblocks to keep cars from reaching the house.
Rajab, head of the Bahrain Center for Human Rights, is among dozens of activists and political figures jailed during the more than two-year unrest in the Gulf kingdom.
Majority Shiites in the Sunni-ruled nation are seeking a greater political voice.
International rights groups have called for Bahrain to release Rajab and other jailed activists.
…source
Bahrain activist Nabeel Rajab's prison sentence reduced
11 December, 2012 – BBC
An appeals court in Bahrain has reduced the prison sentence handed to prominent human rights activist Nabeel Rajab from three years to two.
The court upheld Mr Rajab's conviction of encouraging "illegal gatherings".
His lawyer, Mohammed al-Jishi, told AP news agency that he had been cleared of a charge of insulting police.
Mr Rajab, head of the Bahrain Centre for Human Rights, has been a leader of the pro-democracy protests which have rocked the kingdom since February 2011.
The 48-year-old is also one of the most well-known activists in the Arab world, with more than 185,000 followers on Twitter.
Mr Rajab's wife, Sumaya, said she had spoken to him briefly in court on Tuesday after the appeal against his conviction was rejected.
"He told me he was not expecting two years. He was thinking that they would release him," she told the BBC.
Mr Rajab was originally sentenced to a year on each of three identical charges but in two cases the sentences were cut in half.
Joe Stork of Human Rights Watch called the decision "bizarre".
"The Bahraini judiciary is extremely politicised," he said, noting the pressure that international human rights groups have put on the government to release Mr Rajab and other political prisoners.
"They gave an inch to international concern but Nabeel Rajab is still facing two years in jail, punished for exercising his right to freedom of association."
On Sunday, US Assistant Secretary of State Michael Posner urged the authorities to "drop charges against all persons accused of offenses involving non-violent political expression and freedom of assembly".
The next day, another activist, Zainab al-Khawaja, was sentenced a month in prison for entering the "prohibited area" of the former site of Manama's Pearl Roundabout – the focus of last year's unrest. …source
European-Bahraini Organization for Human Rights
19 August, 2012
Urgent appeal: to the United Nations and the Red Cross: The leader of the human rights movement Nabeel Rajab is put in solitary confinement facing humanitarian persecution, and his imprisonment is a setback in the history of human rights defenders.
(Bern – Switzerland 21.08.2012): We the European- Bahraini Organziation for Human Right appeal to the United Nations and the International Red Cross for urgent intervention and immediate action to demand the release of human rights defender and the president of the Bahrain Center for Human Rights, Mr. Nabeel Rajab, who was arrested solely for exercising the right to freedom of opinion and peaceful expression, whether online or through demonstrations calling for democracy and justice in Bahrain. We also urge the United Nations Council for Human Rights, the European Parliament, and all concerned governments, to exert their influence on the Bahraini authorities to stop human rights violations and get Mr. Rajab out of solitary confinement.
The moment of Mr. Nabeel Rajab's arrest from home
Human rights defender Mr. Nabeel Rajab was subjected to violations of his civil and humanitarian rights as a citizen and defender of human rights starting with a media campaign to tarnish his work and discredit him the official media in Bahrain, as well as harassing, arresting, and beating members of the center he heads. He was violently arrested from his home during the period of Emergency Law "national safety" in March 2011, and was tortured for hours at an unknown location, threatened and then released. That was followed by directly targeting him physically in marches for democracy through beatings, arbitrary arrests, and morally through defamation and falsification of the facts, and later unfair trials sentencing him to three years in prison on the date of 08.16.2012 to suffer from abuse and persecution in prison, shocking the international community and human rights organizations. International organizations repeatedly called on the Bahraini authorities to release him with no response to these claims, which have become of no matter and importance to the Bahraini government. Nabeel Rajab's family wrote an open letter to the U.S. and British governments and all governments that have influence in Bahrain and the United Nations and all human rights organizations, regional and international.
Mr.Nabeel Rajab with his wife Mrs.Sumayah Rajab
Mrs. Sumayah Rajab, the wife of Mr. Nabeel Rajab told the European-Bahraini Organization for Human Rights about her husband's circumstances in prison saying: My husband Nabeel Rajab called and was cautious in his words, he could not talk about his situation in prison, and when I asked him: Are you in solitary confinement he said: yes. She added that Nabeel Rajab said he was just taken out of solitary confinement and newspapers were prevented from him, then the call with Nabeel suddenly dropped and lasted less than two minutes. …more
Bahrain Feature: Interview with Nabeel Rajab "We Will Continue Our Uprising"
EA World View – Josh Shahryar – 16 August, 2012
Editor's Note: In January, EA's Josh Shahryar spoke twice with Nabeel Rajab, the activist heading the Bahrain Center for Human Rights. The first discussion occurred just after police had attacked a march in the capital Manama, with Rajab at the front, and had allegedly beaten the human rights activist.
The second interview followed more marches, more clashes, and more deaths from tear gas and possibly from police abuse. Regime supporters claimed that Rajab and opposition societies such as Al Wefaq suported violence against the security forces, while critics argued that little has changed despite the King's promise to address the shortcomings identified in November's report by the Bahrain Independent Commission of Inquiry.
This morning, seven months later, Nabeel Rajab was sentenced to three years in prison for participation in illegal marches. In light of this, we post the full text of the second interview
What is the forthcoming strategy for the opposition, given that 1) the regime is not giving way on demands for substantial political reform; 2) marches are often blocked by security forces; and 3) there are claims of a violent minority growing amongst protesters?
I don't believe violence is a policy of the opposition or that it is systematic. Lately we have seen some isolated cases of violence. We as human rights groups and the opposition in Bahrain disagree with violence and don't think it could be the means for change for the better. However, we understand the frustration of the people. They are being arrested, tortured and their loved ones are being killed.
The other side [the regime] is offering no solutions. Due to political considerations and economic interests, the international community is ignoring these abuses as well. That is adding to the feeling of frustration. Then we see people getting killed because of tear gas to which the international community replies with more silence. Foreigners come to Bahrain, they demolish mosques, they rob houses, they destroy property. An indigenous opposition in this country exists that is now being crushed by foreign mercenaries.
I am very sad to see violence, I don't think it will ever be a solution, but [the human rights groups in Bahrain's] ability to control or to keep masses peaceful is limited because of the pervasive violence against them by the regime. The same is the case with the opposition — they can't either. The deadlock and the continued oppression by the government is creating this violence and I'm afraid that this violence could increase in the face of oppression and silence by the international community.
Let's make one thing clear, all is in the hands of the government. All we can do is create pressure locally and internationally. all the tools are in the hands of the government — the army, police and all institutions. The government doesn't seem to have the willingness to make changes, especially since it is getting support from regimes like Saudi Arabia, who are helping with oppression to either stop or to hijack the revolution.
So we have to put pressure on those governments, social and economic, to take sides with the people who are being oppressed. Locally, we will continue our uprising. We can't imagine any reason to stop now. We are at a stage where over 50 people have been killed, thousands have been injured, countless have been tortured. Human rights violations have been committed by many people in system including high-ranking members of the royal family, like two sons of the king. With all these huge sacrifices we have paid, I don't think anyone is thinking of stopping the uprising. We will continue fighting for justice, democracy and freedom. We will try our best to keep it peaceful and maintain calm.
You mentioned Saudi Arabia. What has been the role of Saudi Arabia in the violence against Bahrain?
Saudi Arabia is working parallel to the revolution to cancel it. Across the Middle East, either, it is either giving money to stop revolutions or when they happen it tries to hijack them. And this is happening in places like Egypt. They have wealth to buy institutions and media to influence the outcome of revolutions. That has to be taken into consideration when people are fighting for democracy in this part of the world since Saudi Arabia is powerful in the Gulf and Middle East.
This is one reason why you don't hear about Bahrain in the international media because most of the media in this part of the world are owned either by Qatar or the Saudis. These countries are ruled by regimes who are friendly with the government in Bahrain. That's why Al Jazeera Arabic, which was actively covering all the other revolutions [in the Middle East and North Africa], is totally silent about Bahrain. That is why Al Arabiya continues to run material opposing the Syrian regime, but when it comes to Bahrain, they are on the government's side. This is the case with all media owned by them [the Saudis].
What does King have to do to stay in power?
The truth is that this king had more support from the people than any other king from his family in the past 200 years because of the promises he made. This support even came from human rights organizations. We had hope.
In 2000, He was in the village of Sitra on a visit. People — civilians — lifted his car up with their hands and carried it around the village out of happiness and love. They shouted, "With our blood and life, we would sacrifice for you." But that was ten years ago. Now 14 people have been killed in that village in the past few months. Now when they protest, they shout, "King Hamad! Step Down". People have lost confidence in the king.
There should be a radical change for people to regain their trust in him. There should be a radical move that will bring confidence back. It is gonna have to be much more than what he did in 2000 to gain trust and confidence because people have lost trust in him and the regime. First of all, he must release all political prisoners. Then, he must bring the opposition together and ask their demands with them while treating them with dignity and respect and granting. Then, he must apply and implement all the demands they require. A big part of the opposition still isn't asking for the overthrow of the government. Calls for his departure are not as deep-rooted. They only started when people started to get killed by security forces. His role may be negotiable.
The bottom line is that there should be real changes to satisfy people. The government has failed completely to address the people's demand. The king's image has become that of a man who doesn't keep his word because of the number of promises he made and never fulfilled them. However, the government doesn't seem to want to give anything. …more
To the governments of the USA, the UK and all governments who have influence on Bahrain And to the UN and all Regional and International Human Rights Organisations
Bahrain: An open letter from the family of Human Rights Defender Nabeel Rajab
11 August, 2012 – Gulf Center for Human Rights
My name is Sumaya Rajab, the wife of the prominent Bahraini human rights defender, Nabeel Rajab, who is currently detained in Bahrain. I write this letter in my name, and the names of our son Adam and our daughter Malak to urge you to use your influence and act quickly to guarantee my husband's release immediately and unconditionally.
The Bahraini government fabricated a number of cases against Nabeel to take revenge because of his human rights activities. He was recently convicted as a result of his tweets in which he criticized the Prime Minister who has been in his post for 42 years. It is well-known that Nabeel exercised his right to freedom of expression in his tweets, which was guaranteed by all international conventions for human rights. Other cases taken against Nabeel related to his criticism of the security forces and the use of excessive force and torture and also his calls for peaceful protests through social networks. The right to assembly to demand civil rights is guaranteed by Bahraini laws.
My husband Nabeel is a prominent Bahraini rights activist and he is the head of the Bahrain Centre for Human Rights, director of the Gulf Centre for Human Rights, and a member of Human Rights Watch's MENA Advisory Board. He is also the Vice-President of the International Federation for Human Rights. Nabeel has worked in human rights for 20 years and he has held important positions in several countries.
With the beginning of what is known as the Arab Spring, Nabeel initiated many peaceful activities to support the right of all peoples to decide their destinies. This came at the same time as the Bahraini revolution in February 2011 which demanded the Bahraini people's legitimate rights to democracy, social justice and the end of corruption. Nabeel initiated a campaign on social networks to support Bahraini people's rights, erase corruption and uncover violations of human rights. He also tried to uncover the role of the ruling regime in Bahrain in these violations. Nabeel has become one the most prominent activists on social networks, especially Twitter. He has at present more than 166,000 followers from all around the world. He travelled around the world and he met several international officials both in the West and the Middle East and officials in human rights organizations and institutions to uncover the human rights violations carried out by the regime and to explore ways to stop these violations and end the impunity. Nabeel and his team at the BCHR succeeded in uncovering the lies of the regime in front of the world. As a result, the Bahraini regime manipulated the politicized judicial authorities to fabricate cases against him in order to imprison him and stop his influential activities. …more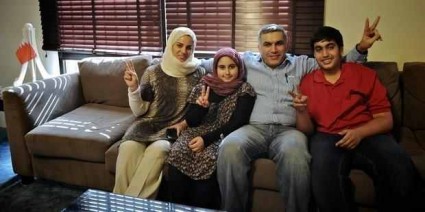 Human progress is neither automatic nor inevitable… Every step toward the goal of justice requires sacrifice, suffering, and struggle; the tireless exertions and passionate concern of dedicated individuals. Dr. Martin Luther King Jr.

FIDH's International Board Demands the Immediate Release of its Deputy Secretary General Nabeel Rajab
14 May, 2012 – International Federation for Human Rights
The International Federation for Human Rights (FIDH) on the occasion of its international board meeting in Paris on May 13th 2012, strongly denounces the ongoing detention of its Deputy Secretary General Nabeel Rajab.
Nabeel Rajab, the President of the Bahrain Center for Human Rights, has been detained since he was arrested upon arrival at Manama airport from Lebanon on May 5th. He was then charged with "insulting the statutory bodies". The charges are pressed against him in relation to tweets he posted deemed "insulting" to the Ministry of Interior. He was taken before the court on May 6th, when he stated that he was the author of tweets posted through his account.. He further said that he did not recognise the jurisdiction of the Court and the Prosecution due to their lack of independence from the Executive. The next hearing will take place on May 22, 2012.
On May 12th, Mr. Rajab was again presented before the Public Prosecutor, who informed him of a new case against him for charges of "calling for and participating in an illegal gathering". According to the information received, based on information provided by the police administration to the prosecutor Nabeel Rajab is alleged to have made speeches during rallies calling for the use of force by demonstrators against police forces. Mr Rajab refused to answer the questions of the judge and declared that the investigation is a conspiracy. The Public Prosecutor remanded Mr. Rajab to detention for an additional seven days in relation to this case.
Mr Rajab faces another case for charges of "participating in an illegal assembly" and "calling others to join", relating to a protest organised on March 31, 2012 in Manama to denounce the detention of human rights defender Abdulhadi Al Khawaja who has been on hunger strike since February 9, 2012. [1] …more
BCHR President Nabeel Rajab Arrested
5 May, 2012 – Bahrain Center for Human Rights
The Gulf Centre for Human Rights (GCHR) and the Bahrain Center for Human Rights (BCHR) continue to express grave concern in regards to the targeting of human rights defenders in Bahrain by the authorities. The authorities in Bahrain have used many methods in attempting to prevent and/or limit human rights defenders in Bahrain from carrying out their work of documenting and reporting on human rights violations in the country.
Nabeel Rajab, director of the Gulf Centre for Human Rights, and president of the Bahrain Center for Human, was arrested upon arrival at the Bahrain airport on the 5th of May 2012. Prior to his arrest he stated: "Given that Bahrain in essence lacks a judiciary system that is independent and/or fair, and is far from being in line with international standards of a fair trial, I have decided to boycott the trial against myself. The judiciary system in Bahrain, today, is a tool used against human rights defenders and people calling for democracy and justice."
Rajab's trial is due to begin its first hearing tomorrow, Sunday 6th May, 2012. The charges leveled against him are: "participating in illegal assembly and calling others to join". In addition, it seems that Rajab could face more charges as he was summoned for interrogation on charges of "insulting the statutory bodies" on the 26th April 2012.
…more
Can the informal leader of Bahrain's revolution keep the movement going despite a government that cracks down with impunity and an indifferent world?
The Agony of Nabeel Rajab
By Karen Leigh – 12 February, 2012 – The Atlantic
Nabeel Rajab, the man who comes as close as any to leading Bahrain's revolution, was in a Manama coffee shop last March, holding his drink and casting an amused eye out the window at what appeared to be government-issued security cars lined up at the curb.
"I'm not hiding," he said.
At the time, Rajab, the gregarious, grey-haired president of the Bahrain Centre for Human Rights, was one of a trio of prominent activists — including University of Bahrain professor Dr. Abdul-Jalil al-Singace and the BCHR's founder, Abdulhadi al-Khawaja — who had become the most revered figures of the then weeks-old revolution.
Now, almost a year later, his two contemporaries have each received lifelong prison sentences, leaving Rajab — a 47-year-old building contractor by trade — the de-facto leader of Bahrain's resurgent uprising.
He's kept safe by making himself a celebrity among the Arab Spring's activists, journalists, experts, and rights workers, too well-known for the regime to arrest or worse, as it has with so many others.
"Already I have seen violence from people, which worries me."
Many, including Rajab himself, correlate his freedom to a strong personal relationship with those international figures, many of whom were in Manama for the first months of the island kingdom's Shi'a revolt.
In the last year, he's attended conferences across the Arab world and has traveled to Washington, D.C., to publicize the ongoing violence against what he says are peaceful protests against the monarchy, which is made up of the country's Sunni minority.
"He has deftly used his high media profile and connections with Western diplomats to stay out of prison," says Barak Barfi, a New America Foundation fellow who was on the ground in Manama last March. "Nevertheless, his plight has been much better than that of other regime critics such as Singace, who, lacking Rajab's high-level ties, find themselves imprisoned for long periods of time."
But Rajab hasn't had an easy time, and Bahrain revolution is struggling.
At a rally outside the King's palace in Riffa last March, he stood on a dirt field, providing information and reassurance to protesters and journalists. In buoyant spirits, he marveled at the size of the crowd. At the same rally, fellow activist al-Singace, briefly freed from prison in a government show of goodwill, parted the crowd in his wheelchair, flowers thrown at his feet.
Rajab is the only highly visible Bahraini activist still able to attend those marches, which though largely ignored by international media, have happened most Fridays for the last year, a testament to the stubborn will of the country's activist corps.
Rajab says there is "violence every night" inflicted by security forces on the streets of Bahrain's poorer Shi'a neighborhoods. His claim is backed up by a constant stream of information coming from cyber activists based on those very streets.
The devastation, they say, comes largely from the tear gas grenades that are often shot into houses or overhead into a crowd, as they were that day on the field in Riffa.
"It's like shooting a cannon at someone," Rajab says. "They're supposed to be rolled on the ground. What they're doing on these crowded, small streets is throwing tear gas into people's homes. It's especially complicated if you have asthma or chronic disease."
In the last year, two physical attacks on Rajab, allegedly by government forces, made global headlines. "His good relations with Western governments have not been able to prevent the regime from persistently harassing him," Barfi says.
For a period of months last year, Rajab was forbidden to leave Bahrain. …more
Bahrain Interview: Nabeel Rajab – How Police Attacked the Manama March and Beat Me
By shiapost – 8 January, 2012
On Friday night Nabeel Rajab, the president of the Bahrain Center for Human Rights, was at the front of a march in the capital Manama. Minutes after police spoke to him, trying to halt the rally, security forces charged the demonstrators. Rajab was knocked down and beaten before he was put into an ambulance and taken to hospital. He was released later in the evening.
Rajab talks to EA about the episode:
For Nabeel Rajab, last Friday night — like most of his nights when he is in Bahrain — was supposed to be an evening of visits to the homes of families who have lost loved ones in the violence or have had members detained since the beginning of February's protests.
This Friday was different. "I thought I should go visit some families in Manama," he said, but then he decided that he might join a family member in the protests over killings and detentions.
Even before Rajab and his companions reached Manama, the city had been flooded with hundreds of security forces. At 7:30 PM, he and activist friends Zainab Alkhawaja and Said Yousif Almuhafda started to walk near Alkhawaja Mosque. "As we walked, more people showed up and started walking with us, but the location where the protesters were supposed to gather had a heavy presence of riot police."
So instead of gathering, the crowd kept walking and growing. At some point, they turned back and walked back to where they had started their journey. By 8:20, there were more than a thousand marchers, holding banners and calling for the release of political prisoners, in an area roughly a square kilometer (0.37 square miles). But before they could complete their round-trip journey on Babul Bahrain Road, they saw a dozens of riot police blocking their path.
Fearing a confrontation was imminent, the marchers stopped 15 metres from where the riot police had stopped. For five minutes, nobody made a move. Then, the riot police started to lose patience. An officer walked towards the marchers and told Rajab to tell the protesters to go back home or they would be attacked in five minute.
"I told them there was no reason for an attack. I told him that the marchers were just men and women who'd peacefully gathered and had a right under international law to be here."
The officer told him they needed permission for a protest.
"I told him that we wouldn't be granted permission. We've asked for a permission; other political societies have asked for one, but the government rejected them all."
The officer would not listen.
"I told him we were close to the end of our march, back to where we started, and we just wanted to complete the round trip and it would just take 10 minutes."
The officer still would not budge form his demand for the gathering to go home.
"I said it was up to him and that he should not use violence, but if he does, the marchers wouldn't react because violence wasn't the solution."
The officer gave them five minutes to disperse. In fact, the attack began 90 seconds later.
Riot police started beating people with batons. Tear gas canisters started flying all over the place, spewing what many protesters have started to call "toxic gas", because the new gas being used by security forces has effects far stronger than that employed earlier in the protest. Rajab saw some canisters; none had any company names or other labels.
Rajab tried to get to his car as other protesters sought shelter in houses from the continuous baton charges and tear gas smoke. He only made it 500 metres. Several riot policemen cornered him in an alley. He felt two hard baton blows on his back, then one of the officers punched him in the face, knocking him to the ground. The riot police then started to kick him as he hid his face in his hands. As they verbally abused him, he shouted his name and said that he was a human rights activist.
That altered the riot police's behaviour immediately — the kicks and punches started to fall harder and more frequently.
But then an officer who was not taking part in the beating, possibly overhearing Rajab's identity, came to his '"rescue". He asked the others to stop beating Rajab and reached out to the activist.
"He insisted on holding my hand and walking with me to an ambulance. I asked him how soon this 'gesture of kindness' might appear on Bahrain's state TV." Rajab did not get a reply.
As they walked towards the ambulance, Rajab sized up the riot police accompanying him. He recognised several were of South Asian background, verifying the large number of foreigners from Pakistan, India and Arab states in the security forces.
"I asked the officer in English why I was being beaten? Why he had come to Bahrain to beat a Bahraini and how he would feel someone came to his country to beat him in front of his children? I told him, 'You are from India. You have a democracy. Why do you come here to repress our movement for democracy?'"
The officer denied he was Indian and insisted he was Bahraini. …more
U.S. concerned about Bahrain activist, urges probe
7 January, 2012 – Reuters
WASHINGTON (Reuters) – The United States called on its ally Bahrain on Saturday to investigate the case of a prominent Bahraini human rights activist who the opposition says was beaten by security forces.
Opposition activists said several security officers threw Nabeel Rajab, head of the Bahrain Center for Human Rights, to the ground and beat him on the head, neck and back after a protest march on Friday.
Bahrain's Interior Ministry has denied those accounts, saying on its Twitter feed that police found Rajab "lying on the ground" and took him to the hospital for treatment.
The Sunni-led island kingdom, home to the U.S. Fifth Fleet, last year sought to crush anti-government demonstrations mounted by the country's Shi'ite Muslim majority. Protest marches have continued in recent months, sometimes turning violent.
Officials from the U.S. embassy in Manama met for about an hour on Saturday with Rajab, who had a cut beneath one eye and bruising on his face, a senior U.S. official told Reuters on condition of anonymity.
"The United States is deeply concerned by continuing incidents of violence in Bahrain between police and demonstrators," State Department spokeswoman Victoria Nuland said in a written statement.
"While the facts surrounding the violence that transpired remain in dispute, we strongly urge the Government of Bahrain to undertake a full investigation (of Rajab's case) to determine if excessive force was employed by police," she added.
Nuland said embassy officials had raise Rajab's case with senior Bahraini officials and urged the government to carry out recommendations made by an independent commission that found Bahrain used excessive force in last year's crackdown. …more
Nabeel Rajab has been released after being interrogated at the hospital.
On Fri, Jan 6, 2012 at 4:20 PM, confirmed
Bahrain: Vicious Attack on Human Rights defender Nabeel Rajab
06 Jan 2012
The Gulf Centre for Human Rights, the Bahrain Centre for Human Rights and Cairo Institute for Human Rights Studies hold the authorities in Bahrain full responsibility for the life and safety of human Rights defender Nabeel Rajab.
The President of Gulf Centre for Human Rights (GCHR) and Bahrain Centre for Human Rights (BCHR) Nabeel Rajab was beaten severely by the security forces in Bahrain then moved in an ambulance to Salmaniya hospital after participating in a peaceful protest in Manama earlier tonight (video of the attack on the protest). He has told his lawyer on a phone call following the attack that the policemen gathered around him suddenly and started to beat him. He informed the lawyer that while lying on the ground he was beaten all over his body and specially on his back and face and that his face injuries are serious. He has an injury just below his right eye. He was then taken to Salmanyia hospital which is still controlled by a heavy security presence since last March. Human rights activists from Bahrain Youth Society for Human Rights (BYSHR) and his lawyer Mohammed Al-Jishi who have headed immediately to the hospital were prevented from seeing him. His Son Adam Rajab saw his dad in the hospital, carried by police, he said Nabeel's face was swollen. When Adam tried to take a picture of his dad he got pushed and his phone was taken from him. Dr Alaa AlShehabi reported from the hospital that Nabeel is surrounded by 8-10 security officers and that he is suffering from concussion, back pain and bruises to his back and face. He told Dr Alaa that he was attacked by a group of police officers with sticks, he was kicked, punched & beaten all over his body and especially on the face. BCHR member Said Yousif AlMahafdha was able to see Nabeel for a moment by was then asked by Minister of interior officers to leave immediately.
BCHR knew that Nabeel is being interrogated right now, though he can't talk and is currently on a wheel chair. His family was not allowed to stay with him.
Following the same attack, Sayed Yousif AlMahafdha, active member of the BCHR, was also injured with a stun grenade in his leg and arm. In addition, supporters gathered in solidarity outside Nabeel's house in Bani-Jamra were attacked with tear gas.
This is an urgent appeal, the fact that the ministry of interior is controlling access to Nabeel with heavy security presence around him and preventing taking photos is very worrying and we are concerned about his health and life. Rajab is believed to be under arrest, until authorities with the Ministry of Interior allow visitation or reveal Mr. Rajab's status.
There is an imminent fear of torture, in case Rajab was transferred to a detention facility, particularly that there is a trend of targeting human right defenders in Bahrain, who are frequently subjected to torture and other ill treatment while in detention.
GCHR, BCHR and CIHRS believe that the security forces attack on human rights defender Nabeel Rajab is directly related to his legitimate work in defense of human rights and democracy in Bahrain.
We are deeply concerned that this latest attack comes as part of an increasingly hostile environment that human rights defenders in Bahrain are facing which has included the repression of peaceful demonstrations in the villages of Bahrain, the arbitrary arrest of nonviolent protesters on daily basis, and the attacks and intimidation of human rights defenders who are defending the people's rights in Bahrain.
We condemn in the strongest possible term this vicious attack on a well known human rights figure inside Bahrain and on the regional and international levels. GCHR, BCHR and CIHRS, are gravely concerned for the physical and psychological integrity of Nabeel Rajab and hold the government of Bahrain responsible for his safety.
Report on previous attacks on Nabeel Rajab by the security forces in Bahrain , May 2011
undisclosed verified source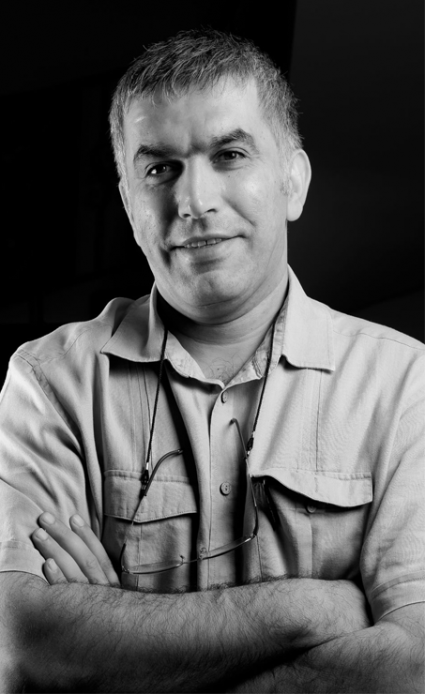 Nabeel Rajab
New developments in the tiny Gulf Kingdom of Bahrain have reached boiling point after reports have surfaced that prominent human rights activist, president of the Bahrain Centre for Human Rights and 2011 Ion Ratiu Democracy Award winner Nabeel Rajab was brutally beaten and injured during his participation in a peaceful protest. Bahrain has exploded with calls for the immediate release of Nabeel Rajab with opposition group Al Wefaq condemning the incident and demanding an apology along side his release.
Nabeel was reportedly present at a peaceful protest alongside prominent human rights activist Zainab Al Khawaja who was also recently arrested and released pending trial. Nabeel was taken to hospital as witnesses say that he was severely beaten on the face, arms, eyes and back, to the point when "he he was not able to see", just after tying to calm the situation with officers present at the scene of the protest. Lawyer Mohamed Al Jishi, after speaking with Mr. Rajab, claims that the attack came as a surprise to him as officers gathered around him and began beating him.
It has been reported that Mr. Rajab is now being detained in the hospital where his lawyer and other activists have been refused entry to see him. Maryam Al Khawaja, Head of the Foreign Relations Office Bahrain Center for Human Rights, has expressed her concern that his lawyer has been refused entry to see Mr. Rajab. The Ministry of Interior has released a statement claiming that police took Mr. Rajab to the hospital when they found him on the ground as they were scouring the area.
Ahmed Ali
Arab Uprising Channel Manager HumanRights TV
@ahmedali_
06/01/12
…source
Webcast with Nabeel Rajab, Winner of 2011 Ion Ratiu Democracy Award, and events in Washington DC
NABEEL RAJAB – RECIPIENT of the 2011 ION RATIU DEMOCRACY AWARD
The Ratiu Foundation is pleased to announce the programme of events connected with Nabeel Rajab, a human rights activist and co-founder of The Bahrain Human Rights Society, receiving the 2011 Ion Ratiu Democracy Award.
Thursday 1 December 2011 – NABEEL RAJAB at the 2011 Ion Ratiu Democracy Award Workshop
14:00, 5th Floor, Woodrow Wilson Center, One Woodrow Wilson Plaza, 1300 Pennsylvania Ave. NW, Washington, DC 20004-3027
RSVP online HERE at
This event is scheduled to be WEBCAST LIVE at HERE at 14:00 (Washington DC time), 19:00 UK time …more