Bahrain: We use tear gas on protesters 'appropriately'
By Mahmoud Habboush – Reuters – 28 October, 2013
DUBAI – Bahrain has defended its use of tear gas after rights groups criticized the Gulf kingdom's reported plans to buy 1.6 million canisters of the material.
Local and international rights groups have accused the authorities of using tear gas excessively and of firing canisters directly at protesters or into cars and houses where they can cause serious injuries.
"Tear gas is non-lethal and it is used appropriately by the police, in compliance with the law and in full adherence with the internationally accepted standards contained in the Bahrain police code of conduct," the government spokesman's office said in an email to Reuters.
The tiny island state has been in political upheaval since February 2011, when mass protests led by the mostly Shi'ite Muslim opposition were crushed by the Sunni monarchy.
The government statement was made in response to a Reuters query about a leaked document published by Bahrain Watch, an advocacy group, which appeared to be a tender to supply the Interior Ministry with tear gas canisters and stun grenades.
The U.S. government has banned the export of tear gas to Bahrain.
"Bahrain's police forces are using less force than is legally permitted," the statement said.
It did not specifically address the issue of the reported tear gas tender, but did say that protesters' practices of setting fire to car tires and throwing petrol bombs were more dangerous than the authorities' use of teargas.
It said more than 2,300 police personnel had been injured and nine killed since the protests began 2-1/2 years ago.
An international inquiry in November 2011 found that 35 people had died during Bahrain's uprising, most of whom were protesters but also including five security personnel. The opposition puts the death toll at more than 80.
The U.S.-based Human Rights First (HRF) advocacy group earlier this month urged Washington to speak out against the planned tear gas shipment.
According to Bahrain Watch, the leaked document came in the form of a tender issued by the Interior Ministry's Purchasing Directorate. It invited arms manufacturers to supply the ministry with "tear gas cartridges and sound grenades."
In March 2012, the UN High Commissioner for Human Rights said the use of tear gas had led to a number of deaths of protesters and bystanders in Bahrain.
Physicians for Human Rights (PHR), a U.S.-based group that campaigns for medical staff working in crisis zones, said in August 2012 that the Bahraini government uses tear gas indiscriminately, causing severe injuries to some civilians.
Bahrain denies that charge.
…source
October 28, 2013 No Comments
THE UNITED STATES ONGOING SUPPORT FOR THE BLOODY BAHRAIN REGIME AND FAILURE TO ACT AGAINST ITS ONGOING SYSTEMATIC HUMAN RIGHTS ABUSE IS NOT ONLY SHAMEFUL HYPOCRISY, IT IS CRIMINAL CONSPIRACY.
March, 2013
Recent events in Bahrain reveal an abuse of CS Gas being used at levels beyond any rational means of crowd or riot control". The Regime's deliberate, lethal misuse and abuse of CS GAS is Criminal and Genocidal toward the Majority Shia Population in Bahrain. The Bahrain MOI is responsible for directing the abuse of CS Gas at levels designed to inflict death and long term injury to the individual and genetic health of innocent people who inhabit Bahrain's Villages. Meanwhile the United States' and United Kingdom's only Action Against their Brutal ALLY is an occasional, vain utterance about Regime Abuses. Today they again stand silent while their Ally, South Korea exports more CS Gas canister to Bahrain than there are Citizens to Poison.
MR. CAMERON AND MR. OBAMA, WE HAVE GROWN TIED OF YOUR LIES AND SUPPORT FOR THE AL KHALIFA REGIME IN BAHRAIN. YOUR CONTINUED SILENCE AND YOUR FAILURE TO ACT WITH GENUINE MEASURE TO STOP THE HUMAN CRUELTY FROM THE AL KHALIFA REGIME IS COMPLICITY.
October 22, 2013 No Comments
Bahraini regime forces attack protesters' houses in several villages
17 July, 2013 – Islamic Invitation Turkey
Bahraini regime forces have attacked dozens of houses in several villages near the capital, Manama, as the crackdown on anti-regime protesters continues.
Bahrain's main opposition party, the al-Wefaq National Islamic Society, said that regime forces rummaged through the protesters' homes in the village of Diraz on the northwestern coast of the Persian Gulf country. The group added that the forces have also stormed houses in Sitra and Hamad, the Sanad residential area and al-Dair village.
On Monday, a 55-year-old Bahraini identified as Saeed Abdullah Marzouq died after inhaling toxic tear gas fired by regime forces into residential neighborhoods in the village of Diraz.
The latest fatality comes ahead of a planned anti-regime protest on August 14, the date that marks the withdrawal of British forces from the Persian Gulf Island back in 1971.
Last year, Amnesty International warned about the Bahraini regime's misuse of tear gas against protesters and called for an investigation into the tear gas-related deaths.
Bahrainis have been staging anti-regime demonstrations since mid-February 2011, demanding political reforms and a constitutional monarchy, a demand that later changed to an outright call for the ouster of the ruling Al Khalifa family following its brutal crackdown on popular protests.
Scores of people have been killed, many of them under torture while in custody, and thousands more have been detained since the popular uprising in Bahrain began.
Protesters say they will continue holding anti-regime demonstrations until their demand for the establishment of a democratically-elected government and an end to rights violations is met. …more
July 19, 2013 No Comments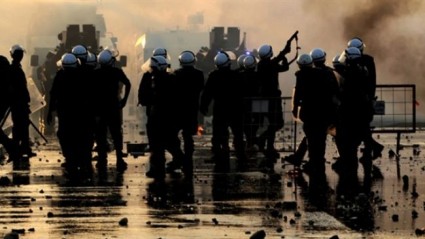 Bahraini forces clash with anti-regime protesters near Manama
:4 April, 2013 – PressTV
Saudi-backed Bahraini forces have clashed with demonstrators protesting against the ruling Al Khalifa regime near the capital Manama, Press TV reports.
On Thursday, regime forces fired teargas and sound grenades at the demonstrators, who shouted slogans against the government and called for its downfall.
Activists said the protest rally was held as a symbolic last day of mourning for Jaffar Jassim al-Taweel, who was killed after inhaling toxic gas fired by Bahraini forces during anti-regime protests on March 25.
On April 2, in the northwestern village of Diraz, security forces also attacked the funeral procession for Abdul Ghani al-Reis who died of psychological shock after visiting a torture chamber where his son was being kept by regime forces.
The Bahraini revolution began in mid-February 2011, when the people, inspired by the popular revolutions that toppled the dictators of Tunisia and Egypt, started holding massive demonstrations.
The Bahraini government promptly launched a brutal crackdown on the peaceful protests and called in Saudi-led Arab forces from neighboring Persian Gulf states.
Dozens of people have been killed in the crackdown, and the security forces have arrested hundreds, including doctors and nurses accused of treating injured revolutionaries.
The protesters say they will continue holding anti-regime demonstrations until their demand for the establishment of a democratically elected government is met. …more
April 9, 2013 No Comments
February 27, 2013 No Comments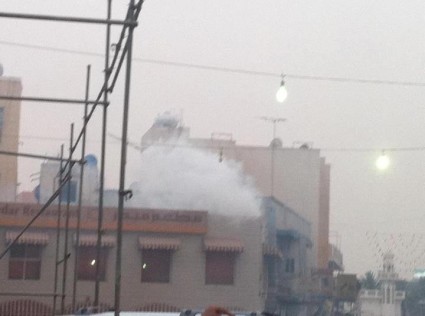 Jidhafs Collective Punishment May, 2012
May 25, 2012 No Comments
February 23, 2012 No Comments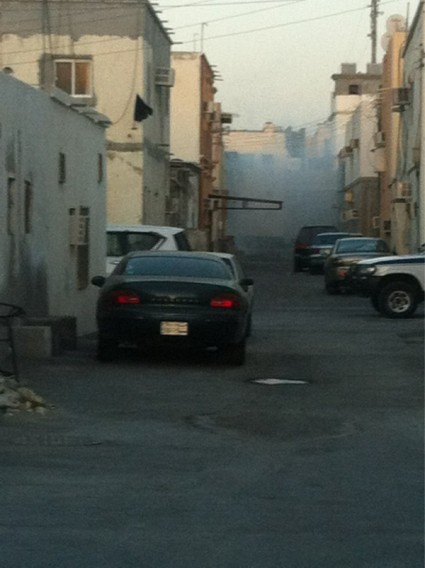 February 21, 2012 No Comments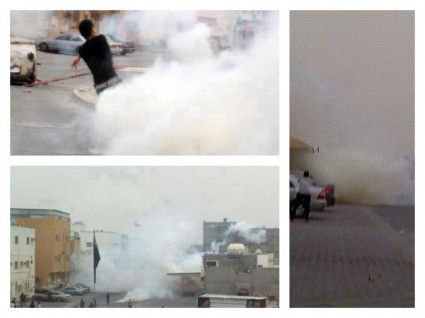 Sitra Village under seigh with CS Gas 16 February, 2012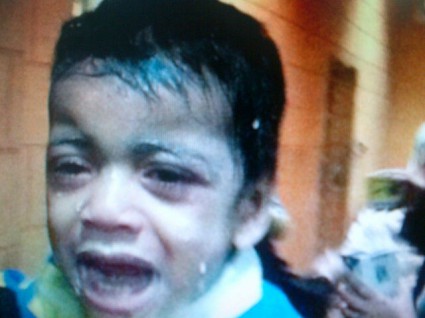 Child in misery, injured by CS Gas with in the shelter of his home. Milk is routinely splashed on exposed area to sooth the effects of the gas.
February 16, 2012 No Comments
February 15, 2012 No Comments
Said Yousif Almuhafda from Bahrain Center of Human Rights has post this great collage of vidoe that show the gassing of a Bahraini Village as a means of collective punishment.
See Video HERE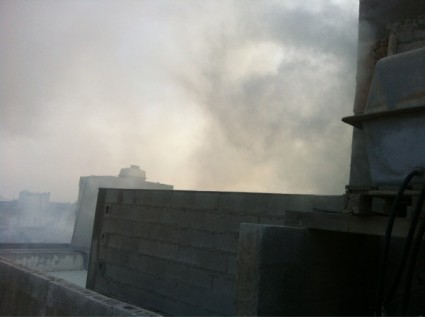 February 6, 2012 No Comments
December 22, 2011 Comments Off on King Hamad's farewell celebration to US and UN Human Rights Delegations
Struggle for Bahrain: An Interview with Alaa Shehabi
15 November, 2011 – Shia Post
Alaa Shehabi (AS): I am Alaa Shehabi from Bahrain. I am a lecturer, economist, and writer by day. I am also the wife of a political detainee. My husband is called Ghazi Farhan, he is a businessman, completely apolitical.
A month after the Saudis invaded, he was arrested from his office car park. On that day, 12 April, he came home for lunch and played with our baby and then drove back to his office. I did not hear from him again. I went online and read on Twitter that Ghazi Farhan has been successfully arrested—someone from the intelligence network was tweeting about it, bragging about it. It was a very big shock. He was not expecting it; he was the guy that stayed away from this. He knows that politics is trouble in this part of the world, so he was not involved in any activism.
I am sure they went after my husband because of his relationship to me. I come from a strong opposition background, my father is an opposition activist in the United Kingdom. I was very active and I have never been quiet about my views. I think they knew of me so they selected one of us. I have seen his interrogation notes and I appear in most of them. It was punishment by proxy.
So, Ghazi was held for the next fifty days and then suddenly appeared in a military tribunal at the end of May. He was charged with participating in the protests. The technical term is "participating in an illegal assembly consisting of more than five persons," and he was also charged with spreading false information. And then in a matter of ten minutes, he was sentenced to three years in prison. It has been seven months since he was convicted. It has been a very difficult time for my family personally. But I would like to emphasize that in the prison he is in, he is one of at least five hundred people who have been arrested, charged, and convicted because of their participation or involvement in the political uprising. …more
November 15, 2011 No Comments
Bahrain's Anti-union Repression
ITUC-CSI-IGB
23 August 2011: The authorities in Bahrain are stepping up repression of the country's trade union movement, with further suspensions and sackings of workers due to their actual or suspected participation in trade union and political actions earlier this year.
Government workers in particular are being targeted, including in health, education and municipal services, as the authorities seek to cleanse the public sector of workers who hold political opinions of which it does not approve.
Dismissals have in fact increased since June, and government workers facing dismissal report having to appear before disciplinary boards with no opportunity to mount a defence of any kind. There is little question that the outcomes of these hearings are predetermined. Minister of Labour, Jamil Humaidan, has disclaimed any responsibility over the public sector, effectively giving a green light to the on-going dismissals.
This year, some 2,600 workers in both the public and private sector have been fired, with an additional 361 workers suspended. Despite numerous promises to the contrary, the government has largely failed to reinstate workers illegally dismissed. According to the General Federation of Bahraini Trade Unions (GFBTU), only 134 workers have been reinstated to date. Many of these workers had to agree to unacceptable, indeed illegal, conditions in order to get their jobs back – including agreeing not to take part in any future political activity, waiving the right to participate in legal cases against the government and agreeing not to re-join their trade union.
Six members of the GFBTU Executive Board remain dismissed as well as 44 Executive Board members of GFBTU-affiliated unions. Of great concern, the Vice-President of the Bahrain Teachers Association, Jalila al Salman and Roula al-Saffar, head of the Bahrain Nursing Society, are to stand trial before a military tribunal next week, despite the fact that they are both civilians. It is highly unlikely that either will get a fair trial on the dubious charges related to the protests earlier this year. The two were only recently released on bail after being jailed for months, where they were reported to have been subjected to torture and degrading treatment during their detention. …more
August 24, 2011 No Comments