Massive demo held ahead of Formula 1 race in Bahrain
4 April, 2014 – PressTV
Tens of thousands of Bahraini protesters have staged an anti-regime demonstration ahead of a Formula One Grand Prix to be held in the Persian Gulf country.
On Friday, around 200,000 men and women marched along 3.5 kilometers (2 miles) on a highway west of the capital Manama.
The demonstration had been organized by al-Wefaq National Islamic Society, the country's main opposition party.
The protesters, who were carrying national flags and posters, chanted pro-democracy slogans and called for the release of prisoners jailed during regime crackdown on protests.
"The people demand democracy and reject tyranny," a poster read in Arabic and English.
Anti-regime protesters have held similar rallies every year since 2011. They say the Formula One governing body, the International Automobile Federation (FIA), should cancel the event in Bahrain over the ongoing crackdown by the Al Khalifa regime against peaceful protests.
Rights activists also say that the Formula One event is used as a political tool by Manama to make the world believe that the situation in the country is normal.
On March 14, 2011, troops from Saudi Arabia and the United Arab Emirates invaded the country to assist the Bahraini government in its crackdown on peaceful protesters.
According to local sources, scores of people have been killed and hundreds arrested.
Physicians for Human Rights says doctors and nurses have been detained, tortured, or disappeared because they have "evidence of atrocities committed by the authorities, security forces, and riot police" in the crackdown on anti-government protesters. …source
Staging the Bahrain Grand Prix is "a matter of life and death"
By Ahmed Ali – 3 April, 2014
Salah had been protesting the staging of the race when he was arrested. His body was found with multiple large bruises and numerous shotgun pellet wounds. His ribs were broken and dried blood covered his head and body.
The police officer responsible for his murder was acquitted last year.
On the day of Salah's funeral, thousands of protesters poured onto the streets shouting anti-regime and anti-Formula One slogans. Journalists covering the protests were arrested, detained and deported from Bahrain.
Two days following the death of Salah, the UK's Channel 4 news team was detained and deported from the country.
Sports and human rights had unified into a single cause for protest as the result of the brutal killing of Salah; the reputation of Formula One and motorsport in general was in tatters.
A year later, the race was back on despite the ever-deteriorating human rights situation. Formula One chief Bernie Ecclestone assured media that it was safe for the race to take place in the country.
The Bahraini government racked up its public relations campaign to win over hesitant sponsors. …more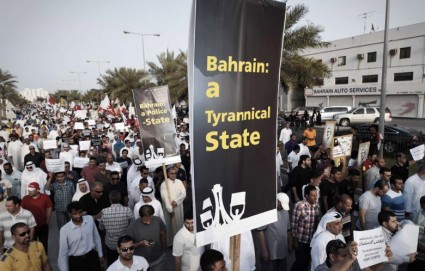 Bahrain's Grand Prix: another opportunity to stifle dissent
By: Chloé Benoist – 5 April, 2014
On Sunday night, Bahrain will celebrate its ten-year anniversary as a Formula One host country. The event has been touted as a moment of national pride and unity, but the glamor and rumbling motors of the race have become yet another sinister excuse to quash Bahraini dissent.
Under the slogan "UniF1ed," Bahrain has turned the Grand Prix into a propaganda tool to burnish its image on the international stage as a peaceful modern country.
But this image is threatened by the reality of three years of state repression against dissent, which has killed close to 100 protesters and jailed hundreds of opposition members.
Formula One, one of the world's most lucrative sports, has become a battleground between Bahraini activists seeking to raise international awareness of their plight and the government trying to silence them.
"Who benefits from the Formula One race? The ruling family," Bahraini activist Nedal al-Salman told Al-Akhbar. "We want to show what is really happening."
Since the cancellation of the Bahraini Grand Prix in 2011, in the early moments of the uprising, the monarchy has intensified its campaign to clamp down on protests every year ahead of the Formula One races, and 2014 seems to be no exception.
"Every year before the Formula One race, there is a huge crackdown on protesters, with arrests, collective punishment, house raids, injuries and even protesters being killed by the police," Yousif al-al-Muhafda, head of the documentation unit of the Bahrain Center for Human Rights, said.
But this image is threatened by the reality of three years of state repression against dissent, which has killed close to 100 protesters and jailed hundreds of opposition members.
"They don't allow protesters to go out in the streets so journalists can't see them," he added. "Some villages are even surrounded with barbed wire. The crackdown started in January this year, and we documented 500 people getting arrested since."
Journalists have been barred from covering protests in the country in further efforts to strangle the opposition, said Salman, who is also involved with BCHR and helps journalists access opposition sources.
At least two journalists who cover Bahraini protests have been arrested in the past two months, the Committee to Protect Journalists said, who added that Bahrain has one of the highest number of incarcerated journalists per capita, second only to Eritrea. Three reporters have been killed since the beginning of the uprising, and numerous others have been injured or otherwise intimidated into silence.
"This year we're a bit careful, because we are worried that we might be punished," Salman said.
Meanwhile, Formula One's president, Bernie Ecclestone, has played dumb in regards to the human rights violations in Bahrain. …more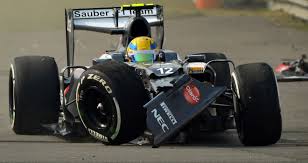 Bahrain opposition calls F1 Grand Prix protests
AFP – 1 April, 2014 – Times of India
DUBAI: Bahrain's influential Shiite opposition bloc Al-Wefaq and a more radical group have called separate rallies for Friday to protest the weekend staging of the Formula One Grand Prix in Manama.
Demonstrations have been held during the annual three-day Grand Prix event every year since 2011 by opponents of the ruling Sunni Al-Khalifa dynasty in an attempt to highlight pro-reform demands.
The protests, which first erupted in the wake of a Shiite-led uprising in February 2011, have at times been marred by violence but the race has never been affected.
They are mainly staged in Shiite villages surrounding Manama and away from the Sakhir F1 circuit in the capital's south.
The Bahrain Grand Prix practice sessions begin on Friday ahead of Sunday's race.
Al-Wefaq in a Tuesday statement urged its supporters to hold a rally on the main Budaya highway, four kilometres (2.5 miles) west of Manama, which links several Shiite villages.
Al-Wefaq's peaceful rallies are usually tolerated by the authorities and rarely end with clashes.
But protests by supporters of radical cyber-group the February 14 Revolution Youth Coalition are more violent and often end with clashes between police and demonstrators armed with petrol bombs.
The February 14 group, accused by authorities of links to Shiite-majority Iran, called on its Facebook page for demonstrations Friday in the Al-Seef Junction area, west of Manama, under the slogan: "Stop the blood formula."
Protests in Shiite villages surrounding Manama began earlier this week, with witnesses reporting masked demonstrators staging rallies chanting: "No, no to Formula 1" and "Down Hamad," in reference to the king.
The rallies have been broken up by police firing tear gas and sound grenades, with protesters hurling petrol bombs and throwing stones, according to witnesses.
Public security chief General Tariq Hasan said Tuesday the authorities have taken "all measures and plans" to secure the April 4-6 Formula One event.
Police will deploy around the Sakhir circuit and along main roads leading to it, the official BNA news agency quoted Hasan as saying.
Celebrating the 10th anniversary of Bahrain's hosting of the event, the race will this year take place at night.
Bahrain, home to the US Fifth Fleet, remains deeply divided three years after the Shiite-led uprising was quashed, with persistent protests sparking clashes with police, scores of Shiites jailed on "terror" charges and reconciliation talks deadlocked.
The International Federation for Human Rights says at least 89 people have been killed in Bahrain since the uprising began in February 2011. …source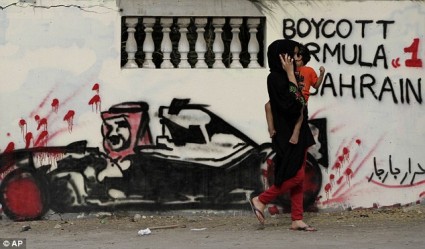 BRITISH MP CHAIRS 'FORMULA ONE: IMPLICATIONS IN BAHRAIN' EVENT AT PORTCULLIS HOUSE
21 March, 2014 – BCHR
Labour MP, Katy Clark, today chaired and hosted the Bahrain Institute for Rights and Democracy event at Portcullis House. The panel included Maryam Al-Khawaja, the acting president of the Bahrain Centre for Human Rights, Daniel Carey, a civil and human rights solicitor, and Nicholas McGeehan from Human Rights Watch.
Katy Clark took the opportunity to introduce a Early Day Motion 1194 which calls on the UK government to oppose the 2014 Formula One race in Bahrain "due to ongoing human rights violations." The EDM also recalls concerns over the sexual abuse in custody of Rihanna al-Mousawi who was detained at the Bahrain Formula One track in 2013. It also recalls concerns over the extrajudicial killing of protester Salah Abbas during the race in 2012 by security forces. 25 MPs have signed the EDM to date.
Human Rights Violations in Bahrain
Acting President of the Bahrain Centre for Human Rights, Maryam al-Khawaja, began the discussion by highlighting the ongoing grave human rights violations in the country. She highlighted the dangers of the new Gulf Cooperation Council Security Agreement that "infringes upon the basic rights of all GCC citizens." Ms. Khawaja furthermore highlighted the stringent environment and reprisals faced by human rights defenders in Bahrain and refuted the speech made by the Bahrain Foreign Minister in Geneva earlier this month noting:
"Bahrain uses terrorism as an explanation to justify the crackdown against individuals in the country, whilst attempting to convince F1 that it is safe to race in the country. Why are they hosting the F1 if there is terrorism in Bahrain? F1 would not go to Bahrain if that was the case."
OECD Complaint Launched Against Formula One
Daniel Carey, who headed a legal team to file an OECD complaint to stop a 3 million shipment of tear gas canisters to Bahrain, took the opportunity to announce that an OECD complaint has been filed by Americans for Democracy and Human Rights in Bahrain against Formula One Management, sponsors and teams in the UK. The complaint alleges that the defendant organisations have not mitigated the human rights impact caused by their actions in the country. The complaint has been filed with the United Kingdom Department for Business, Innovation, and Skills in London, which is the UK's National Contact Point for the OECD Guidelines.
According to the 2011 OECD Guidelines for Multinational Enterprises, organisations have a responsibility to "… avoid causing or contributing to adverse human rights impacts and address such impacts when they occur." Organizations falling under OECD jurisdiction additionally must "seek ways to prevent or mitigate adverse human rights impacts that are directly linked to their business operations…" and "carry out human rights due diligence…" as appropriate to their involvement with abuses.
Mr. Carey also highlighted 'irresponsible statements' made by Bernie Ecclestone in the past regarding the staging of the race in Bahrain. …more
Bahrain blocks visit of UN torture rapporteur
By Bill Law – BBC News – 23 April, 2013
The Bahraini government has postponed indefinitely a visit by Juan Mendez the UN special rapporteur on torture.
According to the country's official news agency the trip has been called off "until further notice".
This comes just days after the release of a US State Department report on human rights in Bahrain which spoke of "significant" violations including torture in detention.
The Gulf kingdom has been wracked by civil unrest for two years.
The violence has left at least 50 people dead.
An independent enquiry established by King Hamad al-Khalifa in 2011 found that there had been numerous abuses. The king accepted the report and promised accountability and reform.
But human rights organisations in Bahrain and outside the country say that the promised reforms are happening either too slowly or not at all. And they allege that human rights abuses are continuing.
The US State Department Bahrain 2012 Human Rights Report spoke of "serious human rights problems," including "citizens' inability to change their government peacefully; arrest and detention of protesters on vague charges, in some cases leading to their torture in detention; and lack of due process in trials of political and human rights activists".
Mr Mendez had originally intended to visit Bahrain in 2012 but that too was called off. Pointing to this second postponement Brian Dooley of US based Human Rights First called the decision "a huge blow to the credibility of Bahrain's reform process".
"It seems like the Bahrain regime is frightened of what more international scrutiny might reveal. It's very telling that they've shut Mendez out again," said Mr Dooley.
A spokesperson in the British Foreign and Commonwealth Office (FCO) described the decision as "disappointing" and noted that Alistair Burt, the Parliamentary Under Secretary of State had raised the issue with the Bahraini government "stressing the importance we and the international community place on the visit".
The FCO said: "We hope that a new date for this visit can be found soon." …more
Bahrain: Protests for democracy defy the 'Formula of Blood'
23 April, 2013 – Socialist Worker
Yusur Al Bahrani looks how the arrival of the Formula One Grand Prix in Bahrain has sparked off a new round of protests
Thousands of outraged protesters could not stop the controversial Formula One Grand Prix in Bahrain.
But they have exposed the brutality of the regime and attracted global attention.
The Bahraini government tried to use the race to paper over grave ongoing human rights abuses.
Thousands took to the streets in a series of protests a week prior to the race and during it, under the slogan "democracy is our right".
Bahraini security forces killed one peaceful protester, Salah Abbas, during last year's Formula One race.
Since then the government has increased its crackdown on peaceful protesters, activists and ordinary people.
People in Bahrain call the race "Formula of Blood".
Many protested peacefully. Formula One organisers have shamelessly ignored the concerns of people in Bahrain.
Ali Salman, secretary general of the Al-Wefaq opposition party, agreed to meet Formula One's boss, Bernie Ecclestone.
But the meeting never took place.
The opposition wanted to explain the rightful demands of the people in Bahrain that Formula One organisers ignored.
On 20 April, protesters tried to march to the Pearl Roundabout, which is known as Martyrs' Roundabout.
Tens were arrested and injured. Government forces then raided homes hunting for activists.
Alaa Shehabi is a Bahraini woman activist who posted on Twitter about her horrific experience during the day.
She wrote, "Police have locked us up in a room. Women beaten up. Used CSS Spray (tear gas). Can hear screams upstairs. Shooting from upstairs."
Revolutionary youths bought Formula One tickets and burnt them during protests.
Some youths burned tyres and filled the skies with black smoke that was captured by the cameras during the race.
The government of Bahrain considers burning tyres a terrorist act.
Yet it is the one of the few means of peaceful resistance for angry young protesters.
Minors have been detained, tried, and given harsh sentences under an anti-terrorism law that criminalises young protesters who burn tyres or block roads.
Nabeel Rajab, the president of Bahrain Centre for Human Rights, said during last year's Formula One, "We would prefer if it they didn't take part.
"I am sure the drivers and teams respect human rights."
He is now serving a two?year sentence for peacefully exercising his right of freedom of expression.
Shockingly, Ecclestone said to journalists last Saturday, "I keep asking people, 'What human rights?' I don't know what they are… The rights are that people who live in the country abide by the laws of the country, whatever they are."
Bahrain's Crown Prince Salman Al-Khalifa refused to address the issue of systematic human rights abuses escalating during the race.
He said, "This weekend is really about sport".
Now the "sport" weekend is over, but people in Bahrain continue their battle for democracy.
Hundreds have been imprisoned, while major opposition figures had their citizenships stripped.
We can help ordinary people in Bahrain by exposing the hypocrisy of the Western governments that back Al-Khalifa regime.
Bahrain F1: What happens when the cameras are gone?
by Maryam Al Khawaja – 21 April, 2013 – The Independent
Should it matter that two years later, despite ongoing, grave and widespread human rights violations, the Formula One is returning to Bahrain?
Should sports and human rights be interlinked? In February 2011, hundreds of thousands of people in Bahrain took to the streets to demand self-determination, rights, and dignity.
Their basic demands were met by the regime's horrifically violent crackdown, backed by its Gulf Cooperation Council (GCC) and international allies. Two years later, the most prominent human rights defenders in the country remain behind bars, some of them denied family, lawyer, and hospital visits for over a month. Today, jails contain hundreds of political prisoners, excessive use of force takes place against protesters on a daily basis, reports of torture persist, hospitals are still militarized, and the culture of impunity continues. But why is any of this relevant to the Grand Prix race?
It matters for two main reasons.
The first is that holding the Formula One race in Bahrain causes human rights violations to occur. A year ago, BCHR president Nabeel Rajab (now in prison) and colleague John Lubbock wrote a joint article in the Guardian about human rights violations that occurred inside the Bahrain International Circuit; violations which continue to go without accountability. In the past week there have been around 60 arrests, most made in residential areas close to the Formula One circuit, and people are tear-gassed inside their homes. Security forces attacked 4 different high schools, like Jabreya Secondary School for Boys, conducting arrests and tear-gassing students. Despite the presence of cameras, a protester was caught on camera being beaten then arrested by security forces in Sanad in broad daylight. The practice of severely beating protesters, and the use of unofficial torture centers in Bahrain has been ongoing for more than a year now. All this is an attempt to downscale protests during the race period, meaning that for the Bahrain Grand Prix to take place, something resembling martial law is required.
The second reason is that the people of Bahrain are calling for it to be cancelled, as are local and international NGO's, because the regime is attempting to use it for the political whitewashing of their ongoing human rights violations. Hosting the Formula One Race in Bahrain sends a message of "everything is back to business as usual". The regime's constant use of words like "terrorists" and "vandals" to demonize its critics is part of its campaign to push aside calls made every day for democracy as the regime continues its violent crackdown. These are terms used by the chairman of the Bahrain International Circuit, Zayed AlZayani. Hundreds, if not thousands, of Bahraini's have taken to the streets calling for the cancellation for the Formula One race, but to no avail. Their calls fell on deaf ears as security forces attacked them with teargas, stun grenades, and birdshot pellets.
Justin Gengler wrote in his Foreign Policy article "Who Needs the Bahrain Grand Prix" that:
"..the race, hosted not far from Sakhir Palace, was conceived mostly as a diversion for society's elite, and aptly demonstrated the misplaced social and economic priorities of the ruling family."
There are those who say that the Formula One should not be canceled, but instead used as an opportunity to get media attention for the situation on the ground. It is true that media attention is not only appreciated, but also crucial to improving the situation on the ground in Bahrain. The question is not whether Bahraini's benefit from the media attention which will highlight their plight as they continue their struggle for rights and freedoms, but rather what takes place during the race – and more importantly, what happens after the cameras are gone.
Salah Abbas Habib was well respected amongst the protesters. He was a father of four young children, and their only provider. During last year's race, he was stopped by security forces, severely beaten, and shot with pellets. His dead body was found the next morning.
A group of minors were arrested in April 2012 in preparation for the Formula One. Some of them were thrown off the roof of the house they were in. They were reportedly severely beaten, which in some cases amounted to torture. They remained in prison until June that year. Some are currently in hiding, because they are wanted by authorities. Others are in prison after getting sentenced. The plight of these minors did not stop with the end of the race. …more
BAHRAIN GRAND PRIX
Session: 2012-13
Date tabled: 15.04.2013
Primary sponsor: Clark, Katy
Sponsors: Anderson, David, Hemming, John, Long, Naomi, Lucas, Caroline, Slaughter, Andy
That this House calls for a boycott of the forthcoming Bahrain Formula One Grand Prix on moral grounds, given the continued human rights abuses committed by the Bahrain government against its citizens as detailed by Amnesty International, Human Rights Watch and other organisations; believes that if it went ahead, the race would be used by the Bahrain government to present a false image to the world; is concerned that the human rights situation has not improved since the 2012 race; notes that the Bahrain government has failed to implement reforms it pledged to enact in 2011; and further notes that the Bahrain government is keeping prominent human rights defenders and political activists behind bars and continues to suppress, injure and kill peaceful protestors with excessive tear gas and birdshot. …more
Thousands protest in Bahrain ahead of Grand Prix
AFP – 17 April, 2013
DUBAI — Thousands of Bahrainis demonstrated near Manama on Saturday urging democratic reforms, part of a campaign of protests planned by the political opposition ahead of next week's Formula One Grand Prix.
Police used tear gas and sound bombs to break up a gathering of several hundred people in Sanabes, witnesses said.
Further south, a 14-year-old boy was severely wounded in the face and two people arrested when police fired buckshot and tear gas at demonstrators, the main Shiite opposition group Al-Wefaq said on its website.
But in Bilad Al-Qadim, several thousand people demonstrated peacefully, chanting "no to dictatorship" and "down with the regime," witnesses said.
Under the banner "Democracy is our right," the mainly Shiite opposition is organising a week of protests that began on Friday to coincide with the April 19-22 Grand Prix.
On Friday, Al-Wefaq chief Sheikh Ali Salman said the action was intended to support "demands for democratic transition".
"We do not want to hold up the race, but we are trying to benefit from the increased media presence," he said.
Salman called on his supporters to attend a demonstration planned for April 19, as the event kicks off on the Sakhir circuit south of the capital.
A second opposition group, the February 14 Movement, organised another protest on Thursday night in the village of Khamis that was broken up by police.
The demonstrations came as a report by Human Rights Watch that police have been rounding up pro-democracy activists in bid to head off protests stoked renewed controversy over the Gulf state's hosting of the Formula One event.
Bahrain was rocked by month-long pro-democracy protests led by the kingdom's Shiite majority in early 2011 that were crushed with the help of Saudi-led troops.
Protests have continued in Shiite villages outside the capital. Human rights groups say a total of 80 people have been killed since February 2011.
Last year's Bahrain Grand Prix went ahead against an ugly backdrop as police responded to protesters who were throwing petrol bombs by using tear gas, sound bombs and birdshot. …more
Anonymous to strike as Bahrain backs jail sentences for king insults
15 April, 2013 – RT
The Bahraini government on Monday approved proposals to impose jail terms of up to 5 years for insulting the country's king and national symbols. It comes amid protests against the coming F1 race in Manama, as Anonymous warns a new OpBahrain is on.
In their latest move against the dissent on the streets and in cyberspace, the Gulf state's leaders have backed the proposals to prosecute the protesters with real jail terms.
New punishments include a fine of up to 10,000 dinars ($26,500), or sentenced to jail for up to five years for defaming the king of Bahrain, or Bahrain's flag and coat of arms.
This law can now be widely applied to the anti-government protests taking place in the country, where chants against the ruling royal family can often be heard.
But tightening laws and crackdowns on protests, in which, according to estimates by various rights groups, some 80 protesters have been killed since 2011, and dozens others have been exposed to violence and torture, has not stopped Bahraini protesters from taking to the streets.
Recently, Bahrain has been rocked by clashes and demonstrations by pro-democracy activists against the Formula One Grand Prix race taking place in the country's capital Manama on April 21. Both Bahraini and international activists voiced their concerns about the venue, saying it is "unethical" for both F1 and the FIA to be holding such an event in a country with political detainees still jailed and reported human rights violations not investigated.
Among those who couldn't join the protests in person was the jailed human rights activist Nabeel Rajab, who's still serving a two year prison term in connection with the February 2011 uprising in Bahrain. The opposition leader tweeted his support for the Formula One protesters from his prison cell.
Human Rights Watch said that some twenty Bahraini opposition activists have been arrested in towns near the Gulf country's Sakhir race track since last week. The rights group claimed these arrests without warrants were "intended to intimidate" activists, along with "their families and their supporters." The Bahraini authorities have denied that any such arrests have taken place.
The Anonymous hacktivist group has also been critical of the situation in Bahrain, and is now threatening to disrupt the anticipated F1 race in support of the protesters – at least on the cyber front.
"Anonymous will not stand by and allow you a race fueled by the blood of our freedom loving comrades in Bahrain… We are coming forward this year to wreck your little party again Mr. Eccelstone," the group said in a statement addressing the F1 boss Bernnie Eccelstone and marking the launch of a new hacktivist action dubbed 'Operation Bahrain.' …more
Bahrain: Regime's Brutality Continues, 5-Year-Old Loses His Eye
15 April, 2013 – ABNA
(Ahlul Bayt News Agency) – Ahmed Mansour Al Nahham (5-year-old) has had his left eye surgically eviscerated as it had been fired at by regime forces during attacks on his village, Dair. The forces indiscriminately use these firearms against citizens without any supervision nor responsibility.
Al Nahham's injured eye has been eviscerated in a hospital in Singapore. He suffered from the injury for months, his family searched for suitable treatment to rescue his injured eye. A few bird-shot pellets were previously taken out, in long medical treatment journey. Yet, he is subjected to an extensive therapy for a prosthetic eye fixation, in replace of the eviscerated eye.
Ophthalmologists alerted that his healthy right eye my get gradually side-effected, which made taking him abroad for better treatment a must.
In the mean time, the regime didn't say a word about this inhumane crime perpetrated by its forces, and has not taken responsibility of the child's medical treatment.
Al Nahham was shot by regime forces' firearms while a brutal crackdown against peaceful protesters on Wednesday 13th June 2012 in his village, Dair, north of Muharraq island. It was part of the collective punishment policy adopted by the regime forces who carried him directly after he got shot, providing no further information at that time. Some amateur footages showed him carried in their hands.
Incident details explained how Al Nahham's father was, as usual, selling fish, sitting on the sidewalk and his son Ahmed came to ask for some money for him and his brothers to buy some sweets. Suddenly, a group of regime forces headed to them and one policeman was pointing his weapon toward the child. Al Nahham's father felt the danger and shouted, "Stop this, this is a child, this is a child". But, nobody responded to the father, despite his louder and louder screams. The response was merely more fire. "I said he is a child, don't you understand?", the father shouted the loudest he could. Here, they shot at Ahmed's eye. Hostilely, they continued the cold-bloodedly shooting and fired at his father with 78 pellets riddled all of his body.
"The 5-year-old child injury with the birdshot (Fissile Bullets) highlights the urgent need to hold those accepting such crimes accountable, and draws a big question mark about the legality and legitimacy of this internationally-prohibited usage", Al Wefaq Liberties and Human Right Department, head, S. Hadi Mosawi said. …more
Protests target Bahrain Grand Prix
By Yara Bayoumy – 15 April, 2013 – Scotsman.com
ON THE wall of a home in the Bahraini village of al-Aali, 20-year-old Hassan peered through a black balaclava to admire his latest artwork: a circle around the phrase F1 crossed out in red spray paint.
The sentiment is shared by many Bahraini Shiites – the majority in this Sunni-ruled kingdom – who say the Formula One Grand Prix race Bahrain will host 19-21 April should be cancelled, as it was in 2011 when authorities crushed pro-democracy protests inspired by the Arab Spring. Two years on daily clashes still erupt, largely unnoticed outside the region.
The race will once again draw international attention to Bahrain. The 2012 meeting was accompanied by nightly skirmishes between protesters and security forces. This year, says F1 boss Bernie Ecclestone, the signs are that tensions in the kingdom have eased and the risk of protests has diminished. That's a view opposition activists reject.
"Of course we're against it," said Amani Ali, a 22-year-old university student standing a few metres from Hassan at the first of a series of opposition-organised marches.
"The race brings money to the regime, which they use to buy weapons and attack us."
Many of the companies who help to finance Formula One are limiting their sponsorship involvement. The sport makes most of its money from hosting fees and TV rights. Bahrain pays an estimated £26 million annually to be part of the 19-race 
calendar.
Home to the US Navy's Fifth Fleet, Bahrain has faced unrest since pro-democracy protests broke out in February 2011, pitting a Shiite-dominated opposition against the minority Sunni-led government. The protest was crushed, dozens of people were killed and authorities razed "Pearl Square" where mostly Shiite demonstrators camped out in central Manama in 2011.
Now weekly sessions of a reconciliation effort between government and opposition known as the "national dialogue" take place outside Manama.
But daily confrontations between stone-and-petrol-bomb throwing youths and birdshot-and-teargas firing police reflect a bitter political atmosphere.
The protesters know the race will not be cancelled but feel there is an opportunity to use the media spotlight to highlight what they say are injustices still being committed against them. …more
Bahrain Grand Prix: MPs want race cancelled because of unrest
16 April, 2013 – BCC Sport
A group of British MPs have called for the Bahrain Grand Prix to be cancelled amid unrest in the Gulf state.
A week of protests to coincide with this weekend's race began last Friday, organised by the opposition to the ruling royal family.
In a letter to F1 boss Bernie Ecclestone, the All-Party Parliamentary Group for Democracy in Bahrain said: "We request you cancel the Grand Prix.
"It is likely to attract as much negative publicity as last year."
The APPG has also written to broadcasters, teams, drivers and sponsors ahead of the Grand Prix.
The 2011 event was postponed and later cancelled after month-long pro-democracy protests were crushed and at least 35 people died.
Reaction of F1 teams
Ferrari: "It is up to the federation [the FIA] to give us any indications as to whether extra precautions need to be taken. So far, no [they haven't]."
Red Bull: "The team will be vigilant and take sensible precautions, but otherwise we are approaching this race in the same way we do all races."
McLaren: "The team will be staying very near the circuit, at a hotel that has very good security, and we feel that no extra security measures are therefore necessary for us."
Williams: "We are adhering to our normal security measures in Bahrain and just using usual common sense, nothing more."
Mercedes: "The safety of our employees is our highest priority and we will follow the guidance of the Foreign and Commonwealth Office (FCO) concerning travel to the region."
Last year's race went ahead once Ecclestone and governing body the FIA said they had been assured the kingdom was safe for F1 personnel.
There are similar concerns this time around and, in a letter signed by 20 MPs, the All-Party Group asked Ecclestone to call off the Grand Prix.
"Since April 2012, many more people including children have lost their lives and the whole country exists in fear and intimidation," wrote Andy Slaughter, chairman of the Group.
"Last year's race was held under conditions of martial law. Three hundred protesters were arrested, some spending months in jail.
"I think most democratic-minded people would be appalled if you allowed the Bahrain leg of the Formula 1 championship to go ahead amidst the most atrocious human rights violations."
A report in the New York Times claimed that authorities in Bahrain were increasing security following a series of explosions in the country. …more
editor: The teams and the FIA can "steer clear" and wait for "fair day" in Bahrain to hold their race or they can let it become a bloody stain that rolls around every year. It seems a no brainier, but if one heeds the idiocy of an ego tripping Ecclestone and fiscally desperate King Hamad, they put the entire FIA enterprise to shame and push the whole pack into the bloody walls of Bahrain. Phlipn.
Bernie Ecclestone will meet F1 teams to discuss Bahrain GP
By Dan Roan – 12 April, 2012
F1 boss Bernie Ecclestone will meet the sport's 12 teams in Shanghai on Friday to discuss whether the controversial Bahrain Grand Prix should go ahead, the BBC has learned.
However a senior FIA official told the BBC "The race is still on. The situation is not like last year."
2011's race was called off following pro-democracy protests in the country.
But now a number of them expect the race to be called off amid security concerns caused by civil unrest.
On Tuesday Ecclestone said no teams had expressed concerns to him and a summit has been called ahead of this weekend's Chinese Grand Prix.
Despite holding the meeting, Ecclestone said on Thursday only the Bahrain sporting authorities could cancel the race. "The race is on the calendar," he said. "It's scheduled."
Formula 1: Bahrain GP row explained
The Formula One Teams' Association (Fota), meanwhile, insists it is down to the sport's governing body, the FIA, to cancel the race. But the BBC can reveal Friday's crisis meeting will not include FIA chief Jean Todt who does not arrive in Shanghai until Saturday.
That may mean any decision is delayed until the weekend, with cars scheduled to be air-freighted to Bahrain on Sunday night.
Bahrain authorities remain confident the race will go ahead.
Unlike last year, the Bahrain authorities are in no mood to cancel the race themselves, so the decision rests with the FIA this time.
But, speaking on condition of anonymity from Shanghai where the third stage of the F1 takes place on Sunday, the senior FIA official told the BBC's Bill Law that John Yates – Scotland yard's assistant commissioner until he resigned last year but now serving as a special advisor to Bahrain's Minister of Interior – has been reassuring. …more