…on the occasion of Sheikh AlMahfoodh's Arrest in 2011; "They broke into my home four times and told me it's either your husband or your daddy". On April 2nd police arrested her husband in what she says was a 'hostage situation' to secure the arrest of Sheikh Mohammed Ali. …more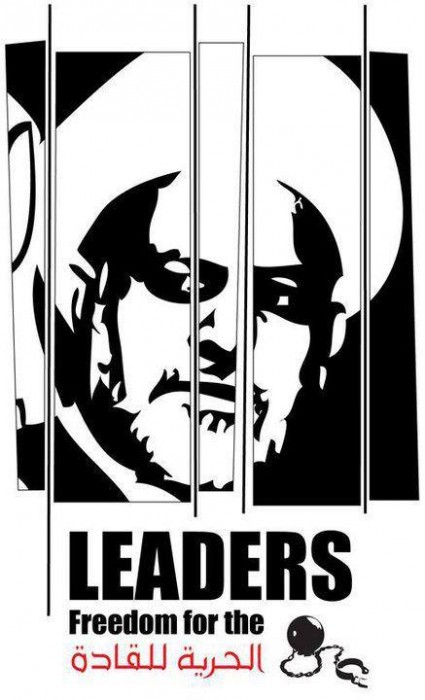 In the name of God
Official Statement of Sh. AlMahfoodh Recent Condition
We received confirmations that Sh. Mohamed Ali AlMahfoodh is sent to hospital as his health has dramatically deteriorated. Thus, there are serious concerns about his safety especially after six days passed since the recent attacks as reported from Jaw Center of Detention. Since six days, there has been no news or calls from Sh. AlMahfoodh and the rest of the detained in the Ward of Hope/Ward One. All what is confirmed is that the ward is on hunger strike since six days.
The last contact with Sh. AlMahfoodh was on Sunday December 1st 2013. In his short abrupt call, his voice was weak and thin, and the call was under strict supervision of the ward guards. He personally confirmed that the rumors about the incident are real and the ward is put under punishment. Consequently, the call increased the concerns among the family of Sh. AlMahfoodh.
As for the recent rumors that claim Sh. AlMahfoodh case to be comforted or settled, there is no certain reliable proof or trace, and the source is anonymous. There is no confirmation of any relief in the Ward's condition especially after the new impunity restrictions enforced on the detained in the ward.
We, the family of Sh. Mohamed Ali AlMahfoodh send an urgent call to the concerned international community and the Human Rights organizations to investigate and follow the case if Sh. AlMahfoodh. We call to arrange immediately to meet him in person to check his safety and health status. We also demand the immediate unconditional release of Sh. AlMahfoodh and all the other prisoners of conscience.
The family of Sh. Mohamed Ali AlMahfoodh
Bahrain
December 3rd 2013
The egregious sentence of 10 years for Sheikh Mohammed Ali al-Mahfoodh was reduced through appeals in Bharain's Court of Injustice, to an egregious sentence of five years in November, 2012. Sheik al-Mahfoodh remains unjustly detained by the Al Khalifa Regime in Bahrain to this day. Phlipn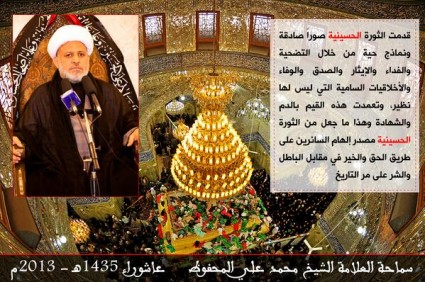 Interview with Hajar al-Mahfoodh – daughter of jailed opposition leader
4 October, 2011 – Bahrain Justice and Development Movement
A Bahrain military court today jailed Sheikh Mohammed Ali al-Mahfoodh, Chairman of the opposition Amal Party, for 10 years.
His daughter Hajar says whilst in detention he was tortured so badly she could barely recognize her own Father. She affirms there is no tangible evidence against him and his case is clear political persecution.
Another 13 members of the party received sentences of between 5 and 10 years at the same hearing.
Sheikh Mohammed Ali was first arrested on 2nd May 2011 but according to Hajar the Security Services had been trying to arrest him since one month before.
"They broke into my home four times and told me it's either your husband or your daddy". On April 2nd police arrested her husband in what she says was a 'hostage situation' to secure the arrest of Sheikh Mohammed Ali. In the same incident items were stolen from her home and she says she feared leaving the house in case they returned.
One month later when police finally caught up with Sheikh Mohammed Ali, they also arrested two of Hajar's brothers at the same time.
By the end of May both brothers and the husband had been released but there was no word about Sheikh Mohammed Ali until the family received a call to say they could visit.
"I felt the man I met wasn't my daddy. He couldn't focus, his voice was different and he looked like a different man". Hajar describes her visit to see her father in prison. "It was only later when I found out he had been tortured using electricity that I understood why he was in this state".
A few days after the visit Sheikh Mohammed Ali's first hearing began. The family was allowed to meet him for a few brief minutes after the hearing began and in this time he detailed his ordeal.
"He did not want to give full details, because he was worried about upsetting me, but he told me they wanted to kill him". He told his daughter that he had been in solitary confinement for 45 days and given no food or water for the first 15 days, twice being admitted to hospital.
"They used mostly electricity and whipping to torture him and he is sure all those investigating were of Jordanian nationality".
Since that first hearing Sheikh Mohammed Ali has faced a new hearing every 2 weeks until his sentencing today.
Hajar says from a legal point of view, as the defense lawyers pointed out, the trial is biased to say the least. "The defendants do not meet the lawyers regularly and the accused are not allowed to speak for themselves. She also says no tangible evidence of guilt has been offered according to the defense lawyers.
Sheikh Mohammed has been accused of trying to damage the image of Bahrain at an international level. There are 3 main prosecution witnesses, all claiming that he confessed his crime during detention. Something she categorically denies.
On the other hand there are "26 defense witnesses who all prove that there was no wrong doing on the part of the accused". But in Bahrain the truth counts for nothing."
Hajar says she fears for the future of Bahrain and thinks that unless real reform happens soon, violence will soon erupt.
"I am a peaceful person and my father is too. All we want is peace and unity in Bahrain. But the situation is getting worse and these military trials are pushing the country to the edge of breaking."
…source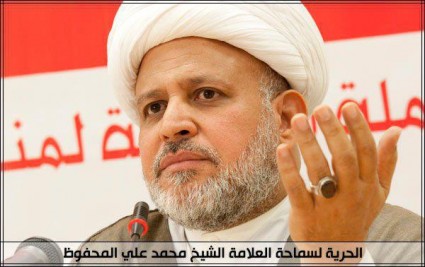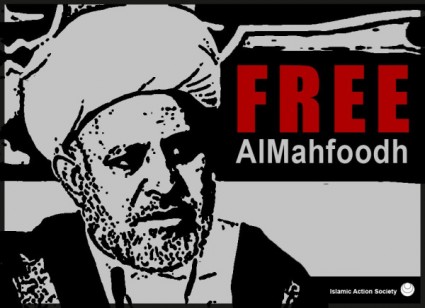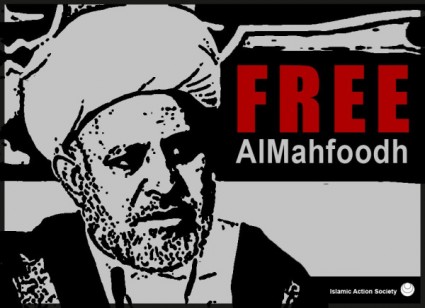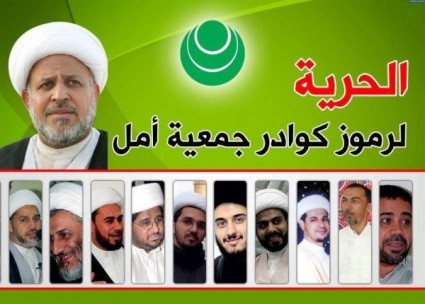 Sign Petition to Free Almahfoodh HERE
We are writing for you on the behalf of Amal Society, legally registered under the Bahrain Society Law since 2002. In brief, 23 members of Amal are detained through several night raids, and after spending more than 45 days under severe torture and dwelling in solitary cells, the Bahraini regime is putting Amal society under trail. The detainees are headed by the Chairman of Amal, Sheikh Mohammed Ali Almahfoodh. The legal conditions are drastic since the detainees are denied any access to the lawyers except for two to five minutes after every trial session. After the hearings of Prosecution witnesses and the Defense witnesses, no evidence was found to condemn Amal of any charge against the law. However, it seems that the verdicts of the National Safety Court (Military court) are ready-made packages, sentencing the detainees from 5 to 25 years of imprisonment.
…more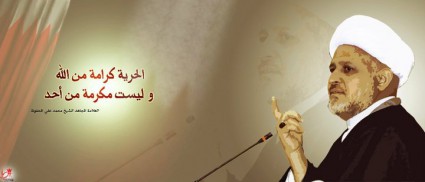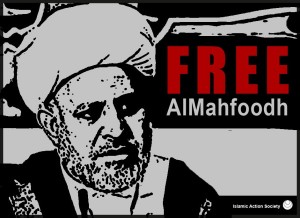 IslamicActionSociety
On Thursday 16th June 2011, @AmalSociety said:
#Bahrain Statement: provision of "Amal" staff to trials and the desire of tens of international lawyers to defend
——————————————-
In the name of Allah, the most merciful, the most graceful,,
Islamic Action Society announces, according to the information issued by some human rights organizations and innocent detainees' families, that the authority is to provide Islamic Action Society's staff headed by the Secretary General Shaikh Moh'd Ali Almahfoodh to military trials within next week and to accuse them with fabricated charges that authority used to fabricate to other honorable strivers from the sons of this country.
In this context, many lawyers from different countries announced their readiness to defend the Secretary General and his faithful brothers from the Society's staff, who were arrested during the last period of nightly raids on their houses or by the arrest of their loved ones as hostages until they surrender themselves to police.
Shaikh Moh'd Ali Almahfoodh and his friends and many other innocent citizens and leaders of this people are paying the cost of their defense of Bahraini people and not keeping silent on the unjust, the violations and the blatant suppression. What Sh. Almahfoodh did and stand for of moral principles toward the hardship of this great people, that are declared and undeclared, is the main reason for throwing the honorable such his eminence into detentions, and these stands are stemmed from deep faith in his eminence of religious, moral and historic responsibility that lying on his shoulders toward the people which matches with his principles and his jihad and sacrificing biography in which he bear the pain of detention, emigration and staying away from his family and homeland for many years ago.
Along four decades of his age, Sh. Almahfoodh sought with his companions to demand a democratic and just regime that is accepted by people and established on the bases of equality and freedoms respect which result from a real people participation in drawing their present and future, a regime in which people are treated on the bases of their efficiency and faithfulness, not on their sectarian affiliation or relations with corrupters, so Sh. Almahfoodh sought to a regime that rewards the good man on his goodness, and punishes the abusers who steal the country and use it for their interests, who arrested and tortured and killed the sons of this people in order to save their privileges at the expense of the homeland and citizens.
That is why today he is bearing the tax of this seek and this national brave stand toward his own people to confirm to us that defending the suffering of Bahraini people is an essential and urgent issue that cannot endure the delay, because every day more on this suffer, it means more victims fall and tortured, tried and imprisoned and possibly killed.
The trial of such ones like Sh. Almahfoodh is a trial of the people's conscious and all that is clean and honor and national and faithful by the staff of corrupts and torture and violations that control the people's and country's fate. At a time when the American delegation visits Bahrain, it turns blind eye on the detention of the societies' and movements' leaderships in a clear reference to the US double standards in dealing with the political forces in Bahrain through separation and sorting.
Freedom to honorable, and the victory from Allah, and freedom to this great people,,
No right lost as long as demands behind it,,,
Islamic Action Society – Amal
Manam – Bahrain
16th june, 2011
…source