Bahrain Security Forces Seize Residents of Hamad
by PressTV – April 18, 2011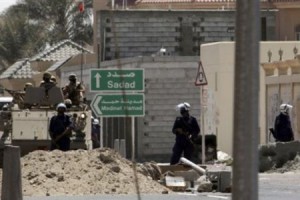 Bahraini security forces have reportedly arrested several teachers and students in the town of Hamad in a new wave of crackdown on anti-regime protesters.
Reports say at least eight teachers and several pupils from an all-girl secondary school were arrested in the Bahraini city.
The new arrests came as Bahraini anti-government protesters are preparing to start the world's largest joint hunger strike to show their anger with the regime's crackdown on peaceful demonstrators.
The organizers have called on all Bahrainis around the world to begin a hunger strike from Monday in protest against the regime's brutalities against the opposition.
The move was inspired by rights activist Zainab al-Khawaja who was hospitalized on Sunday after seven days of hunger strike.
She is protesting the detention of several of her relatives, including her father and husband. The human rights activists were detained earlier this month by Bahraini security forces, backed by troops from Saudi Arabia and the UAE. …more