Bassiouni seizes arranged photo opportunity and staged meeting with political prisoners on behalf of al Khalifa's charades
Bahrain's inquiry chief meets with prisoners
By Habib Toumi, Bureau Chief – August 26, 2011
Head of commission discusses arrest, trials and allegations of torture with detainees held under National Safety Law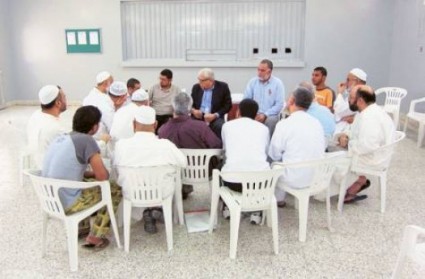 Professor M. Cherif Bassiouni meets with prisoners at Al Qurain prison.
Manama: Bahrain's probe commission chief has reviewed with prisoners held under the National Safety Law their legal status and detention conditions, the commission has said.
"Professor M. Cherif Bassiouni, the chairman of the Bahrain Independent Commission of Inquiry (BICI), visited Al Qurain prison where he met all the prisoners indicted under the National Safety Law," the BICI said on Wednesday.
"Among those were the 14 political prisoners, convicted of collaboration in an attempt to overthrow the Bahrain regime and government. The prisoners were Ebrahim Sharif, Abdul Hadi Al Khawaja, Hussain Mushaima, Abdul Wahab Hussain, Jalil Singace, Mohammad Al Saffaf, Saeed Ahmad, Abdul Jalil Al Moqdad, Salah Al Khawaja, Mohammad Jawad, Abdul Hadi Hassan, Al Hurr Mohammad, Abdullah Al Mahroos and Mohammad Esmail."
Bassiouni discussed the facility conditions, the personal circumstances of their arrest and their trials, allegations of torture and the status of the legal proceedings against them, BICI said.
The head of the five-member commission also visited the military public prosecutor and discussed the status of all cases under the National Security Law.
The meetings were part of a series of visits conducted by the BICI within the mandate of its investigation of the events of February and March 2011 and their consequences.
BICI staff have met a range of political and civic organisations as well as prisoners and detainees, health workers, trade union activists and representatives of large commercial organisations.
The commission has also issued two strong denials that at least one of its members had resigned and shut down its offices for three days following verbal abuses and aggressions. However, the commission said that it would continue its work. …source