Call for Immediate Release of Sheikh al-Mahfoodh, Unjustly Detained Since May, 2011
The egregious sentence of 10 years for Sheikh Mohammed Ali al-Mahfoodh was reduced through appeals in Bharain's Court of Injustice, to an egregious sentence of five years in November, 2012. Sheik al-Mahfoodh remains unjustly detained by the Al Khalifa Regime in Bahrain to this day. Phlipn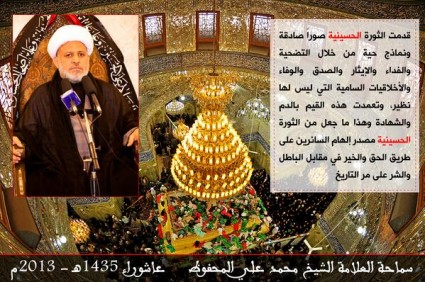 Interview with Hajar al-Mahfoodh – daughter of jailed opposition leader
4 October, 2011 – Bahrain Justice and Development Movement
A Bahrain military court today jailed Sheikh Mohammed Ali al-Mahfoodh, Chairman of the opposition Amal Party, for 10 years.
His daughter Hajar says whilst in detention he was tortured so badly she could barely recognize her own Father. She affirms there is no tangible evidence against him and his case is clear political persecution.
Another 13 members of the party received sentences of between 5 and 10 years at the same hearing.
Sheikh Mohammed Ali was first arrested on 2nd May 2011 but according to Hajar the Security Services had been trying to arrest him since one month before.
"They broke into my home four times and told me it's either your husband or your daddy". On April 2nd police arrested her husband in what she says was a 'hostage situation' to secure the arrest of Sheikh Mohammed Ali. In the same incident items were stolen from her home and she says she feared leaving the house in case they returned.
One month later when police finally caught up with Sheikh Mohammed Ali, they also arrested two of Hajar's brothers at the same time.
By the end of May both brothers and the husband had been released but there was no word about Sheikh Mohammed Ali until the family received a call to say they could visit.
"I felt the man I met wasn't my daddy. He couldn't focus, his voice was different and he looked like a different man". Hajar describes her visit to see her father in prison. "It was only later when I found out he had been tortured using electricity that I understood why he was in this state".
A few days after the visit Sheikh Mohammed Ali's first hearing began. The family was allowed to meet him for a few brief minutes after the hearing began and in this time he detailed his ordeal.
"He did not want to give full details, because he was worried about upsetting me, but he told me they wanted to kill him". He told his daughter that he had been in solitary confinement for 45 days and given no food or water for the first 15 days, twice being admitted to hospital.
"They used mostly electricity and whipping to torture him and he is sure all those investigating were of Jordanian nationality".
Since that first hearing Sheikh Mohammed Ali has faced a new hearing every 2 weeks until his sentencing today.
Hajar says from a legal point of view, as the defense lawyers pointed out, the trial is biased to say the least. "The defendants do not meet the lawyers regularly and the accused are not allowed to speak for themselves. She also says no tangible evidence of guilt has been offered according to the defense lawyers.
Sheikh Mohammed has been accused of trying to damage the image of Bahrain at an international level. There are 3 main prosecution witnesses, all claiming that he confessed his crime during detention. Something she categorically denies.
On the other hand there are "26 defense witnesses who all prove that there was no wrong doing on the part of the accused". But in Bahrain the truth counts for nothing."
Hajar says she fears for the future of Bahrain and thinks that unless real reform happens soon, violence will soon erupt.
"I am a peaceful person and my father is too. All we want is peace and unity in Bahrain. But the situation is getting worse and these military trials are pushing the country to the edge of breaking."
…source