In Bahrain, "lives cheaper than car tires"
Leading activist: Bahraini lives "cheaper than car tires"
21 October, 2013 – Al Akhbar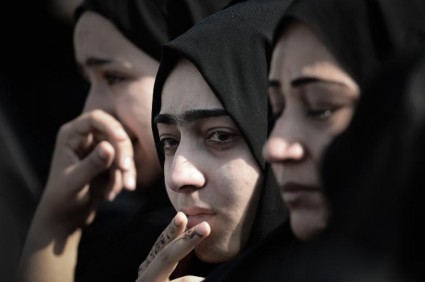 An appellate court on Monday reduced to three years the prison sentence of a police officer convicted of killing the first martyr of Bahrain's 2011 anti-government uprising, as three activists were handed five-year jail terms for burning tires at an "illegal gathering," judicial sources and a human rights group said.
A Bahraini court originally sentenced the unnamed police officer in January to seven years in jail for fatally shooting 21-year-old Ali Musheime in the back on February 14, 2011 in the village of al-Daih during a "day of rage" rally which ignited a massive, pro-democracy rebellion against the Gulf island's western-backed ruling family.
A second youth was killed the following day when police opened fire on Musheime's funeral procession. Amnesty International said that "clear evidence" was present of "police brutality and excessive force" in those killings.
At least 87 more would be killed in the ensuing crackdown on dissidents, according to the Bahrain Center for Human Rights (BCHR).
The appellate court decided to reduce the policeman's sentence after three fellow officers who witnessed Musheime's killing claimed their colleague acted in "self-defense," lawyers said.
The ruling comes as members of BCHR reported over Twitter that a separate court on Monday sentenced three protesters each to five years in prison for burning tires and taking part in an "illegal gathering."
"Human lives in Bahrain [are] cheaper than car tires," Maryam al-Khawaja, BCHR's acting director, wrote on Twitter. …more