Crown Prince' dialogue covers for F1 as new wave of Collective Punishment hits Villages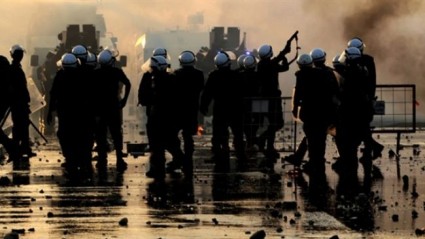 Bahraini forces clash with anti-regime protesters near Manama
:4 April, 2013 – PressTV
Saudi-backed Bahraini forces have clashed with demonstrators protesting against the ruling Al Khalifa regime near the capital Manama, Press TV reports.
On Thursday, regime forces fired teargas and sound grenades at the demonstrators, who shouted slogans against the government and called for its downfall.
Activists said the protest rally was held as a symbolic last day of mourning for Jaffar Jassim al-Taweel, who was killed after inhaling toxic gas fired by Bahraini forces during anti-regime protests on March 25.
On April 2, in the northwestern village of Diraz, security forces also attacked the funeral procession for Abdul Ghani al-Reis who died of psychological shock after visiting a torture chamber where his son was being kept by regime forces.
The Bahraini revolution began in mid-February 2011, when the people, inspired by the popular revolutions that toppled the dictators of Tunisia and Egypt, started holding massive demonstrations.
The Bahraini government promptly launched a brutal crackdown on the peaceful protests and called in Saudi-led Arab forces from neighboring Persian Gulf states.
Dozens of people have been killed in the crackdown, and the security forces have arrested hundreds, including doctors and nurses accused of treating injured revolutionaries.
The protesters say they will continue holding anti-regime demonstrations until their demand for the establishment of a democratically elected government is met. …more