Bahrain Regime should to stop its violence; Free Political Prisoners, Remove Police from Villages, Stop Attacks and Allow Peaceful Protests, Stop use of Chemical Gas and Birdshot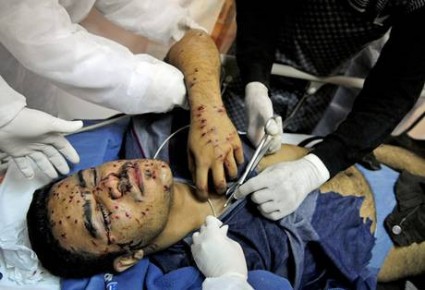 Bahrain: Shiite clerics must 'prohibit' violence
By REEM KHALIFA – 7 December, 2012 – AP
MANAMA, Bahrain (AP) — Bahrain's Shiite religious leaders must more forcefully denounce violence as a key step to ease the kingdom's 22-month uprising, the country's crown prince said Friday at the opening of an international security conference.
The appeal by Salman bin Hamad Al Khalifa underscores the view of Bahrain's Sunni monarchy that Shiite clerics should be held partly responsible for rising violence in the strategic Gulf nation. It also suggests authorities could increase pressure on top Shiite clergymen, whom he referred to as 'ayatollahs' — a term more often associated with senior religious figures in rival Iran.
"I call on all those who disagree with the government, including the ayatollahs, to condemn violence on the street unequivocally . And more, to prohibit violence," the crown prince told policymakers and political figures gathered for the annual two-day conference known as the Manama Dialogue. "Responsible leadership is called for and I believe dialogue is the only way forward," he added.
More than 55 people have died in the unrest since February 2011, when Bahrain's majority Shiites escalated a long-simmering drive for a greater political voice in the Sunni-ruled country.
The monarchy has offered some concessions, including giving the elected parliament expanded powers. But it falls far short of Shiite demands to loosen the Sunni rulers' controls over key government appointments and policies.
Shiite religious leaders, including the most senior cleric Sheik Isa Qassim, have never publicly endorsed violence, but have encouraged peaceful anti-government protests to challenge authorities. Breakaway groups during demonstrations often clash with riot police.
The conference includes high-level envoys from Bahrain's Western allies, which have so far stood behind the kingdom's leadership but are increasingly troubled by rising violence and continued crackdowns on the opposition. The U.S. delegation is led by Deputy Secretary of State William Burns and includes Arizona Sen. John McCain.
The crown prince thanked a host of nations for assistance during the crisis, but noticeably did not refer to the U.S. in his remarks — an omission that underlined the two countries' increasingly strained ties. He criticized nations that "selectively" criticize Bahrain's leadership, without citing specific countries. …more