Bahrain village under siege, prisoners claim torture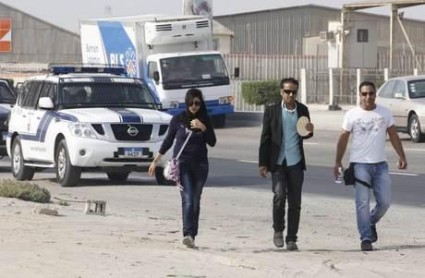 Activists (from left) Zainab al-Khawaja, Said Yousif and Naji Fateel attempt to break the siege of al-Ekar to deliver food and medicine before being arrested on 21 October 2012. (Photo: Reuters – Hamad Mohammed)

Bahrain village under siege, prisoners claim torture
22 October, 2012 – Al Akhbar
Four men arrested over a roadside bombing in a Bahraini village that killed one policeman Thursday say they were beaten and tortured in prison to force confessions, an activist who met them while custody, said today.
"They were then taken to the public prosecution office without a lawyer to try and convince them they were guilty," Said Yousif, deputy head of the Bahrain Center for Human Rights, told Al-Akhbar.
The village of al-Eker has been under siege since the bomb was detonated overnight Thursday. Bahrain yesterday announced that it had arrested seven people it suspected of the bombing.
Yousif was arrested yesterday along with two other activists, Zainab al-Khawaja and Naji Fateel, after trying to break the siege.
The three marched from the neighboring village of Sitra to deliver bread and medicine to residents when they were detained at a checkpoint at about 2:00pm. They were released around midnight, Yousif said.
Activists (from left) Zainab al-Khawaja, Said Yousif and Naji Fateel attempt to break the siege of al-Ekar to deliver food and medicine before being arrested on 21 October 2012. (Photo: Reuters – Hamad Mohammed)
"No one has been allowed in or out of al-Eker in three days. They are not allowed to go to the hospital, they can't go to school, and there is not enough food," he said, adding that security forces also attacked a Shia mosque in the village.
"This is collective punishment, so we we decided to break the siege peacefully," Yousif added.
The activists were refused entry into the village one day earlier, but were not arrested.
Dozens of other activists protesting the siege outside the village were attacked with tear gas and sound bombs today, witnesses said.
Separately on Monday, four Bahrainis arrested last week for "defaming" the king told a court they were innocent.
There has been mounting pressure on the kingdom to release the four detainees, who allegedly used Twitter to criticize the monarch, Hamad bin Isa Al Khalifah.
The arrests are part of an ongoing crackdown on dissent in Bahrain.
The country has witnessed persistent opposition protests since February, 2011. It began with protesters calling for more civic freedoms, but many are now calling for the overthrow of the monarchy after it responded by launching a bloody crackdown.
Saudi troops were ushered into Bahrain in March, 2011 to help crush the movement, but they failed to end protests.
At least 80 people have been killed since the uprising began, according to activists.
Medics have also been targeted for treating injured protesters.
Earlier this month, Human Rights Watch and a group of US congressmen separately called on the country's monarch to release nine medics who treated activists injured during the uprising.
The medics were all charged earlier this year and released on bail, but re-arrested after an October 1 court decision upheld their charges.
Bahrain's royal family, which has maintained a tight grip over the country for more than a century, is a strategic US ally and hosts the US Fifth Fleet. …source