When Nuclear Weapons Programs Fail to Ripen
By Russ Wellen – April 30, 2012 – FPIP
One can't help but suspect that a key reason the public and even many policymakers believe that Iran is close to developing nuclear weapons is the sheer length of time that the words "Iran" and "nuclear" have been uttered in the same sentence by the media. Way back in 1957 Iran signed an agreement to participate President Eisenhower's Atoms for Peace program. But Ayatollah Ruhollah Khomeini temporarily halted Iran's nuclear efforts, both peaceful and weapons.
In the late eighties and early nineties, AQ Khan, lord of Pakistan's nuclear-weapons program as well as the nuclear black market, shared know-how and components with Iran. Then, in late 2002, it was learned that Iran had built a uranium enrichment plant at Natanz and a heavy water plant at Arak. It appears, though, that in 2003 all but vestigial research toward an Iranian nuclear-weapons program ended.
For better or worse, that's 55 years, off and on, that Iran's name has been linked with the word nuclear and 25 years since Iran initiated actual work on developing nuclear weapons. By contrast, the United States developed nuclear weapons from scratch in four years during what, compared to today, was the technological dark ages. In the interim, many other states have also succeeded in relatively short timeframes. Thus, it doesn't strike most in the West as plausible that a developed state like Iran has yet to bring its program — if you're among those who believe that, in fact, it exists — to fruition.
Jacques E. C. Hymans of the School of International Relations at the University of Southern California addresses Iran's inability (again, if you accept that it's trying) to close the nuclear circle in an article in the May/June issue of Foreign Affairs titled "Botching the Bomb: Why Nuclear Weapons Programs Often Fail on Their Own — and Why Iran's Might, Too" (behind a pay wall). He begins by providing an example of an official skeptical of how long it's taking Iran to close the circle (again, assuming you're among those who believe that's what it seeks). [Emphasis added.]
"Today, almost any industrialized country can produce a nuclear weapon in four to five years," a former chief of Israeli military intelligence recently wrote in The New York Times, echoing a widely held belief. Indeed, the more nuclear technology and know-how have diffused around the world, the more the timeline for building a bomb should have shrunk. But in fact, rather than speeding up over the past four decades, proliferation has gone into slow motion. … Seven countries launched dedicated nuclear weapons projects before 1970, and all seven succeeded in relatively short order. By contrast, of the ten countries that have launched dedicated nuclear weapons projects since 1970, only three have achieved a bomb. …more
Bahrain announces retrial for hunger striker Khawaja
guardian.co.uk – 30 April, 2012
Bahrain has announced a retrial for a hunger-striking political activist and 20 others accused of trying to overthrow the western-backed monarchy in the Gulf state's Arab spring protests last year.
Abdulhadi al-Khawaja is to be tried in a civilian court – rather than a military court as before – part of an effort by the Bahraini government to respond to domestic and international criticism of its policies by finding a face-saving solution. A senior Bahraini official suggested he might get a reduced sentence in a new trial.
But continued protest in Bahrain was backed by Amnesty International UK yesterday, saying that, pending retrial, Khawaja and 13 others should be released from custody. Human Rights Watch also called for their immediate release, saying the set-aside verdict was "mind-boggling" in its lack any specific criminal offences.
Khawaja, 52, was sentenced to life imprisonment for plotting against the state last summer. But a three-month hunger strike and an energetic campaign by family and supporters have kept his case in the spotlight. It was raised too in the runup to the recent controversial Formula One Grand Prix in Bahrain. Khawaja is in a military hospital in a serious condition, having lost 25% of his body weight; the Bahrain defence forces denied in a statement on Sunday that he was being force-fed.
The retrial is a partial victory for Khawaja, but his family insisted he must not remain in custody. "Abdulhadi al-Khawaja did not go on hunger strike saying death or retrial, he said death or freedom," his daughter Maryam wrote on Twitter. "A retrial doesn't mean much."
Khawaja's wife, Khadija al-Moussawi, told the BBC: "I think it is ridiculous. What sort of legal process is this? They are playing for time, and should have transferred his case to a civilian court at the first hearing, not the third."
Another of those convicted, Alhur al-Sumaikh, had his two-year sentence reduced to six months and was released because of time served. …more
Bahrain breaks up protests, faces calls to free prisoners
By Aamer Mohammed – 1 May, 2012 – Reuters
Manama (Reuters) – Riot police firing tear gas and stun grenades routed protesters in Bahrain's capital on Tuesday as the government came under mounting international pressure to release jailed leaders of last year's uprising.
An appeals court decision on Monday to grant a retrial to 21 opposition figures was not enough to defuse resurgent unrest among the Gulf Arab state's majority Shi'ite Muslims, and street rallies resumed on Tuesday.
A heavy riot police presence cut short a demonstration in the market area of Manama, as tear gas and stun grenades were unleashed at several dozen who chanted anti-government slogans.
Activists also reported small protests on the occasion of World Labour Day in a number of Shi'ite districts. Several thousand protesters and suspected supporters were sacked or suspended from work last year during a crackdown on the uprising and some say they have not got their jobs back.
Shi'ites, whose unrest is seen by the Sunni Muslim ruling elite as a subversive bid to put U.S.-aligned Bahrain under the sway of Shi'ite Iran, complain of discrimination and marginalization in political and economic life.
The government says many Shi'ites hold state posts and help run the economy and that police and judicial reforms have begun. But there has been no progress on the main opposition demand for a parliament with full powers to legislate and form governments.
The cassation court, the highest judicial body in the Gulf Arab state, on Monday shifted the case of 21 men who were convicted in a military court to a civilian court and freed one, lesser-known prisoner. Seven of the 21 are abroad or in hiding. …more
PEN Int'l: Immediately & unconditionally release of all those currently detained for the peaceful exercise of their opinions
1 May, 2012 – PEN – BCHR

BAHRAIN: Re-trial ordered of jailed human rights defenders, writers and bloggers.

PEN International's Writers in Prison Committee reiterates its protest at the continued detention of academic, blogger and human rights activist Dr Abduljalil Al-Singace and human rights defender Abdulhadi Al-Khawaja, after an appeals court ordered a retrial of their case but ruled that they should remain in jail pending a new verdict. No date has yet been set for the re-trial, which will be heard in a civilian court.
PEN continues to call for the immediate and unconditional release of all those currently detained in Bahrain for the peaceful exercise of their opinions, including Dr Al-Singace and Abdulhadi Al-Khawaja, and urges a full and independent investigation into allegations that they were tortured in pre-trial detention. It reminds the Bahraini authorities of their obligations to protect the right to freedom of expression as guaranteed by Article 19 of the International Covenant on Civil and Political Rights, to which Bahrain is a signatory.
According to PEN's information, on 30 April 2012 the Court of Cassation ordered a retrial in the case of all twenty-one opposition activists, writers and bloggers convicted by a special security court on 22 June 2011 of 'plotting to overthrow the government' for their peaceful opposition activities. They include academic, blogger and human rights activist Dr Abduljalil Al-Singace and human rights defender Abdulhadi Al-Khawaja, who were each sentenced to life imprisonment after calling for political reform and reporting on human rights abuses in the country. After the hearing the official Bahrain News Agency reported that the retrial will hear 'testimony from prosecution and defense witnesses…once more as if it is a new trial…". None of the defendants were present at the court hearing, and all fourteen detainees are expected to remain in custody for the duration of their appeal, except for Al Hurra Yousif Mohammed who was released after yesterdays' hearing having served his sentence.
Seven of the defendants were convicted in absentia, including blogger Ali Abdul Imam of Bahrain Online, sentenced to fifteen years in prison. The appeal of the fourteen detainees was heard on 6 September 2011 by the military-run National Safety Court of Appeal, and all the sentences were upheld on appeal at a brief hearing on 28 September 2011. The trial did not meet with international standards of fairness, and there has been no independent investigation into allegations by some of the defendants, including Dr Al-Singace and Mr Al-Khawaja, that they were tortured in pre-trial detention, when they were held incommunicado. …more
Washington's tepid response to Bahrain's crackdown on nonviolent protesters has forced me to question what America really stands for. Obama must tell the ruling family to stop attacking protesters and to drop sham charges against medics like me and hundreds of others.
Bahrain doctor: If US loses the faith of people like me, it loses the Mideast
By Nada Dhaif – 1 May, 2012 – CSM
Manama, Bahrain – With the news that there will be a "retrial" for Bahraini hunger striker Abdulhadi al-Khawaja and 20 other protesters arrested for taking part in the uprising in Bahrain last year, I fear that the legal process is still being used to deliberately deny justice. My own trial proves Bahrain continues to violate the rights of its people.
I'm an accidental activist who was back in court just days ago, and am awaiting another appearance next week in the appeal of my military court conviction. The Bahrain authorities are still pressing charges against me and 19 other medics.
They say we were involved in occupying the main hospital in the capital city of Manama, trying to overthrow the regime by force, and smuggling weapons. In fact, what we did was treat injured protesters. Some of us told the international media the truth about what was happening, a truth the government was trying to hide.
Bahrain is ruled by a monarchy – the king's uncle has been the unelected prime minister for the last 41 years. King Hamad bin Isa Al Khalifa can change the Constitution when and as he wants to.
In February 2011, I joined the thousands of people at the Pearl Roundabout in the heart of Manama where the protests for democracy began, volunteering at a medical tent to treat people who needed medical attention. The government soon turned on the protesters and on us, the medics who treated them.
A month later, my life changed suddenly, and forever.
On March 19, armed and masked security forces broke into my home in the middle of the night and took me away. I was the first woman arrested in the crackdown. For 22 days, I was held in solitary confinement and subjected to verbal abuse and torture, including electrocution. In all, I was detained for two months. …more
Israeli Prison Doctor Fears for Lives of Palestinian Hunger Strikers
01 May, 2012 – POMED
Earlier this month, the Israeli Prison Service reported that an estimated 2,000 Palestinian prisoners began a hunger strike on April 17. As of yesterday, more than 15 prisoners have been transferred to Israeli hospitals due to sever deterioration in health.
Yesterday, Israeli Prison Service doctor said that four Palestinian prisoners are in critical condition. Bilal Diyab, Tha'er Halahla, Omar Abu Shlal, three of the four prisoners said to be in critical condition, are administrative detainees sentenced to prison on a Shin Bet order. The fourth prisoner, Muhammad Siksak, is from the Gaza Strip and was detained after being labeled a "illegal combatant" by Israeli Authorities. The prisoners demand to be tried for their crimes or released. Bilal Diyab and Tha'er Halahla have gone 63 days without eating.
Strikers are protesting three main policies: solitary confinement, administrative detention, and the continuation of sanctions imposed before the release of abducted soldier Gilad Shalit. Sivan Weizman, a spokesman for the Israeli Prison Authority," told reporters last week that prisoners privelages, such as family visits, would be revoked. Israel has not released any details of suspicions against its administrative detainees.
Physicians for Human Rights Anat Livin declared yesterday that the hunger strikers should be released to a public hospital saying that the prison is not equipped to handle such sever health deterioration. Jawad Boulous, head of the legal department at the Palestinian Prisoners club, said that the conditions of the Palestinian hunger strikers are "horrifying." John Wight writes on the Huffington Post of his alarm that over half of the known Palestinian prisoners are on hunger strike and yet there has been "zero news coverage." …more
Bahrain Live Coverage: The Regime Plays for Time
1 May, 2012 – Scott Lucas – Excerpted EA WorldView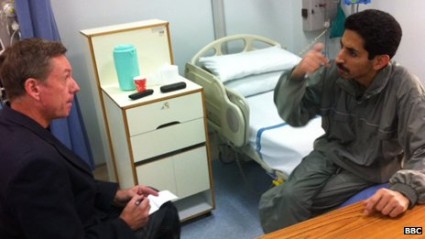 Detained activist Abdulhadi Alkhawaja, on Day 83 of his hunger strike, with BBC correspondent Frank Gardner (see 1241 GMT)
1441 GMT: BBC correspondent Frank Gardner, in addition to his five-minute visit with detained hunger striker Abdulhadi Alkhawaja (see 1241 GMT), has also reported:
1241 GMT: BBC correspondent Frank Gardner has been allowed a five-minute visit with detained activist Abdulhadi Alkhawaja, on Day 83 of his hunger strike, in a military hospital today. The BBC posts a photograph (see top of entry) and a rather confused report.
Mr Khawaja said his medical treatment had been good "except for the force-feeding", something officials deny.
He said he had been walking for three days and appeared thin but alert….He was dressed in overalls and sitting on the edge of his bed, unrestrained.
Our correspondent says the 51 year old was drinking fluids, and hospital staff said he was also drinking regular nutritional supplements. However, Mr Khawaja said he would continue his hunger strike, which began on 8 February….
Hospital staff told our correspondent that Mr Khawaja was getting "VIP treatment" and that they had been frustrated at reports from his supporters that he was being mistreated.
So is Alkhawaja, still mobile despite all three months without food, voluntarily "drinking… nutritional supplements" or is he being force-fed? …more
UN welcomes Bahrain's move 'away from military justice' in activist cases
Associated Press – 1 May, 2012
GENEVA – The U.N. human rights office is welcoming Bahrain's move to re-examine cases against activist Abdulhadi al-Khawaja and 20 others convicted last year by a military-led tribunal.
A spokesman for the U.N. High Commissioner for Human Rights says Bahraini authorities have now "recognized the importance of moving away from military justice for civilians."
Rupert Colville told reporters in Geneva on Tuesday there is no reason for al-Khawaja to be held "incommunicado" — and the jailed Bahraini hunger striker should have immediate access to family, a doctor, a lawyer and the Danish ambassador.
Denmark wants custody of al-Khawaja, who holds Danish citizenship and began a hunger strike Feb. 8.
Colville says al-Khawaja should be transferred to a civilian hospital. …source
Bahrain: Human Rights Defender Drugged, Constrained to Bed and Forcibly Fed
29April, 2012 – Bahrain Youth Society for Human Rights
Declaration of Tokyo (1975)"Where a prisoner refuses nourishment …he shall not be fed artificially"
The Bahrain Youth Society for Human Rights (BYSHR) learned today via family members, that Human Rights Defender Mr.Abdulhadi Alkhawaja was drugged, tied to the hospital bed and forcibly fed through a nasoenteric tube this week.
After a brief visit to the activist, family members informed the BYSHR that according to the activist, last Monday after his final call to his wife, he was approached by a nurse who claimed that she wanted to "flush" his IV tube. She inserted a liquid into his IV tube that made him loose consciousness for over 5 hours. When the activist woke up, his room had been changed, his hands and legs were tied to the hospital bed , a tube was stuffed down his nose and he was wearing an oxygen mask. The tube was only removed on Friday when it was blocked resulting in the liquid spilling on Mr. Alkhawaja a number of times.
Mr. Alkhawaja repetitively told the Doctor in charge that he refused the force-feeding and considered it as torture and the doctor refused to end the abuse. The doctor informed Mr. Alkhawaja that if they had not used the force-feeding, the activist would be brain dead. Mr. Alkhawaja advised the doctor that even if they wished to justify the force-feeding, nothing could explain keeping him tied and incommunicado with no contact whatsoever with his family or lawyer. The combination of the force-feeding and the incommunicado detention was considered torture, and Alkhawaja informed the doctor that he will hold him, the hospital as well as the Ministry of Interior responsible.
Mr. Alkhawaja has informed his family that he has agreed to voluntarily take liquids and IV fluids when necessary until his cassation court tomorrow Monday the 30th of April, 2012, but is adamant that he is to continue on his hungerstrike until freedom or death.
The BYSHR considers force-feeding a type of torture in accordance to international human rights norm and is very disturbed that Mr. Alkhawaja was drugged and tied in order to force feed him. It also finds it disturbing that Mr. Alkhawaja's family were kept in the dark regarding his fate for over 5 days. There was no reason to severe contact with Mr.Alkhawaja's family or lawyer. …more
Bahraini protester critically injured on Labour Day
01 May, 2012 – Shia Post
A Bahraini protester has been attacked at close range on his face on Labour Day when the protesters were demonstrating peacefully, the Shia Post reports.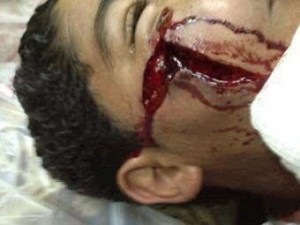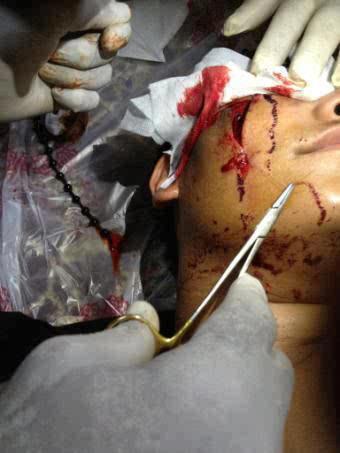 Thousands of Bahraini protesters have held demonstrations across the country to demand the reinstatement of the workers fired by the Manama regime.
May 1 is known as Labor Day in Bahrain and is considered a public holiday. The day is also marked as a national holiday in more than 80 other countries.
The Manama regime has dismissed thousands of workers for taking part in anti-government demonstrations since the beginning of the popular uprising in Bahrain in February 2011. …source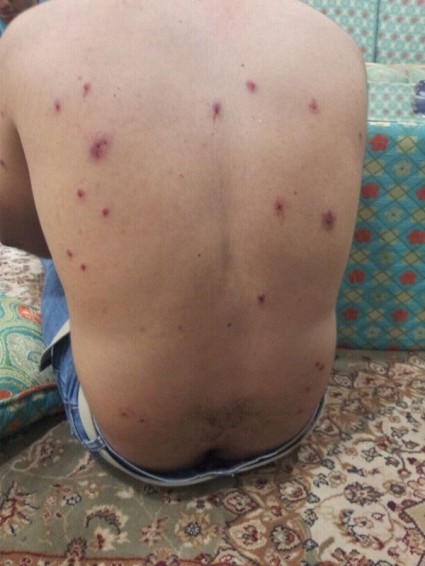 Clashes in Bahrain as protesters mark Workers' Day
1 May, 2012 – Trend
Security forces and protesters clashed in Bahrain's capital Manama and several other areas Tuesday, after people responded to a call from opposition groups for nationwide protests to mark International Workers' Day.
In Manama, several people were injure as police dispersed protesters. The February 14 Youth Coalition had called for 15 such protests under the slogan "A hand builds and a hand resists."
All protests began at the same time, 12:30 am at various villages and parts of the capital, DPA reported.
The group said the protests were meant as a sign of gratitude for the workers and to express solidarity with those who had been sacked from their jobs after last year protests.
The island country's majority Shiites have been taking to the streets since early last year, demanding more rights from the ruling Sunni royal family.
More than 2,000 people were sacked from their jobs in connection with the protests. …source