Bahrain Economic Outlook
23 November, 2011 – Intelligence Quarterly
POLITICAL STABILITY: The Economist Intelligence Unit expects that Bahrain will experience persistent political unrest in the forecast period. The ruling Al Khalifa family faces a significant threat to its authority, and the response of the king, Hamad bin Isa al-Khalifa, will determine Bahrain's political landscape over the next five years. There were large protests early in 2011 inspired by events in Egypt, Tunisia and elsewhere in the Arab world, calling for political and social reform. The security services used force to disperse the protesters, resulting in several deaths. Tensions rose further after the arrival of more than 1,000 troops of the Peninsula Shield Force–the combined military force of the Gulf Co-operation Council (GCC)–which many Bahrainis view as a Saudi occupation force sent to crack down on opposition groups. The government will continue to repress violently any mass protests calling for political reform and detain outspoken opposition activists.
ECONOMIC GROWTH: We have lowered our forecast for Bahrain's real GDP growth this year to 1.8%. The political and social unrest has damaged Bahrain's service oriented economy, resulting in two quarters of weak year-on-year growth. In the second quarter of 2011, the financial sector grew by 1.7%, while the hotels sector shrank by nearly 30%. GDP growth will average 3.7% a year in 2011-15. Bahrain's financial sector, the cornerstone of the country's diversification strategy, will suffer as a result of the recent unrest, which will take a toll on Bahrain's long-cultivated "business-friendly" image. The services sector will shrink this year, harming the country's growth prospects. However, we expect hydrocarbons to continue to be a major contributor to growth, and efforts to move hydrocarbons exports up the value chain (through higher-value-added refining, for example) will secure the importance of oil, despite the country's low reserves. The ongoing political instability will be damaging to the country's tourism industry, particularly tourism associated with events such as the Formula One Grand Prix, which has been cancelled this year (although it is expected to return next year). The government increased spending on subsidies and housebuilding in 2011, but we expect private financing to supplement public investment later in the forecast period. …more
Demonstrations in Bahrain Elevate Investment Risks
Donna Abu-Nasr – 06 February, 2012 – Jakarta Globe
Bahrain's bond risk surged to the highest in almost three years amid opposition calls to escalate the conflict with the government ahead of the Feb. 14 anniversary of anti-regime riots.
Renewed political unrest may hurt the government's efforts to revive the economy and win investors back after growth slowed and Standard & Poor's and Moody's Investors Service cut the island kingdom's credit ratings last year. Any escalation of anti-government protests would be "destructive" for the economy and security, according to comments from the Bahrain Chamber of Commerce & Industry on the state-run Bahrain News Agency last Tuesday.
"Bahrain's public finances are weaker than elsewhere in the Gulf," Liz Martins, a Dubai-based senior economist for the Middle East at HSBC Holdings, said by e-mail. "Growth is much slower since the political unrest last year and there is some sense that the issues that came to the fore then haven't been resolved. This could constrain risk appetite in 2012, among companies, consumers and investors alike."
The cost to insure Bahrain's debt against non-payment for five years jumped as much as 47 basis points this year to 430 on Jan. 30, the highest since May 2009, according to data provider CMA, which is owned by CME Group. It was at 397 at the end of last week. …more
UN Calls on the Government of Bahrain for Restraint deteriorates
15 February, 2012 – Prensa Latina
(Prensa Latina) United Nations on Wednesday called on the Government of Bahrain for maximum restraint due to the clashes of recent days between government forces and demostrators calling for popular demands.
The warning was made by UN Secretary General Ban Ki-moon in a statement released by the UN deputy spokesman Eduardo del Buey.
Ban expressed concern about clashes between security forces and participants in the recent demonstrations in the Arab state.
Ban called on the authorities to act in accordance with its international obligations on human rights and called for the initiation of an inclusive dialogue aimed at meeting the legitimate aspirations of the people, as the only path to peace and stability.
The UN Secretary General also called on the government to implement the recommendations made last November by an independent investigative commission, chaired by Egyptian jurist Cherif Bassiouni.
That investigation determined that the authorities applied excessive use of force against demonstrations in February and March 2011, killing 35 civilians, and also denounced acts of torture, illegal trials and confessions obtained under duress.
Soon after, a team of the UN Human Rights Council visited Bahrain and found the existence of a deep mistrust to government, said the High Commissioner in that matter, Navi Pillay.
According to press reports, more than 10 000 people protested on Tuesday in Manama against the monarchy of the Al-Khalifa family, who leads the minority Sunni population of the kingdom. …source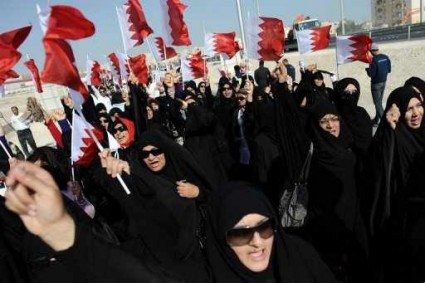 Bahraini security forces launch overnight crackdown
17 February, 2012 – PressTV
Saudi-backed Bahraini security forces have launched a fierce overnight crackdown on anti-regime protesters across several regions of the country, Press TV reports.
Bahraini security forces broke up demonstrations with tear gas and stun grenades in Daih, Ma'ameer, Sitra, Sehla, and several other villages on Friday night.
Earlier in the day, large numbers of police used water cannons to try to disperse thousands of protesters who had staged a demonstration to mourn the death of a teenage protester in the village of Jidd Hafs, east of the capital Manama.
Activists say 19-year-old Hussain al-Baqhalai died of burn wounds sustained in an anti-regime demonstration which was held on Thursday.
Meanwhile, regime forces attacked a group of female protesters in the village of Qadam and raided several homes and detained opposition protesters in the village of Sanabis near Manama.
The Bahraini security forces have also increased their presence in and around Pearl Square, which is now known as Martyrs Square.
Dozens of people have been killed and hundreds more arrested or fired from their jobs since the beginning of Bahrain's popular uprising in February 2011. …source
New Estimate of Strength of Al Qaeda Is Offered
By DAVID E. SANGER and MARK MAZZETTI – 30 June, 2010
ASPEN, Colo. — Michael E. Leiter, one of the country's top counterterrorism officials, said Wednesday that American intelligence officials now estimated that there were somewhat "more than 300" Qaeda leaders and fighters hiding in Pakistan's tribal areas, a rare public assessment of the strength of the terrorist group that is the central target of President Obama's war strategy.
Taken together with the recent estimate by the C.I.A. director, Leon E. Panetta, that there are about 50 to 100 Qaeda operatives now in Afghanistan, American intelligence agencies believe that there are most likely fewer than 500 members of the group in a region where the United States has poured nearly 100,000 troops.
Many American officials warn about such comparisons, saying that Al Qaeda has forged close ties with a number of affiliated militant groups and that a large American troop presence is necessary to helping the Afghan government prevent Al Qaeda from gaining a safe haven in Afghanistan similar to what it had before the Sept. 11 attacks.
On Monday, Adm. Mike Mullen, chairman of the Joint Chiefs of Staff, said that on a recent trip to the region he was struck by the "depth of synergies" between Al Qaeda and a number of other insurgent groups, including the Pakistani and the Afghan Taliban.
Mr. Leiter, who is the director of the National Counterterrorism Center, concurred with Admiral Mullen's judgment.
But with the fighting in Afghanistan intensifying and few indications that the Taliban are weakening, the recent estimates of Al Qaeda's strength could give ammunition to critics of President Obama's strategy who think the United States should pull most of its troops from the country and instead rely on small teams of Special Operations forces and missile strikes from C.I.A. drones.
Both Mr. Leiter and Admiral Mullen were speaking at the same homeland security conference at the Aspen Institute, sponsored in part by The New York Times. Mr. Panetta's public remarks came last Sunday on ABC's "This Week."
Mr. Leiter told the audience on Wednesday that "we've had some incredible successes" against Al Qaeda's leadership. Echoing Mr. Panetta's assessment, he said the group "is weaker today than it has been at any time since 2001."
But he quickly added, "Weaker does not mean harmless."
Administration officials talk increasingly about the dangers posed by militant groups affiliated with Al Qaeda, saying they have both the intent and the capabilities to attack the United States. The man accused of trying to detonate a vehicle in Times Square in May received training from the Pakistani Taliban, a group once thought to be interested only in attacking inside Pakistan. On Dec. 25, a young Nigerian man tried to blow up a transatlantic jetliner on its way to Detroit after being trained by Al Qaeda in the Arabian Peninsula, a Yemen-based terror group, officials say. …more
DOD Official Says U.S. Overestimated Al Qaeda's Capabilities After 9/11
By Eli Clifton – 8 February, 2012 – think progress
A top Pentagon official admitted that the U.S. government may have misjudged the actual threat posed by Al Qaeda in the immediate aftermath of the September 11, 2001 terrorist attacks. More than a decade later, Michael A. Sheehan, the assistant secretary of defense for special operations and low intensity conflict, told an audience Tuesday, "Quite frankly, we, the American people, were asleep at the switch, the U.S. government, prior to 9/11. So an organization that wasn't that good looked really great on 9/11."
Sheehan, speaking at a Special Operations, Low Intensity Conflict Planning conference, questioned Al Qaeda's capabilities:
Everyone looked to the skies every day after 9/11 and said, 'When is the next attack?' And it didn't come, partly because al-Qaida wasn't that capable. They didn't have other units here in the U.S. … Really, they didn't have the capability to conduct a second attack.
Sheehan credited the American military's "brilliant operation" in October 2001 that ousted the Taliban from power but also emphasized that Al Qaeda's limited capabilities were one of the key reasons the U.S. hasn't suffered a terrorist attack since 2001.
Unrealistic estimates of Al Qaeda's reach and strength weren't the only overblown fears after the 9/11 attacks. A new University of North Carolina at Chapel Hill, Duke University and RTI International study [PDF] finds that counterterrorism officials' warning about a potential wave of homegrown terrorism have not materialized. Moreover, numbers of U.S. Muslims with any suspected links to terrorism have been declining since 9/11. The study found that 20 Muslim-Americans committed or were arrested for terrorist crimes in 2011, down from 26 in 2010 and 49 in 2009. A chart from the report illustrates the data:
"Those who predicted an inevitable, rapid increase of homegrown violent extremism among Muslim-Americans were wrong," said David Schanzer [DOC], director of the Triangle Center on Terrorism and Homeland Security and professor of public policy at Duke. UNC professor Charles Kurzman, author of the report, called terrorism by Muslim Americans "a minuscule threat to public safety."
In September, Kurzman's new book The Missing Martyrs: Why There Are So Few Muslim Terrorists found that Al Qaeda and its affiliates have "failed so dismally" because they have been unable to recruit American Muslims. Putting the homegrown terrorist threat in context, Kurzman pointed out that in the ten years since 9/11, Muslim American terrorist plots have killed 33 people in the U.S. but there have been more than 150,000 murders. …source
cb editor: Now Panetta trying to push disinformation that Iran and Al Qaeda are hooking up? Why? because it resonates with the nut-jobs in the US that still buy US bullshit as a means to go to War. Like they need any justification?
Officials say al-Qaida behind Syria bombings
By Kimberly Dozier – The Associated Press – 16 February, 2012 – Marine Crop Times
WASHINGTON — Top U.S. intelligence officials pointed to al-Qaida in Iraq on Thursday as the likely culprit behind recent bombings in Syria, the deadliest attacks against the Syrian government in the 11-month uprising.
Although the U.S. has called for Syrian President Bashar Assad to step down, his fall could lead to a power vacuum that al-Qaida's largest regional affiliate or other extremist groups could fill, Director of National Intelligence James Clapper told Congress. And that could allow such groups to help themselves to Syria's vast stockpiles of chemical weapons, he said.
At the Pentagon, Defense Secretary Leon Panetta said the crisis in Syria has become "that much more serious" and worrisome to the United States as a result of indications that al-Qaida has infiltrated the government's opposition.
"It does raise concerns for us that al-Qaida is trying to assert a presence there," he said. "As to just what their role is and how extensive their role is, I think that still remains to be seen."
In New York, meanwhile, the U.N. General Assembly approved a resolution backing an Arab League plan calling for Assad to step down and strongly condemning human rights violations it said his government had committed. The vote, though not legally binding, reflects widespread world opinion.
Likewise, in Vienna, U.N. Secretary-General Ban Ki-moon accused the Syrian government of committing "almost certain" crimes against humanity as activists reported fresh violence and the arrest of several prominent dissidents, including a U.S.-born blogger.
The comments by Panetta and Clapper in Washington marked a diplomatically dissonant moment of near-agreement between American officials and the Syrian leadership they have called on to step down, after the deaths of thousands of Syrians in the unrest that started during last year's Arab Spring.
Assad has long blamed terrorists for starting the uprising, which has pitted his military against a rag-tag group of angry Syrians, divided by religion and neighborhood.
Al-Qaida's leader called for Assad's ouster last week. That endorsement has created new obstacles for the U.S., its Western allies and Arab states trying to figure out a way to help push Assad from power. …more
Chomsky refutes US allegations against Iran N-program
17 February, 2012 – PressTV
In the United States, before the massive propaganda campaigns of the past few years, a majority of the population agreed with most of the world that, as a signatory of the Non-Proliferation Treaty, Iran has a right to carry out uranium enrichment. And even today, a large majority favors peaceful means for dealing with Iran."
Renowned American academician Noam Chomsky
Renowned American academician Noam Chomsky has censured the US allegations against Iran's peaceful nuclear program, and described Israel as the major threat to the global security.
In his latest articled published in the Guardian, the senior American historian and philosopher argued that Iran's "strategic doctrines are defensive, designed to deter invasion."
He lashed out at the propaganda campaign by the US media outlets aimed at portraying Iran as a "threat" and argued that Tehran would never even "come close to initiating a nuclear war."
Chomsky pointed out that despite the anti-Iran notions propagated by the Western politicians, "in Europe, polls show that Israel is regarded as the leading threat to peace," and in the Middle East and North Africa, Washington shares the status with Tel Aviv.
"In the United States, before the massive propaganda campaigns of the past few years, a majority of the population agreed with most of the world that, as a signatory of the Non-Proliferation Treaty (NPT), Iran has a right to carry out uranium enrichment. And even today, a large majority favors peaceful means for dealing with Iran," the senior analyst noted.
Chomsky argued that the US and Israel seek to spark the wave of Iranophobia, as they dread the prospect of Iran's growing clout in the region, particularly in neighboring Iraq and Afghanistan.
The United States, Israel and some of their allies accuse Tehran of pursuing military objectives in its nuclear program and have used this pretext to push for four rounds of UN sanctions and a series of unilateral sanctions against the Islamic Republic.
Iran has refuted the allegations, arguing that as a committed signatory to the NPT and member of the International Atomic Energy Agency (IAEA), it has the right to use nuclear technology for peaceful use.
Israel, widely believed to be the sole possessor of a nuclear arsenal in the Middle East with over 200 undeclared nuclear warheads, pursues the policy of "deliberate ambiguity" on its nuclear program.
Tel Aviv has rejected global demands to join the NPT and does not allow IAEA inspections to observe its controversial nuclear program. …source
Bahrain's most Dangerous Country for Human Rights Defenders
17 February, 2012 – Bahrain Youth Society for Human Rights
The Bahrain Youth Society for Human Rights (BYSHR) expresses its deep concern for the arrest of prominent human rights defenders because of their participation in peaceful protests on the occasion of the first anniversary of the protests.
They were participating in a march towards the Pearl Roundabout in Manama city, exercising their right to peaceful assembly to this symbolic Roundabout, which was the centre of last year protests.
Mr.Naji Fateel : is a board member of the Bahrain Youth Society for Human Rights (BYSHR) and blogger who has been active in reporting human rights violations in Bahrain.He used his account on Twitter (https://twitter.com/#!/najialifateel) for dissemination of human rights information. He was previously detained between Dec 2007 and April 2009, and has been reportedly tortured. His house was stormed in search for him several times last year following the crackdown on pro-democracy protesters. He was suffering from damage to his spine and was supposed to travel abroad to get medical treatment.
Mr.Hasan Al-Jaber: is a prominent human rights blogger who is regarded as a reliable source for Bahrain news. He used his account on Twitter (https://twitter.com/#!/HasanAljaber) for dissemination of human rights information. He used to report from protests, posting first-hand testimonies of human rights violations to the media and also contributed to support non-violence strategies in cooperation with the BYSHR.
Ms.Zainab Al-Khawaja: is a prominent human rights defender and blogger.She used his account on Twitter (https://twitter.com/#!/angryarabiya) for dissemination of human rights information.Ms.Al-Khawaja was previously arrested for participating in a public protest on 15 December 2011.She reported being beaten during her December arrest.
The Bahrain Youth Society for Human Rights (BYSHR) demands the immediate release of human rights activists and Bahrain is considered the most dangerous countries for human rights defenders, journalists and bloggers. …more
CODEPINK Medea Benjamin arrested in Bahrain
17 February, 2012 – PressTV
Medea Benjamin, activist and cofounder of both CODEPINK and Global Exchange is arrested Fridayin Bahrain according to @codepink's latest tweet.
Medea Benjamin's arrest comes after a series of recent arrests in Bahrain. Six U.S. citizens were arrested on February 14th, the anniversary of the Arab Spring uprising in Bahrain. No information on how and where she was arrested and transferred is yet available.
Benjamin has been an advocate for social justice for more than 30 years. Described as "one of America's most committed — and most effective — fighters for human rights" by New York Newsday, and called "one of the high profile leaders of the peace movement" by the Los Angeles Times, she has distinguished herself as an eloquent and energetic figure in the progressive movement.
In 2005 she was one of 1,000 exemplary women from 140 countries nominated to receive the Nobel Peace Prize on behalf of the millions of women who do the essential work of peace worldwide. In 2010 she received the Martin Luther King, Jr. Peace Prize from the Fellowship of Reconciliation.
Medea Benjamin is a known guest in the U.S. Desk and is frequently featured in interviews and opinion pieces here at Press TV. …source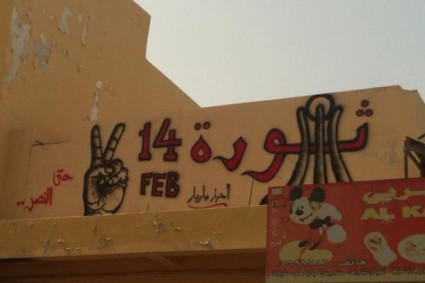 Nabeel Rajab: The Eternal Voice of Pearl Square
By: Mariam Abdallah – 14 February, 2012 – al-Akhbar
One of the leaders of the uprising in Bahrain has been active against the country's monarchy since a young age. Now he is joined by a new generation of protesters who seek to bring change to the island kingdom.
His slogans against the Bahraini regime used to be daubed on school walls. Thirty years on, the slogans have turned into tweets, documenting the daily pains of the Bahraini people.
The medium may have changed, but the message has not. Nabeel Rajab has dedicated himself to campaigning for his people's freedom by whatever means. This has given him the largest Twitter following in Bahrain, and the fourth largest in the Arab world.
Born in 1964 to a long-established pro-regime Bahraini family, Rajab began his life of activism at the age of 16. He was expelled from school for his political dissent, despite his academic excellence. He was also active in the student movement at a university in Poona in India, though he avoided joining any single political faction.
Upon returning to Bahrain in 1988, he began campaigning in an organized, albeit clandestine fashion, establishing links with international human rights organizations.
He was one of the co-founders of the Bahrain Society for Human Rights. Originally set up in London, it operated underground in Bahrain until it was legalized in 2001.
In 2002, Rajab helped establish the Bahrain Center for Human Rights along with his colleague and mentor Abdulhadi al-Khawaja, currently in prison on charges of planning to overthrow the regime.
Rajab's voice rises slightly as he speaks of his determination to secure his friend's freedom. "Al-Khawaja is part of my education. We worked on issues that nobody was allowed to touch, especially the ruling family's privileges, sect-based discrimination, and migrant labor rights. I owe it to this person not to let him remain in jail."
He stresses that opposition in Bahrain cannot be quashed by pressure, repression, and imprisonment because that will only strengthen people's resolve to peacefully create a rights-based society. "This is what the regime fails to understand."
He stresses that opposition in Bahrain cannot be quashed by pressure, repression, and imprisonment.
Rajab's work has kept him under scrutiny. His wife and children are constantly threatened, and have lost any sense of security since the February 14 uprising. His elderly mother has lost her hearing and is now almost blind. "Perhaps that is fortunate," he remarks. "That has spared her a lot of pain. She doesn't know what is happening. When they fired tear-gas canisters at our house, we told her the noise was coming from a faraway village."
Rajab became almost synonymous with the Bahraini uprising during the Pearl Roundabout sit-in. He found himself on the front line. …more
Mexico's President Calderon says criminals have "unlimited access to high-powered weapons"

Mexico's president to U.S.: 'No more weapons'
By Catherine E. Shoichet – CNN – 17 February, 2012
(CNN) — Mexico's president called on U.S. officials to stop gun trafficking across the border Thursday, saying the move would be the best thing Americans could do to stop brutal drug violence.
"The criminals have become more and more vicious in their eagerness to spark fear and anxiety in society," President Felipe Calderon said. "One of the main factors that allows criminals to strengthen themselves is the unlimited access to high-powered weapons, which are sold freely, and also indiscriminately, in the United States of America.
Speaking in Ciudad Juarez, the border city across from El Paso, Texas, that has become Mexico's murder capital, Calderon said a dramatic increase in violence in Mexico was directly connected with the 2004 expiration of the U.S. assault weapons ban.
The message was familiar. The Mexican president has asked U.S. lawmakers to renew the ban on assault weapons before, most notably in a 2010 speech to the U.S. Congress.
But the backdrop Thursday was dramatically different. Calderon stood in front of a massive new sign, constructed with tons of decommissioned arms. "NO MORE WEAPONS," the sign said — in English. Americans on the other side of the border are the intended audience, Calderon said.
"From here, from Ciudad Juarez, on the border of Mexico and the United States, we say, 'No more weapons. No more weapons to Mexico," he said.
Thursday's speech came as a U.S. Congressional inquiry continues into "Operation Fast and Furious," an operation run by U.S. federal agents. Authorities have said the operation was intended to track the flow of illegally purchased American guns to the Mexican cartels — but in practice, agents from the Bureau of Alcohol, Tobacco, Firearms and Explosives allowed so-called straw buyers to take weapons across the border without being intercepted.
Calderon praised U.S. President Barack Obama's efforts to deal with the "very sensitive issue" of assault weapons, noting that officials in his administration had done more than previous leaders to investigate and block illegal weapons trafficking to Mexico.
"They have taken positive steps, but we all know that unfortunately it is not enough, and we cannot stop here," he said.
Out of 140,000 weapons Mexican authorities have seized since Calderon declared a crackdown on cartels at the beginning of his presidency, 84,000 were high-powered assault weapons, Calderon said.
More than 47,000 people have been killed in drug-related violence in Mexico since December 2006, according to government statistics.
During his Thursday speech, Calderon looked toward the border and said he had a message for Americans.
"We need your help to stop this violence. We need you to reduce your consumption of drugs and to dramatically reduce the flow of money to criminal organizations in Mexico," he said. "But beyond the topic of drugs, the best way that you, the American people, can help reduce the violence in Mexico is through legislation that has already been in force in the United States, blocking the inhumane weapons trafficking into our country." …source